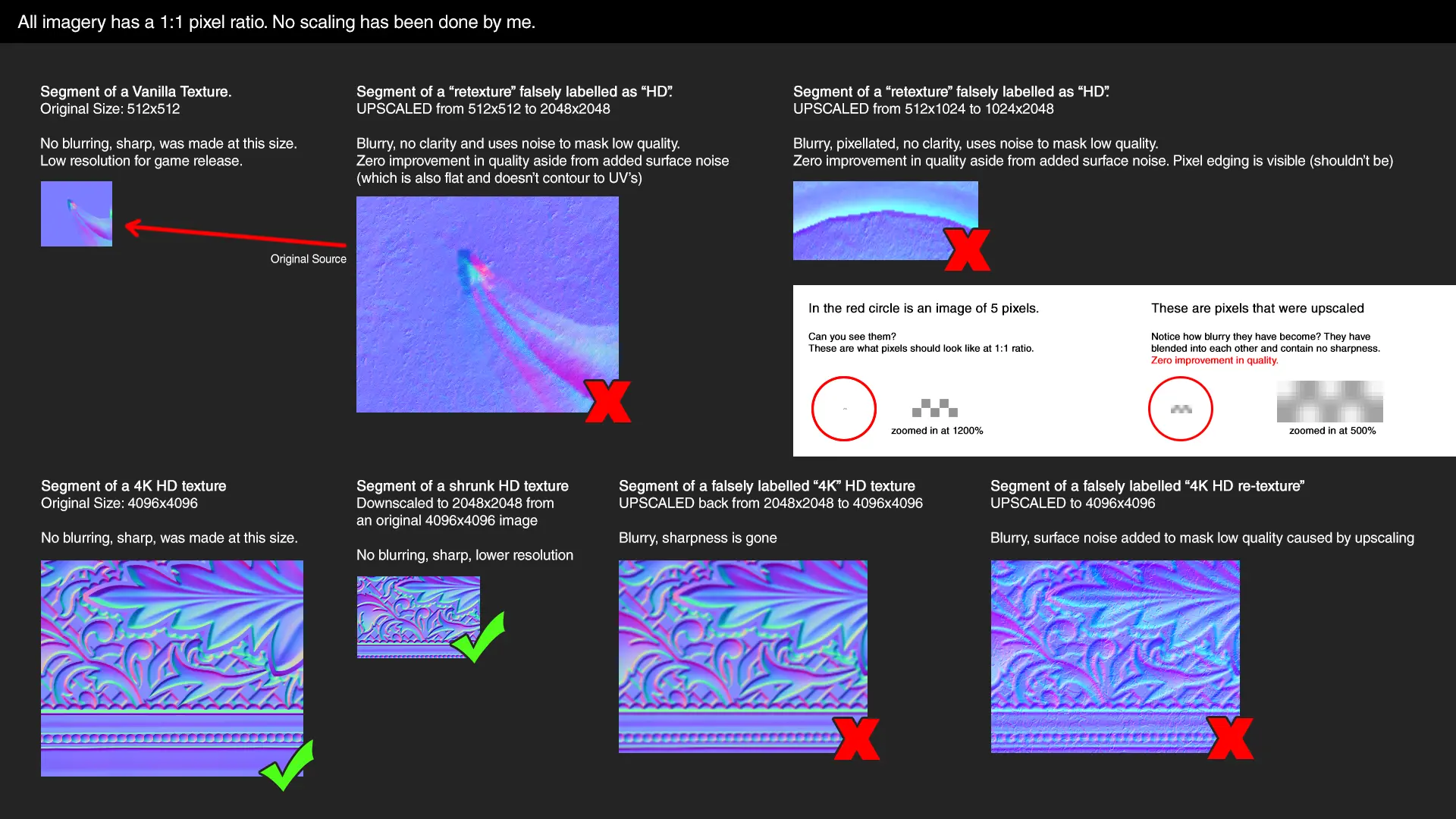 About this image
As a mod author that has always tried to produce work of a high standard, it pains me to see mods get featured on the Hot Files when they are incorrectly labelled and quite frankly, of atrocious quality.

You may often see a mod that contains the words "HD", "High Definition", "Ultra HD", "UHD" and so on, but how many of them are actually high quality? Very few. I've spoken with numerous amounts of mod authors about this and many of them didn't seem to understand that a large canvas doesn't automatically equal high quality. Similarly, most of the community will see these words and believe the work to be of a high standard. This isn't their fault, they just don't know or see the difference until it is pointed out.

So how does this happen?

For example, a mod author wants to re-texture (a word used incorrectly 95% of the time) a monster from Skyrim, but finds that the texture that Bethesda packed with the game is only 1024x1024. They want to release the new texture as a 4096x4096 (4K) but how can they do this when the original texture is much much smaller? The solution, is up-scaling. They take the low resolution image and physically increase it in size until it is stretched and fits within the new, larger 4K image space. By doing this, every pixel is increased in size, becoming blurry and actually worse in quality. Details are lost and prominent bad edges will stand out more.

To counter the obvious decrease in quality, they will start trying to cover up the most noticeable areas with surface noise. This gives the illusion that the image is now of high quality, however the bad quality image still remains. As the entire image is not of high quality and the pixel density is all over the place, it cannot be considered HD. If anything, it would be a kind of "pseudo-HD" given that the overlayed noise/texture was of a 1:1 ratio (sometimes even the overlayed noise is up-scaled too)

=====

Now, I know there are many new up-scaling techniques out there, but the fact remains that bitmap imagery still cannot be effectively up-scaled without a loss of quality. When striving to produce work of a high standard, it should never be a consideration unless you are working with vector.

If you're going to create a HD texture, make sure all of your imagery is high quality to begin with and if you can't get what you need in HD, then you're going to have to bake it or remake it yourself from scratch.

Don't just keep pumping out bad quality mod after bad quality mod and giving it the "HD" label in hopes of enticing users into downloading your mod. Not only are you deceiving your users, but you are also wasting their VRAM and disk space by providing files that are of a larger resolution and file size, but consist of low quality up-scaled textures. There is zero quality benefit by doing this.

Also, if you can't accept feedback & criticism, then you will never ever ever improve on your work. Take what somebody says and use it to make your next mod better. It really is something very valuable.