File information
Created by
LukeYui
About this mod
An unofficial mod to adds souls-style PvP and co-operative play to Sekiro.
Requirements

Permissions and credits

Changelogs
A mod that adds unofficial PvP and co-op features to the game.
As with all FromSoftware games, Sekiro is a unique experience; What gives the game an entirely different feel to previous is the lack of an online mode, this mod aims to emulate that to the best of my ability.
This is a pet project that I decided to release, if you don't like the idea of online play in Sekiro, you don't have to play. I didn't create this mod because I strongly believed that the game needed online, just that it sounded like fun.
If you enjoy my mods, and would like to support me, you can 
buy me a coffee here.


There is also a discord for the mod, feel free to join and have a chat: 
https://discord.gg/7zNSyRS
What is it?


As the title suggests, this mod adds both PvP and co-operative play to the game - I've tried to make it as familiar as I can to Souls games' online mode, but as I'm not a professional game development company, it's not going to be exactly the same.
The mod itself runs purely on P2P connections. There is a server, however this is only used for summon signs.
Difference to the beta version


The mod has been out in beta for a while now. Thank you for all of your feedback/bug reports, I've completely reworked the mod from the ground up, and now I'm much happier with the way that the mod plays, most notably:
The net code is much more efficient, and latency is reduced.
Sessions are much more stable
PvP combat is improved, and I've created some custom mechanics to make it more interesting (e.g. Mikiri counters on other players)
PvE combat is vastly improved, enemy movement and actions are much smoother, and uses a degree of client prediction
World sync is complete, if you invade someone in a different world state (e.g. Burning Ashina) it'll load the area and enemies correctly.
Events in your world no longer synchronise with the hosts world.
Features/Details:
Support for up to 250 players  | Capped at 6 for now (1 host + 5 phantoms)
PvP and invasions with simple matchmaking.
Co-op with friends, with fully functional world, event, and enemy sync.
You can't pause the game.
Tutorial prompts and item popups are disabled
Minimal graphical interface, giving you basic mod information (connected players, ping, etc.)
When the mod updates, older versions will be unsupported. (e.g. you can't use v1.00, and match with someone playing v1.01)
Instructions:
You must first complete the tutorial and get to the dilapidated temple before you can play online.
You can play online anywhere, and join anyone. There are no matchmaking rules, and there are no area/location restrictions. Players will be scaled up/down to your local player's level, and PvP damage is normalised.
If you're using the version with the overlay, press F1 to access the mod's menu, from here you can change some mod options and spawn in the online items.
There are a few key items for playing online: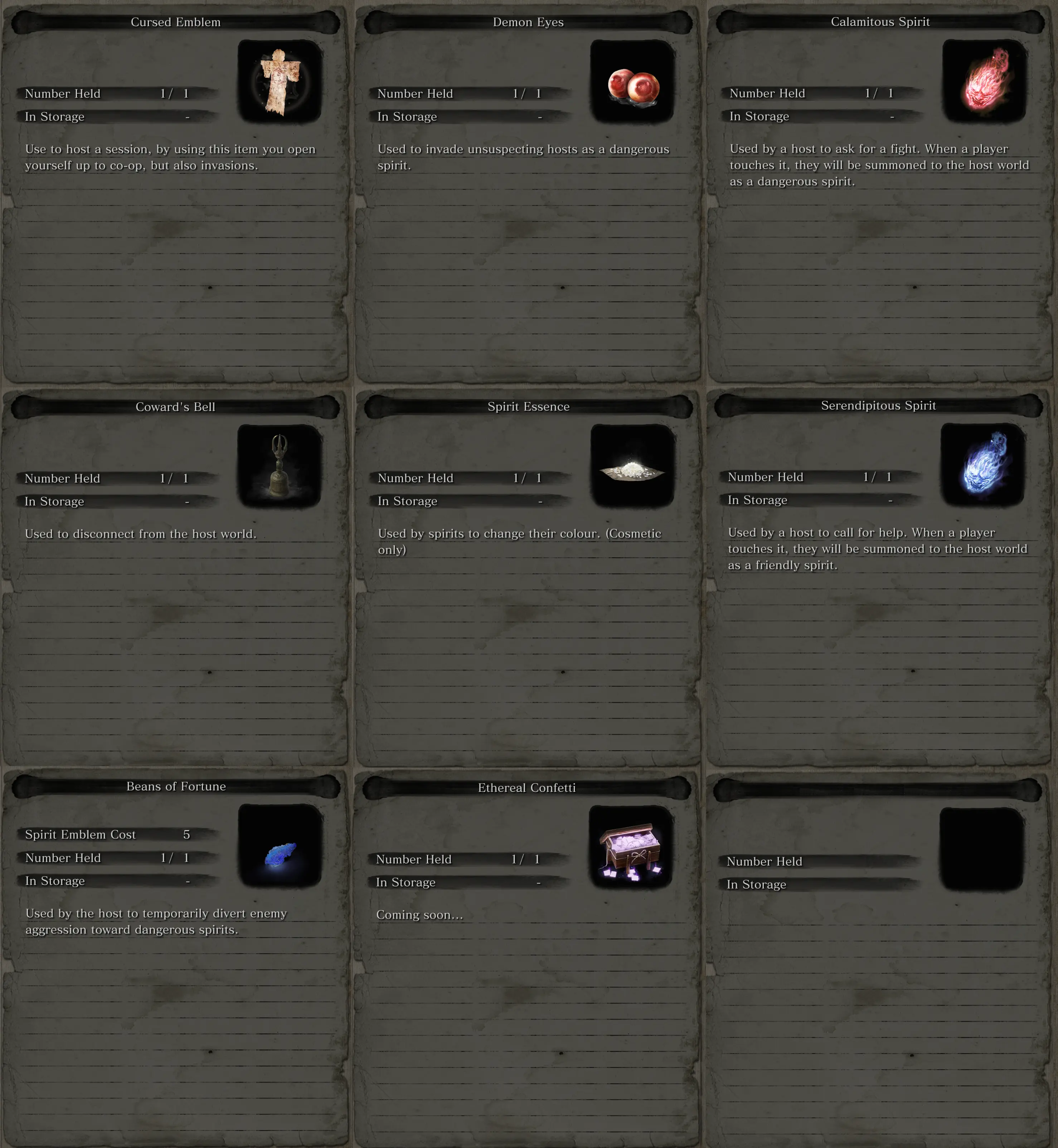 To play:
Create (host) a session -  Use the "Cursed Emblem" item. Once you've done this, you cannot stop hosting until you either quit or die.
Invade a session -  Use the "Demon Eyes" item
Co-op - The host will need to create a session, then invite you to their game through the steam friends list. Alternatively you can use the Vengeful Spirit to invite dark spirits into your world, or the Serendipitous Spirit to invite phantoms into your world.
Leave - Use the "Coward's Bell" item, or die.
Installation:
Simply download the files from here, extract and move the contents of the folder and put it into your "\steamapps\common\Sekiro" folder (where your sekiro.exe is located, shown below)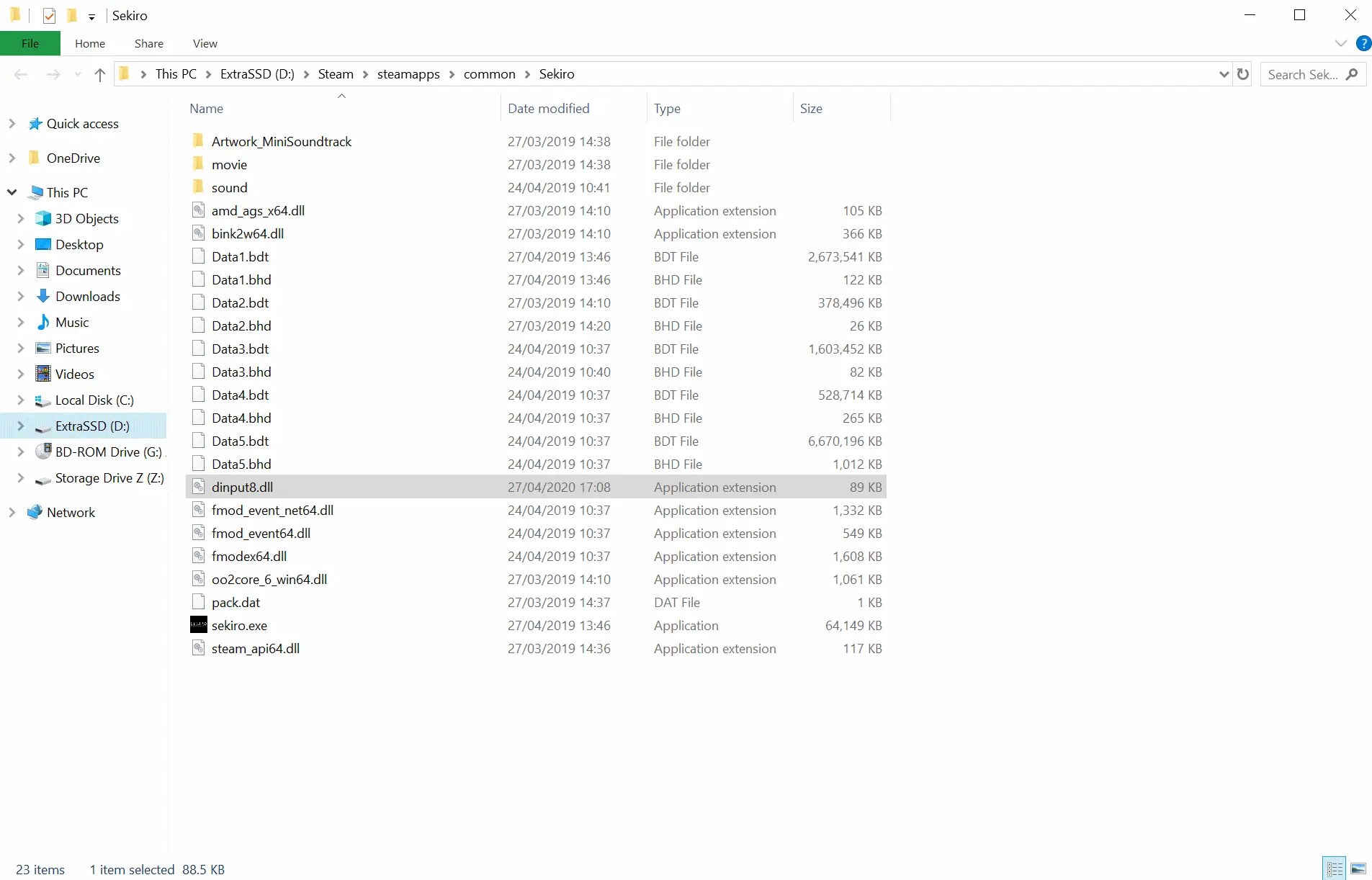 To uninstall, remove the files you downloaded from this directory.
Known bugs:


Sometimes, if you death-blow a dead enemy, you can get frozen in place and be unable to move or locked in one direction.
Crashes
FAQ:
Q) Does it work with non-steam versions of the game?
A) I don't know, what I do know is that this mod relies heavily on Steam for connection functionality. If it works for you then great; But if it doesn't please don't make a bug report unless you're using Steam.
Q) Can you add X, or change Y?
A) I'll look into it, make a post about it or send me a message and I'll try to get back to you as quickly as I can.
Q) Can I play with people without the mod?
A) No, both people need this mod to be able to play online.
Q) What have you done to stop cheaters?
A) I've the done the best I can with the tools and restrictions I have to stop cheaters. This will inevitably not be enough, and if someone wants to cheat then they will. If you record some evidence and send it to me, I can ban them from the matchmaking.


Q) I've found a bug/crash!
A) Feel free to make a bug report/post. Please read other reports carefully to see if your issue has already been reported.


Q) Can I use other mods with this one?
A) If you want, to use mod engine you'll probably have to do some research but apart from that you can. Mods won't show up for other people, and please do not use param mods as they can give an unfair advantage (e.g. infinite consumables, trainers, etc.)


Q) Can I see the source code?
A) Maybe, one day, but I'm reluctant to do so with the track record of malicious cheaters in souls games. I'd rather not have people running around with modified copies of the mod, and being able to connect with legitimate users.
Q) Can you disable invasions?
A) No. PvP is a part of the risk associated with the huge advantage against PvE that playing in co-op offers 
Special thanks


Huge thanks to Enlisted, Loki, and Unfairest for all the help testing the mod, and suggesting and testing features.
Special thanks to Pav, for helping with design features, and with bug fixes/te
sting/suggestions.