A few weeks ago, we launched the beta testing phase for our new site navigation. Our design team has been hard at work implementing it, as well as working in some of the changes suggested by all of you who partook in the accompanying survey. Thank you very much for all your responses and feedback!

With that being said, we are very pleased with how well the new nav has been received, so we are now happy to roll it out for all of you.


New Site Navigation - some key changes

The new navigation is meant to unclutter the old while retaining functionality and quick access to the places you want to browse, be it mods, media, the forums etc.

While we understand that getting used to something new might take a while, we are happy to say that the overwhelming consensus from the beta survey was that the new nav is easy to use with all relevant information being laid out clearly. 

That being said, there are a few new things that warrant pointing out. 


More Favourites



In the overhauled favourites menu, you can now add 12 of your favourite games (up from 8 in the old nav) for quick access. The game tiles are now in portrait mode to differentiate them more from mods. 


Bringing back Mods of the Month


A feature of the site that was a bit lost in the old navigation and, therefore, did not get much use was "Mods of the Month". The new nav aims to highlight this section of the site a bit more in the revised mods tab.

What is "Mods of the Month"?



Shiny new Upload Button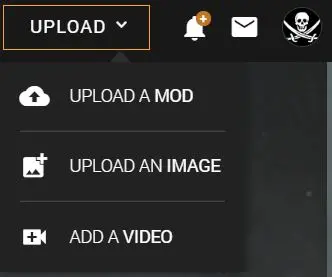 The new "Upload" button in the top right stands out a bit more and can be used to directly upload either a mod, an image, or to add a video.


Community Tab



You'll find all the relevant links such as the forums, our Discord and social media, the news section (featuring two fancy previews of the most recent news articles), and a link to our mod author donation fund in this section.


Updates moved




One of the more notable changes is that your "updates" have been moved to the top right (into the bell icon) next to your avatar. Further, in order to be more consistent across the site "updates" are now called "notifications". 

Clicking your avatar/user icon in the top right will allow you to access your profile, wallet, and user settings.


Small changes since the beta

Almost 2,500 of you have taken the time to provide valuable feedback. We listened to what you had to say about the new nav and our design team has taken some of your suggestions on board. 


We brought back a link to browse all mods (mod tab).
Mod categories have been added back to the mods tab.
The colour scheme for the games is back.

Lastly, we made a slight change to the nav when it comes to how you access the homepage (nexusmods.com) vs. the game homepage (in this example nexusmods.com/skyrim) and your favourites:




What's next?

Going forward, our design team will be focussing on improvements to the overall layout of the site including a new homepage, game homepage(s), and mod pages. As with the navigation, once we are ready, we are going to release new features through the beta version of the site so we can test new ideas and get your feedback on them. 

We will also be testing the current colour scheme with the new navigation to ensure it passes accessibility. This may bring an opportunity to add more colours. 

With that being said, we sincerely hope you guys will enjoy the new site navigation and we are looking forward to adding more features and improvements. 

Please, feel free to leave a comment and tell us about your thoughts and experience once you have had some time to try it out.