I'm using this preset for some time and just want to share it, becose... why not?
Since release day i wondering why the game picture is so dark. I mean - the bright sunny day looks like evening, can't feel the SUNSHINE, cloudy weather looks like twilight and so on. Overall image lack contrast and shapness. My computer is relatively old and game runs far from perfect, so the main goal was to create a preset with closer to 0 FPS impact and, at the same time, try to fix all those things, which bothered me.
I started from my Reshade preset for Skyrim, which gives a closer to ENB look (even simulates indirect lightning in shade areas) and, with some changes, i have adapted this one to Deadfire.
There's a way to drastically improve image, using one simple trick - boost midtones and lights, leaving shadows almost untouched. As a result:
1.
Adjusted tonal contrast gives much more closer to real sunlight.
2.
Reveals a lot of textures details, creating impression of sharpen filter but without one.
3.
Daylight a little bit colder, and shadows slightly fade to bluish - the same picture you can see IRL.
4.
Well... i had added a gentle Highpass sharp filter at the top, which gives a nice crisp to whole image, but without artefacts.
That it. No crazy things like bumping contrast, saturation, oversharp - i hate this. The results on the screenshots (it's better to open in new tab and watch in full size - Nexus resizing blurs them to hell).
Try it if you like.
FPS loss: 2-8 frames.
Simple installation: Unpack to game main folder.
Effects start to work automatically. Use ScrollLock key for toggle ON/OFF when you need it. There's only two shaders included. If you're familiar with ReShade, feel free to change some values according to your taste or add something more.
UPDATE 1.3

First of all, i want to excuse. The "simple" intallation appears not so simple becose i forgot that users need to set up proper paths for Reshade-shaders and Reshade-presets folders. Now i think the problem solved: all that you need is to copy files to your game folder and Reshade will catch up all shaders and settings, nomather where your game installed. I tested it via copy-paste to other games on my HDD and so far i haven't seen any problems. So installation finally appears simple, without quotes.
If you encouter any problems, just let me now in comments section. Also you can press "Home" button anytime in game, go to Settings tab and set up shaders and presets folder paths manually.
NOTE: Mod contains newest Reshade DLL 4.2.1. Textures is not included, becose mod not using it (so ignore all warnings in log). I leaved Perfomance mode OFF, becose (and this is very strange) on my rig it gives slightly better perfomance. Feel free to toggle ot ON if it improves perfomance on your system.
About changes:
This is will be a final version (still i be able to do some specific changes by requests). All this time i've been going through hungreds of photos and videos of
tropical beaches, villages and old cities (including top down pictures made from copters) to be sure that i'm on the right way. It seems so.
I'll upload new screenshots later (there's no drastical changes, just "polishing").
- Adjusted black level to avoid unnatural black shadows. Also it gives a softer look to image.
- Adjusted ambient lightning strength and treshold. Now it gives a true desent immitation of reflected lightning. Nice side effect: light will spreads
on UI panels, making them part of 3D image.
- Clarity blending method changed from Hard light to Linear light - gives a bit more crisp image.
UPDATE 1.2
~ Fine tuned DPX (core lightning) shader values
~ Highpass shader was removed in order to improve text on light background readability (there was some artifacts)
~ Clarity shader was added for better textures detail instead of Highpass. And it do the job better.
~ Ambient Light shader was added - bright enviroment lights projected to 3D characters and nearby enviroment objects. 3D characters more seamlessly fits into 2D background.
All screenshots updated.
Only one version this time. Overall FPS impact will be higher than first versions (if you feel it too high, you can use old versions without Ambient Light and Clarity shader).
Though you can press "Home" button anytime and toggle ON/OFF shaders:
Feel free to leave feedback.
Becose on different monitors, with different color/contrast/brightness settings my preset might be looks different, if not worse.
______________________________________________________________________________________________________________________________________________________________
Я использую эти настройки для себя уже некоторое время, и подумал: "А почему бы не поделиться?"
Со дня выходя игры меня смущало ее темное освещение. Я имею ввиду вот что: освещение в яркий солнечный день такое, как будто уже близко вечер, абсолютно не чувствуется что светит яркое СОЛНЦЕ; когда наступает облачная погода, то впечатление такое, что уже сумерки и т.д. Ну и в общем, картинке не хватает контраста и четкости. Так как у меня достаточно старый компутер, то цель была в том, чтобы исправить это и, в то же время, не убить ФПС, т.к. игра идет и так нестабильно.
Я начал со своего же пресета, который я делал для Скайрима, и который отлично имитирует картинку а-ля ENB - с отраженным светом в тенях и вот этим всем. Немного поколдовав, я адаптировал его для Deadfire.
В основе лежит простой трюк - поднимаем средние и светлые тона, оставляя тени практически нетронутыми. В результате:
1.
Увеличивается тональный контраст, дневной свет становится более похож на настоящий.
2.
В картинке проявляется множество мелких деталей текстур. Создается впечатление, что к применили фильтр резкости, но... его там нет.
3.
Солнечный свет сделан чуть более холодным, тени уходят в голубой оттенок - такую же картину вы можете увидеть на улице.
4.
Ладно, фильтр резкости вообще-то есть. Я применил Highpass фильтр с мягкими настройками, чтобы придать картинке дополнительную четкость, но не наплодить при этом артефактов.

Это все. Никаких штук типа задраного контраста, насыщенности, избыточной резкости - терпеть не могу все эти вещи. Результат на скриншотах (лучше открыть в новой вкладке и посмотреть в полном размере, ибо резайз Нексуса размывает все к чертям).
Пробуйте, если нравится.
Жрет 2-8 FPS.
Для работы достаточно распаковать в папку игры.
При старте игры все работает автоматом. Используйте клавишу ScrollLock для выключения и выключения эффекта. В папке присутствуют всего два используемых шейдера. Если вы уже знакомы с ReShade, можете подкрутить значения на свой вкус или добавить что-то еще.
ОБНОВЛЕНИЕ 1.2
~ Значения параметров DPX (основной свет) были немного отредактированы.
~ Highpass-фильтр был убран для лучшего отображения текста на светлом фоне (делал его слишком тонким).
~ Шейдер "Clarity" теперь используется вместо Highpass, чтобы придать текстурам большую детализированность. И справляется со своей задачей лучше.
~ Шейдер "Ambient Light" был добален. Яркие света окружения переходят на 3D-персонажей и ближайшие затененные объекты. Это то, что происходит в реальной жизни. Кроме того, благодаря этому 3D персонажи лучше вписываются в окружение.
Требования по ресурсам выросли. Если вы чувствуете, что FPS опустился слишком низко, вы можете использовать одну из старых версий или
нажать клавишу "Home" и включить/выключить какие-либо из шейдеров на свое усмотрение: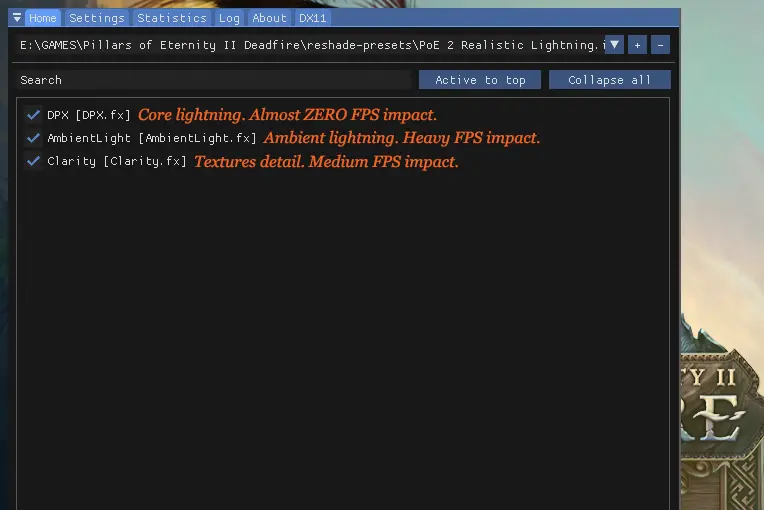 НЕ МЕНЯЙТЕ ПОРЯДОК ШЕЙДЕРОВ.
Оставляйте свои комментарии и предложения.
Я понимаю, что на других мониторах, с другими настройками цветности/яркости/контраста все может выглядеть совсем иначе, если не хуже.
_____________________________________________________________________________________________________________________________________________________________
CREDITS
Reshade
- Thanks for great tools. You saved many eyes.
Obsidian team
- For quite attractive game.