Fenn and Mac Reach Deadfire Archipelago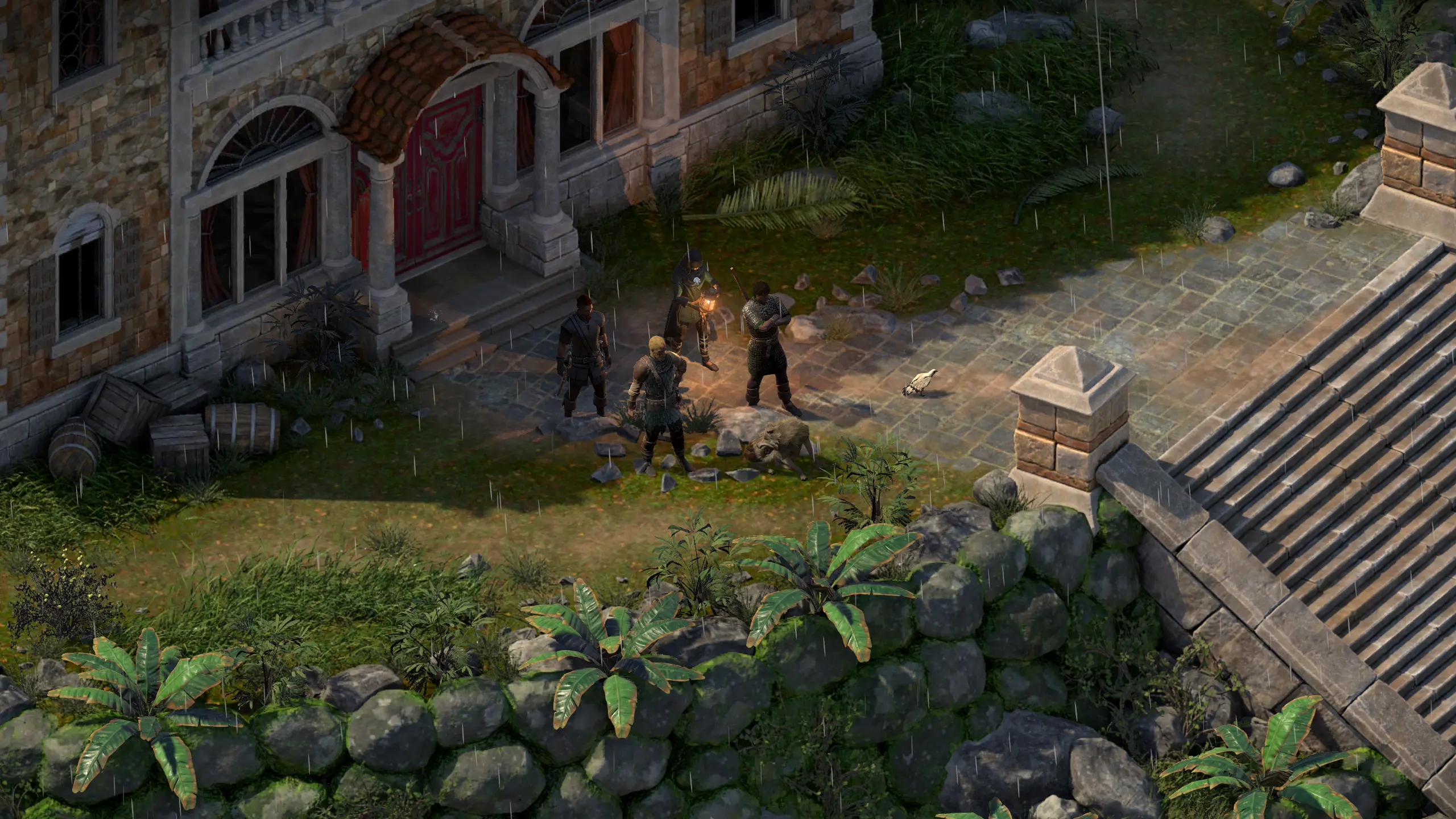 About this image
Main Shot: The guy on the right up front with his hands folded over his chest is Fenn the Beastmaster. He is a werewolf (Druid who can shape shift) with a wolf companion (the wolf chasing its own tail in front of him) named Wolfgar (or consider it Dogmeat in another life). The game lets you multiclass so I went with Druid Lifegiver (besides shifting ability he is good at healing) and Ranger Stalker (stalker means he has an extra close bond with his wolf companion). He is melee focused fighting with a quarterstaff or in werewolf form alongside his wolf. To his left is Eder, my favorite follower in the game who I also had in POE1. Behind Eder is Mac. Mac here is a rogue - streetfighter subclass. He uses blades and pistols to fight. Behind Fenn is Xoti - she has the lantern. She is another follower. I don't care too much for her but she is a nice person so putting up with her for now. She has a thing for Eder which works out well anyhow.

So totally lost in playing both Pillars of Eternity one and two. I re-created my two favorites from Fallout 4, Fenn Finn-Gall and Mac (Robert MacCready), who, through the turns of the Wheel, have ended up in the world of Eora. I played through POE1 with Fenn as a Druid shapeshifter (wolf of course) and Mac as a Rogue. They continue in POE2 where Fenn as also studied to be a Ranger (Beastmaster which is the Ranger/Druid multi-class) and Mac continues as a Rogue Mercenary. I did a very through play through of POE1 and imported the game and now working my way into POE2 - only just left the first island though so just getting started.

Anyhow not a screenshot game but thought I would share why I haven't been as busy in FO or Skyrim. I shall return to those worlds later. But for now planning on finishing POE2 and then will probably do another complete run through both POE1 and POE2 ... perhaps with Grim and Erik, my two favorite Skyrim characters.

The nice thing is that Skyrim is fantastic for making character portraits which you can then use in POE - and GS Jyggalag preset is really good for adding the right "look" to the portraits so they fit in well.

Lots of fun!