CandidENB_Reborn
Oblivion » ENB Preset
Added: 03/06/2017 - 07:11PM
Updated: 08/06/2017 - 01:39PM
img 3 loading...
img 4 loading...
img 5 loading...
img 6 loading...
img 7 loading...
img 8 loading...
img 9 loading...
img 10 loading...
img 11 loading...
img 12 loading...
img 13 loading...
img 14 loading...
img 15 loading...
img 16 loading...
img 17 loading...
img 18 loading...
img 19 loading...
img 20 loading...
img 21 loading...
img 22 loading...
Description
Last updated at 13:39, 8 Jun 2017 Uploaded at 19:11, 3 Jun 2017
CANDID ENB REBORN
UPDATE: Tweaking have been finishd for now, should be completly playable
I reccomand to read all installation instruction and features !
I reccomand a complet installation of this for the Best result possible
BEVILEX MODLIST GRAPHICS


Nontheless this ENB is builded around this list to exalt the quality of texture mod prouposed
( i'm using a costumized build, but it's all a matter of taste )
Expecially those fantasy warm colors work really well whit Lush and gaudy, so even if sometimes can be a bit exagerate i reccomant it
however is not mandatory, trees choice is up to you
IMPORTANT NOTE:
Lush and gaudy + ENB is going to cause the flashing mountains bug, to fix that you NEED to install both those mods on the top of your lush and gaudy,
so if you are using lush assume that the following mods are requied
LG - ENB textures fix
Requiements
A good PC
A good Monitor
Oblivion Reloaded VERSION 6.20    - THE LAST ONE -
( note: This mod is not hosted anymore on nexus, the new link is below ) 
Oblivion Reloaded
ALL NATURAL FULL
I reccomand 50% darker night no blue tint, but is up to you, if you find it too dark, set it to vanilla brightness
-- THIS ENB HAS REACHED THE FINAL VERSION AND THIS IS THE FINAL COMPROMISSION BETWEEN LIGHTNING INDOOR & OUTDOOR --
THE FINAL COMPROMISSION IS THIS: AT MIDDAY ONLY IN BRIGHTEST WEATHER THE INTERIORS LOOKS A BIT TO BRIGHT, BUT YOU CAN LIVE WHIT IT
THIS IS A CHOICE MADE TO KEEP IMMERSIVE & ALL NATURAL INTERIORS IN THE BUILD, THOS MOD MARK INTERIORS LIKE OUTDOOR FOR THE ENB PARAMETERS SO IT'S IMPOSSIBLE TO TWEAK THEM SEPARATLY, THIS IS THE BEST BALANCE I FOUND FOR BOTH TOGHETER
( i reccomand to check features to know if you will like it, but i guess you did it )
My personal system specs & monitor setting
Nvidia GTX 1080
16 GB RAM Corshair 1600 Mhz
interl i7 2490k 3.50 Ghz
Samsung Let tv 32"
Image Mode: Standard
Backlight                14
brightness               45
color                       50
sharpness                50
contrast                  80
tint               V50/R50
Installation
Turn Off everything forced in the videocontrol panel for oblivion ( AA AF etc )
Open your ini and set this line in at this value
bGrassPointLighting=1
bUseWaterDisplacements=0
bAllow30Shader=1
 ( the second line means water ripple off in game options )
Remove your old ENB
Install ONLY the d3d9.dll file from ENB dev
Copy the Archive content in your oblivion Folder and override
This ENB comes out whit a coloring preset for OR so make sure coloring it's active in your OR setting
i reccomand a FOV of 80-90 and a timescale to 8 in ini files
Just type in your console set timescale to 8 and save the game fore the second, make sure OR allows you to save your ini from the game
( SaveSettings must be set to 1 in your OR.ini file )
You can find the suggested OR settings dawn to the features, about dungeouns livable mean you
can see few steps in front of you whitout a torches, same for night along the roads, in deep forest at night
the game turn into hardcore one and if you are using 50% darker night torches are needed if you wont that adjust all natural night brightness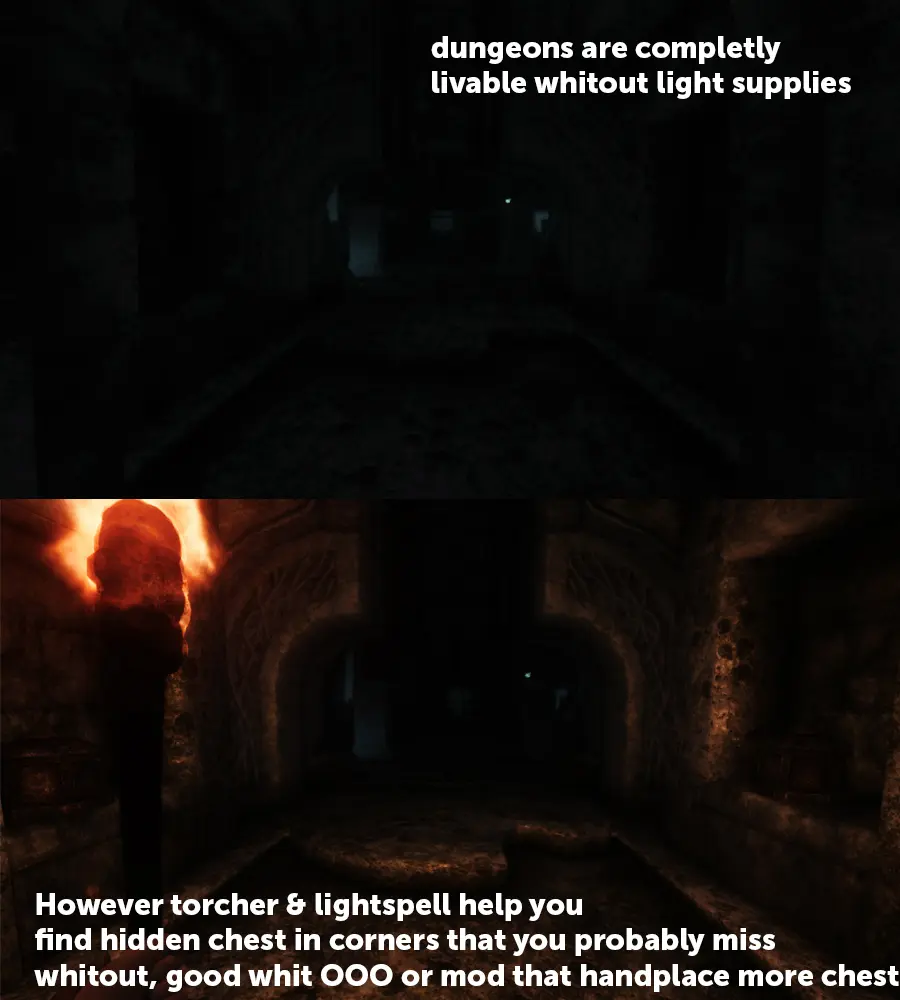 FEATURES & KNOW IUSSES
More Warm Fantasy colors compared to other ENBs & a good daynight cicle
DOF is not blurring your hands or weapon and there is a beautiful sunglare thanks to my friends from ATE
Tweaked interiors to work whit all natural & immersive interios, so interiors are livable at night and very bright at day
This ENB is not more killng your eyes whit too strong lightning effect or glowing things
Lenz effect are really kind and same for blooming of spell and fire, the shock spell is a bit out of this because ti's nature
MOST IMPORTANT
Night and Dungeons are livable whitout torches, they are LIVABLE, not bright as the day, about the night, if orest it's darker than roads and torches becomes requiements ( you can preventing it setting vanilla brightness in all natural installation )
torches are still usefull, you can generally run in night and dark caves knowing what you and your opponents are doing
however torches are usefull, expecially to find chests in dark cornes and so, or you barely see that, in the night torches
illuminate grass near you and you will know where are trees and how to move yourself watching the sky, you can see what you are doing even whitout torch but torche are usefull too, enemies and you are a sort of fount of reflected light, so you will know your foes, however harvesting plants in night it's hard
SUGGESTED OR SETTINGS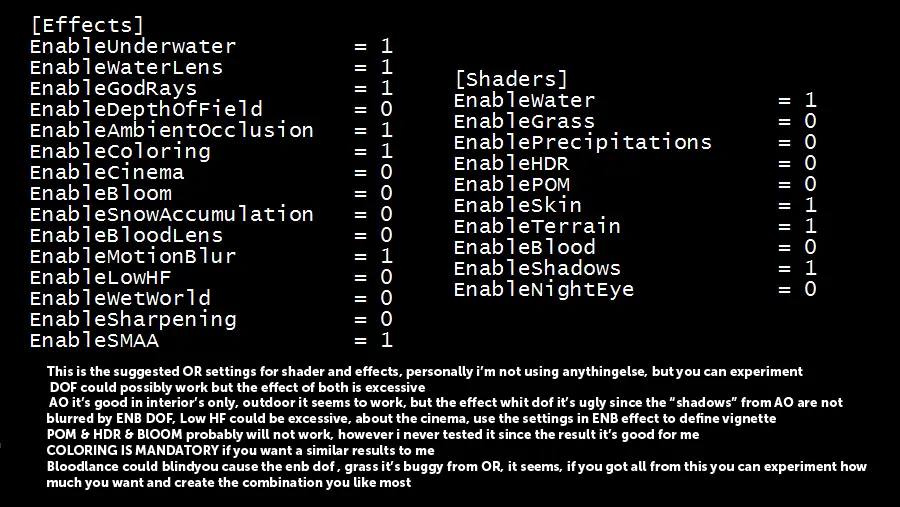 OPTIONAL CHECK THE PLAYABILITY OF THE ENB !
( IS NOT REQUIED, BUT YOU WILL KNOW IF YOU LIKE  IT ALL AROUND IN SOME MINUTE )
You can do this kind of test if you want to be sure that it's playable following tose steps, however it's a bit advanced and time consuming
While you do it, consider that you are watching this ENB by the extreme points, usually when you play, values are between those points most of the time
so maybe this kind of test is open to player interpretation
Force clear weather, set gamehour to 12 and walk in IC, if you like it next step
Force clear weather, set gamehour to 0 and walk in IC and in forest, if you like it next step
Force bad weather and do this again
Check Bright & bad weather at midday indoor in some IC market shop
Check Bright & Bad weather at midnight indoor in some IC market shop
Go tro bruma and check the glow of far mountains during day clear weather
Go into a random dungeous and try to wal in there whit and whitout torch
If you can live whit all it's 99 % playble and you like it, however the usage of all naturale requied some compromission
here there are console codes for weather ( dont worry if console darken the game is just happening during the typing )
Set gamehour to **.** ---->  set the gamehour to a specifical hour
fw 38eee        force clear weather
fw 38ef2     force raining weather
IUSSES & TROUBLES
If the enb dosent look like screen/videos you are missing something of the requiements
Using MagicEffectReplacer selfspell looks too bright and can seriously be a problem if you are affect by ephilessy or something that
involve troubles if you see strong blinking light, i'll do not take any responsability for that, use at your own risk
Thin Grass can sometimes do not bounceback the light of your toch resulting too dark, but this it's removed just moving yourself ingame
Dof is incompatible whit EXTERIO AO from OR so deactive it ( it's not going to harn anything, just the AO isnt blurred and this causes a weired effect )
Some oblivion sky can sometimes have some white patch, it's just a minor color glitch, try reduce the intensity of the sky in night
At 12.00 AM some interiors can look a bit too bright, depending how how many lightsource there are
Transition Betwen MenuMode & GameMode And DayNight settings is not perfectly smooth, it's just a millisecond flicked for menu and 
for daynight remember that in clear weather usually at 6.40 start the game settings and at 19.40 start night setting, all badweather 
or weather that darken much the sky, even ehavy clouds from all natural set the nightmode, in a good way i should say
Do not active AO & Detailed shadows they ahve iusses, expecially detailed shadows in interior
Typinc console command makes you set the nightmode, but dont worry, afeter you exite console all runs fine
Sometimes the ENB stop to work on the sky.. simply check if the effect is enable, if it is restart the game, if not work it's a problem whit chace, try restart your pc ( this problem is enb related and not to my tweaks )
Adaptation is not still perfect but works well and is not killing you
FAQ
Locked at 32 FPS
Check FPS Limiter and waitbusy render in the enb ingame editor, if ON toggle it both, if not, well it's some other framerate manager
or your system is too weak
sometimes ENB actve unactive tag if you open and missclick on it, since moving on the ingame editor
is a bit stiff because you have 2 mouse arrow and the camera is moving
Looks too bright/Dark
Open enb ingame editor and play whit brightness/Gammacurve till you find the personal setting for you
Please understand that this can really change based on your monito setting, filters for the screen and other stuff like those
I reccomand to tweak this outdor in this way
go out loading a template old save
type in command:
Set gamehour to 12
fw 38eee
open enb and tweak brightness, remember that this is the maximum amout of brightness you will see
check an interior at the same hour whit same setting
when all it's god save the preset
reload your playsave
Credit, collaboration & Help, legal
All the files are used whit the explicit permission of authors, still from version 2.0, for those you have to endrose
astrob0y for ATE files
FrDylan for Cinematic ENB files
Boris Vorontsov for Creating ENB
Bevilex & naritete to inspire me to make my work better & better
Predcaliber because every year he makes a tutorial that make me feel that after 11 year i wanna play oblivion again
YOU CANNOT EDIT & UPLOAD SHADER SINCE THEY ARE NOT MINE, AKD TO ORIGINAL AUTHORS