File information
Created by
Montegris
About this mod
Retexture project of the Imperial City that changes the visual appearance.
Requirements

Permissions and credits
Imperial City Retextured 
======================
Author: Montegris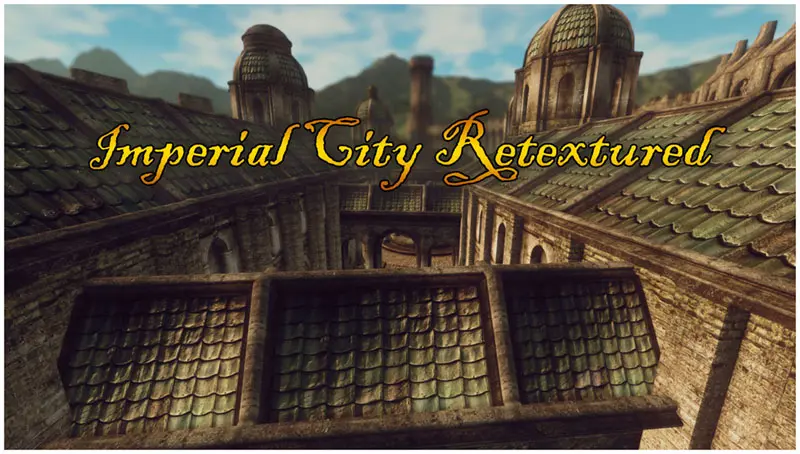 Description
===========

Retexture project of the Imperial City that change the visual appearance, most of the architectonic details are changed but i wanted to keep an antique look. You can notice the changes in the color palette, the whites stones are replaced by brown tones; also textures are higher resolution now when it is needed. 
Installation
============

Extract files in the Data folder and overwrite if necessary (Remember to use ArchiveInvalidation), or much better use Wyre Bash to install it. 
Installation - Modular Version
========================

The best way to install it is usign Wyre, Select the 00 Base and then the other six optional textures (from 01 to 06) or none, as you prefer. Notice that some of them have more than one choice, you can see the SS folder to see what do you want to install. 
In order to intall manually, you have to extract the content of the 00 Base folder to the data folder, and then the ones you want of the rest of the folder numbered from 01 to 06, in case there are several of one number, chose only one, check the SS folder in order to see the captures.

Permission
==========

Do whatever you want with this mod, just remember to give credits to me and Tosiko-san & draOOger.
History=======
--Added an optional package for Hi-res LODs
v 1.2 Modular version - added the Hi-res LOD
--Added an optiona package for LODs
v 1.1 Fixed LODs textures
v 1.0 Initial release
Credits
=======

TC Rome IC by Tosiko-san & draOOger
http://tesdiesel.blogspot.com.es/2014/05/td-rome-ic.html

As some texture are based on this mod, i have to give her the credits for that. It is a great retexture mod by the way.
My Mod List========