The Shunned Shack v2.2 - II AWLS AN Cobl BM UL
Oblivion » Player homes
Added: 13/12/2012 - 03:46AM
Updated: 26/06/2015 - 08:30PM
img 3 loading...
img 4 loading...
img 5 loading...
img 6 loading...
img 7 loading...
img 8 loading...
img 9 loading...
img 10 loading...
img 11 loading...
img 12 loading...
img 13 loading...
img 14 loading...
img 15 loading...
img 16 loading...
img 17 loading...
img 18 loading...
img 19 loading...
img 20 loading...
img 21 loading...
img 22 loading...
img 23 loading...
img 24 loading...
img 25 loading...
img 26 loading...
img 27 loading...
img 28 loading...
img 29 loading...
img 30 loading...
img 31 loading...
img 32 loading...
img 33 loading...
img 34 loading...
Description
Last updated at 20:30, 26 Jun 2015 Uploaded at 3:46, 13 Dec 2012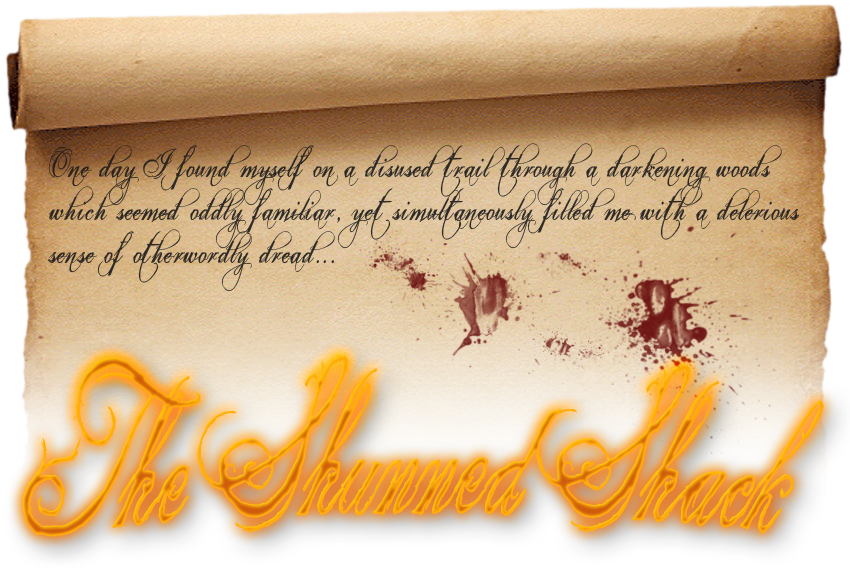 Once, a simple inn located in a heretical village. Later, the cursed abode of an exiled imperial Battlemage. Now, vacant and awaiting its new owner. The Shunned Shack sits atop the edge of Hackdirt and invites exploration.
Quite a bit larger (now) than its inherited name might suggest, The Shunned Shack is a rambling, dilapidated, inn-style home. Get past the grunge, however, and you'll find that it's actually a fairly well appointed residence fit for a darker-themed character such as a thief, assassin, or other such rogue (provided that they can tolerate the locals*).

A stocked custom alchemy lab!
A multi-purpose custom enchanting station!
A functioning repair anvil!
Loads of safe storage!
A short (quest-less) story, to fit within Cyrodiilic lore and the Lovecraftian elements of its location!
The Shunned Shack is over 100% larger than before! More clutter for all!
Fully "switchable" independent lighting throughout!
New activators, like a functional scorpion vivarium!
A new teleport spell!
Room for at least 1 follower!
More crap to find!
More crap to read!
(Optional in v2.1) Support for Antistar's Bathing Mod! Wash that blood off in a sketchy old rain barrel!

I was inspired to create this mod by a desire to have a character who lived amongst the misshapen lumps in Hackdirt and also by great mods like 
Immersive Interiors
,
Animated Window Lighting System
,
Cobl
,
All Natural
, Drahenne's
Hackdirt Alive
, and finally, by the amazing houses of
Khettienna
. 
I was inspired to finally release version 2 (which had been sitting, mostly finished, on an external HDD following a rebuild of my desktop) almost a full 2 years late by the desire to not be continually reminded of the fact that I'd never finished it. 
The Shunned Shack features a delightfully grim and dark atmosphere, a viewable and extremely detailed "exterior" outside the interior windows, animated windows & chimney on the custom exterior mesh, interior weather sounds and day/night interior lighting, all basic COBL functionality (luggage, dinner plate, food larder, water source(s), and so on) plus a few special scripted activators performing unique functions!
Many of the resources used in The Shunned Shack have been re-textured and re-uv'd to better fit within their new environment as well as for originality's sake, and all of the resources use unique paths. Meshes have been PyFFI'd where applicable and the plugin has been cleaned with TES4Edit.
Additionally, the plugin has been tagged with C.Climate for Wrye Bash users.
Also, the Shunned Shack includes many wholly-original VWD meshes where appropriate. To view these meshes in game, you must use 
TES4LODGen
. Please refer to that utility's instructions for further details.


Non-Negotiable Requirements:

Weather - All Natural

Cobl
Optional Requirements:


Bathing Mod

Unique Landscapes

A couple brief notes:
First, as previously mentioned, there's no quest that accompanies this mod. However, there are a few minor secrets to be found and any keys needed can be found fairly easily, I think. The front door key was conveniently left under a rock just to the right of the door itself. There is one interior door which cannot be opened (without console commands, I guess) by design.
Lastly, the cellar of The Shunned Shack is still pretty small and space is limited. While this cell does have a pathgrid and everything, you'd probably be wise to leave your companion(s) upstairs.

Known Issues:
None that I'm aware of.
Regarding load order, it should go something like this:
Oblivion.esm
All Natural Base.esm
Cobl Main.esm
(Optional) BathingMod_Base.esm
xxx
xxx
xxx
TheShunnedShack.esp
xxx
xxx
xxx
(Optional) xulRiverEthe.esp
(Optional) TheShunnedShack - UL.esp
xxx
xxx
xxx
Bashed Patch, 0.esp


Updating:
If you count yourself among the tiny number of users who installed version 1x, first off,
YOU ROCK!
Seriously, give yourself a hand. 
Afterwards, you will want to make sure that you remove absolutely everything of any importance that you wish to keep from all containers and then promptly remove yourself and any followers to any other interior cell that
ISN'T
a part of this mod and save there. I imagine Moslins would work suitably and it's located nearby.
Remove version 1x and make a clean save, then install version 2.
Updating from 2.0 to 2.x shouldn't need a clean save or anything, but you (and any followers) should go to any other interior cell not a part of this mod to save in before updating just to be safe, I guess.
Caveat emptor.

Footnote:
* I recommend a save where your character hasn't done the quest
A Shadow Over Hackdirt
(given by Seed-Neeus in Chorrol) if you plan on living here, unless you don't mind killing all the residents of Hackdirt, as most become permanently hostile afterward.


Credits:
Thanks to Bethesda for creating Oblivion.
Thanks to the Nexus for being cool.
Thanks to Drahenne for Hackdirt Alive & for play testing The Shunned Shack and for being cool and offering suggestions to improve it.
Thanks to SomeWelshGuy for Immersive Interiors (best immersion mod ever) and for the permissions which you personally extended. Cheers!
Thanks to Ismelda & co. for AWLS and the resources therein, as well as for the IllumAnimation tool and its documentation.
Thanks to the Weather - All Natural team for an amazing mod and for the resources therein.
Thanks to the Cobl Team for a great mod and all resources therein.
Thanks to Stroti for all of his awesome mod resources, of which I've used too many to list individually.
Thanks to Khettienna for all the superb houses (whose scripts I have shamelessly copied) & for the TESA Clutter Pack & for fixing my exterior mesh!
Thanks to Meo for the Bits and Pieces and Open Books.
Thanks to Edocsil for the Fireplace Accessories.
Thanks to Lady Li and Malo for Birdies in Cages (specifically, the cages).
Thanks to Lunasprite13 for the Tool Barrel.
Thanks to Gruftikus for tes4ll and the assistance with it.
Thanks to Momo77 for the hanging clothes lines and for the permission to use them in this mod.
Thanks to Sinblood for the "Lethal Majesty" ring meshes & textures.
Thanks to Antistar for the Bathing Mod & its resources.
Thanks to Maczopikczo for the lovely screenshots and the permission to make them into paintings.
Thanks to coffee in the morning, chai tea at noon, and stout at night.
Thanks to anyone who's downloaded any of my mods, I hope you enjoy(ed) them!
If I have forgotten anyone or anything, please let me know and I will work to correct that mistake immediately!