img 3 loading...
img 4 loading...
img 5 loading...
img 6 loading...
img 7 loading...
img 8 loading...
img 9 loading...
img 10 loading...
img 11 loading...
img 12 loading...
img 13 loading...
img 14 loading...
img 15 loading...
img 16 loading...
img 17 loading...
img 18 loading...
img 19 loading...
img 20 loading...
img 21 loading...
img 22 loading...
img 23 loading...
img 24 loading...
img 25 loading...
img 26 loading...
img 27 loading...
img 28 loading...
img 29 loading...
img 30 loading...
img 31 loading...
img 32 loading...
img 33 loading...
img 34 loading...
img 35 loading...
img 36 loading...
img 37 loading...
img 38 loading...
img 39 loading...
img 40 loading...
img 41 loading...
img 42 loading...
img 43 loading...
img 44 loading...
img 45 loading...
img 46 loading...
img 47 loading...
img 48 loading...
img 49 loading...
img 50 loading...
img 51 loading...
img 52 loading...
img 53 loading...
img 54 loading...
img 55 loading...
img 56 loading...
img 57 loading...
img 58 loading...
Description
Last updated at 3:36, 2 Jun 2012 Uploaded at 20:03, 23 Dec 2010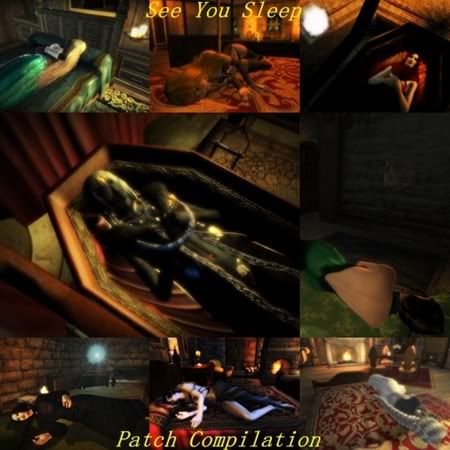 By HavenofDarkness

Announcement:
The Leyawiin Player House for Sale has been fixed and reuploaded!
(Thank you to cdan for informing me that the file was not working properly).
Abandoned Mountain Shack has been updated to the newest version!
The beds of Imperial Furniture Renovated V1.3 have been sleepified!
New patches available!
Places:
Ardah: A Desert Dream by Stroti!
Shezrie's Towns by Shezrie!
Elsweyr Anequina by lliana!

Player Homes
Elven Garden's Loft by Carah!
Bond's Studio Apartment by Bond123!
Akarina Cottage by Blary!

Overview:
This is a project I have had in mind for awhile and have finally sat down to do it. My goal is to add Mmmpld's wonderful See You Sleep to mods that aren't otherwise SYS compatible, in an effort to improve immersion and to make player-made abodes that much more enjoyable.
Some of these patches were made by request, and I will happily take more. I want to hear which player-homes the community would like to see an add-on for. Please understand that some custom beds are susceptible to clipping, and sometimes nothing can be done to help this. For example, typically my characters and NPCs hands or feet, maybe part of their head will sink through the upperclass red and green vanilla beds.
Another example that has to do with custom meshes: if there are pillows placed on the top of the bed, or any object that interferes with the animation path, the characters head will go straight through them, and you won't be able to see it. even though this is not always the case, if these pillows or objects are static then they cannot be removed without removing the entire bed.
My point is, if you make a request and I find it to be one of these examples or something similar, there's no guarantee the mod will be patched if the clipping is too extreme. I have already come across certain custom-made player homes that meet these descriptions.
Requirements:
It is highly advised that you be running the most up to date versions of the mods that these patches cover. It is also recommended that you have the most current version of See You Sleep. Any specific patch requirements can be found in its individual readme.
Please check back often for any updates or new mod releases, and as I said, feel free to leave feedback and make requests through PM. I won't know if the mod is broken unless you guys tell me. I'd appreciate it if the community would kindly notify me of any errors or weird incompatibilities that might occur, though there should be none. Although these patches do work in my game, obviously it may not go over as smoothly with everyone.
You will need need Mmmpld's
See You Sleep
with all of these patches, as well as the player-abodes made by the original authors. If you do not have the home necessary, then you can either type in a search on TES, or a link can be found below in the
credits
section to both the creator's page and their actual mod. I will try to alphabetize them by mod name to make them easier to find, as I am guessing the list is going to start getting quite long. There are also links provided in each readme.
Installation:
Extract the contents of the archive to a secure location first. I like to make sure the files are intact and usually place it on my desktop, then move it into my Oblivion folder.
If you would rather extract to your Oblivion folder that's fine too, I've just sometimes had issues where files just never made it in there.
Open your Oblivion menu, click "data files" and enable the checkbox. Load AFTER See You Sleep and your house mod's ESP file. Load orders may vary, but this is what worked for me.
Credits...
Mmmpld
for See You Sleep, without it I would never have been inspired to do this, and these patches wouldn't even exist.
I would also like to extend a special thanks to
Khettienna
for all the time help and patience lent on script modification. Without this my head would probably have exploded, and certain patches would never have been accomplished.
Also to a whole array of other people who I am about to name, player-home first. You guys are all awesome and provide such amazing content for Oblivion. It gives me so much joy and pleasure to see that the community is still thriving and coming out with new materials every day, after all these years!
Permissions & Contact:

Please do not repost, re-host, re-upload to or on this site or any other without contacting me prior. That goes for any and all of these patches.
Please remember to give credit in all areas and aspects where credit is due. I only created these add-ons. If you want to modify the original file(s) you must then contact the original author(s) and seek the appropriate permissions if so required.
Feel free to send me a PM here on TES, or contact me directly through the email located in my readmes. You will also find my username for the Official Bethesda Forums.