About this mod
Adds three buildable waterfalls to decorate your base or be added as prop for screenshots and videos
This mod adds three buildable waterfalls to decorate your base or be added as prop for screenshots and videos.
They are available under the Portable Technology tab, so you can deploy them anywhere you like.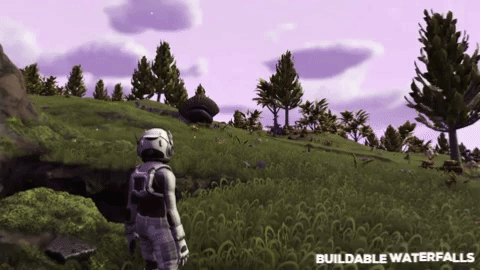 There are a few known problems:
- They do not have any sound
- They have a fairly short height, due to how scenes are rendered
- Spawning multiple of them close to each other will lag your game and make some stuff flicker
The mod will conflict with any mod that modifies:
METADATA/GAMESTATE/DEFAULTSAVEDATA.MBIN
METADATA/GAMESTATE/DEFAULTSAVEDATACREATIVE.MBIN
METADATA/REALITY/TABLES/BASEBUILDINGTABLE.MBIN
METADATA/REALITY/TABLES/NMS_REALITY_GCPRODUCTTABLE.MBIN
Knowing all that, I hope you have fun with them!
Special thanks for WinderTP for helping figure out a bunch of things!