From time to time, the Mass Effect Modding Discord hosts community events to encourage creativity among modders and, in the case of this year's N7 Day modding jam, contribute to Mass Effect's fan holiday with some amazing mods for everyone to enjoy! We'll be announcing the winners of the event down below. The mod author who wins 1st place will receive an officially licensed 'Medal of Valor' from the BioWare Gear store, as well as a £50 Steam gift card courtesy of us here at Nexus Mods!

It's been an unprecedented time for Mass Effect's modding community this year. With the launch of Mass Effect Legendary Edition, we've seen a 'gold rush' of mod releases as the new Legendary Explorer toolset and associated modding utilities were rapidly adapted to the remaster as the community got to work.

In addition to serving as the site's moderator for the Mass Effect games, I admin the Mass Effect Modding Discord, which has helped mod users and developers (both new and old) come together and celebrate the wonderful world that is Mass Effect modding. From troubleshooting bugs to building the Community Patches, sharing knowledge and discussing ideas, our community has grown from strength to strength in this year alone.

Back in July, we held the newbie modding jam, which encouraged newcomers to the ME modding scene to get their hands dirty and submit a mod to be voted on by the community. Last month, the veteran modders of the community were presented with a similar challenge. The only requirement was that they had to publish their mod pages on November 7th, Mass Effect's fan holiday, after which the entries would be judged by our community.

The community voted out of 5 points based on 3 criteria, for a total of 15 possible points:


Creativity. How well does the mod overcome design challenges and show commitment to following through on its creative vision?
Functionality: How does the mod mechanically feel? Is it a smooth experience?
Originality: How unique is the idea? How many new concepts does it bring to the table, and does it execute them well?

Now that voting has closed, my fellow admins and I at the MEM Discord have tallied the scores and are now ready to announce the winners!



1st Place:

FemShep v BroShep Duel of the Shepards (LE3)



Created by:

Exkywor

Battle the other you! Faceoff against FemShep if you are playing as BroShep, or against BroShep if you are playing as FemShep. Average Rating: 12.14 / 15




2nd Place:

Last Person Standing (LE2)



Created by:

beccatoria & Jade Barker
Survive the suicide mission after killing your entire squad. Keep playing, and import your tragedy into Mass Effect 3!

Average Rating:

10.94 / 15




3rd Place:

Pinnacle Station DLC (LE1)

Created by:

ME3Tweaks

(Mgamerz, SirCxyrtyx, Kinkojiro & HenBagle)


Test the limits of your combat prowess aboard a remote, top-secret Alliance space station. An enhanced port of the original Mass Effect DLC, which was not included in Legendary Edition due to lost source code.

Average Rating:

10.84 / 15




4th Place:

Optional Flirting Mod (LE2)



Created by:

phoenixsoul13


Attempts to make which options pursue a romance clearer and open up platonic options to Shepard regardless of gender.
Average Rating:
10.45 / 15
5th Place:
Body Diversity for MShep (LE3)

Created by:
Padme4000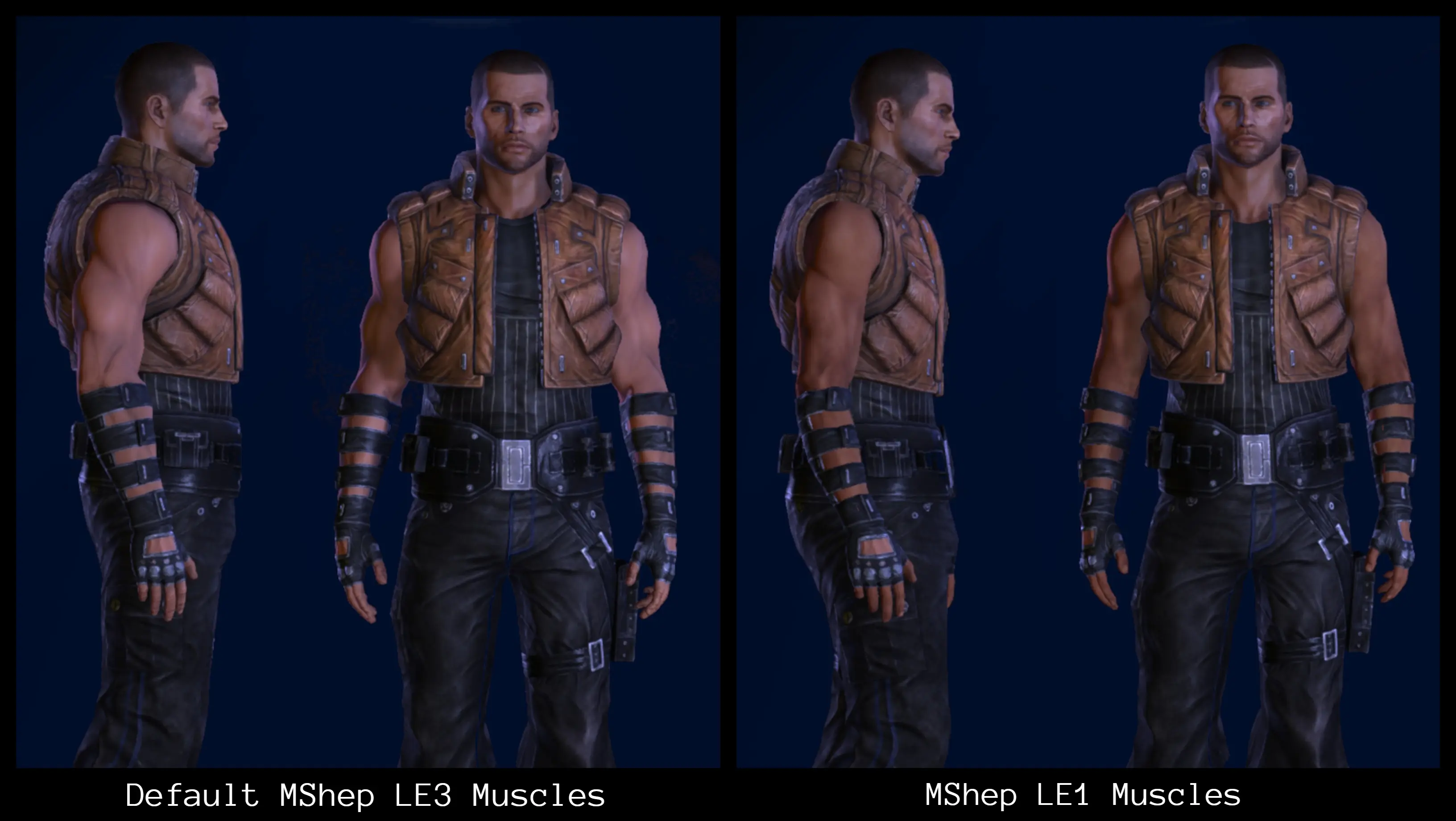 Gives Mshep the LE1 body shape. All meshes available to Mshep in the locker have been edited to fit this body shape, and/or changed the showing skin parts to the parts from the LE1 body.
Average Rating:
10.13 / 15
6th Place:
Armax Arena - CAT6 Enemies (LE3)

Created by:
Tydeous



This mod edits Armax Arena so that instead of fighting against Cerberus, you are fighting against the CAT6 Mercenaries from Citadel DLC.

Average Rating:

9.88 / 15



Congratulations to Exkywor for coming out on top against some very stiff competition! We'd also like to offer a round of applause to all other modders who submitted entries, and a thank you to everyone who voted.



If you'd like to be involved with future Mass Effect modding events, be sure to head over to the Mass Effect Modding Discord!