Morrowind is turning 20 today! To celebrate this anniversary, our good friend darkelfguy is running a special edition of his yearly Morrowind May Modathon and we're also giving away fabulous prizes in our Morrowind quiz!

Did you know that our site started out as a fansite for The Elder Scrolls III: Morrowind? That's right, and that was back in 2001 when the site launched under the name "Morrowind Chronicles" in anticipation of and leading up to the game's release exactly 20 years ago - 1 May 2002.

Ever since, Morrowind modding has been a staple of our site and the community for this classic RPG is going strong to this very day. It's because of this fact that we're today celebrating the 20th anniversary of TES III: Morrowind. As part of the celebrations, we've come up with a short quiz which is suitable for everybody regardless of whether you've played Morrowind or not - as long as you know a thing or two about Elder Scrolls lore!


The Prizes


1x Game of your choice (Steam/GOG/Origin)
1x Steam Gift Cards valued at £25
2x Steam Gift Cards valued at £10


Morrowind May Modathon

But that's not all, like every year darkelfguy is running another Morrowind May Modathon and, given the occasion, you can bet it's a special one. Please, darkelfguy, take it away:



More Nostalgia!

If you're now thinking "an anniversary quiz and the modathon are great, but I want MORE Morrowind" then Danae has got you covered. Over the last few months, Danae has collected many stories from avid Morrowind players - you may call them memories - and, with the help of XeroFoxx who did the visual work, combined them into an equally impressive and nostalgic booklet.

Here's a sneak preview, but if you want to see the full thing then keep your eyes peeled on our social media where we'll be posting the link to the entire booklet once it's finished.

UPDATE: The site hosting the full booklet is now live and can be viewed here.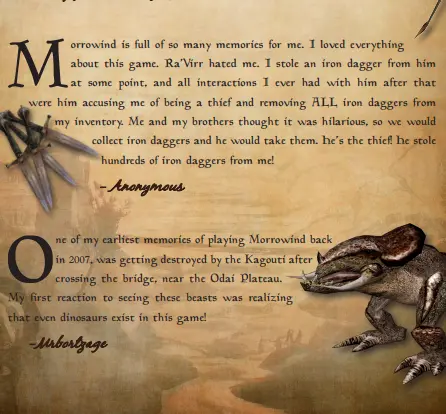 Moreover, Danae has been putting in an incredible amount of work into both a mod author interview series, as well as a podcast on YouTube - talking to various mod authors about their experience with Morrowind.

A huge thank you goes out to you both, Danae and darkelfguy, for showing and sharing your love for Morrowind to this day. It's not only the game that really put our site on the map, but we're also proud that even in 2022 the Morrowind modding community is still going so strong.

Thank you to all the mod authors and everyone who is still wandering Vvardenfell, in other words, playing and modding Morrowind even two whole decades after its initial release!