(TTW) Cinematic Wasteland
(TTW) Cinematic Wasteland
File information
Created by
Random Unit

UPDATE 1.1: General Wasteland is complete, DLC's are on the way.

UPDATE 1.2: Point Lookout complete.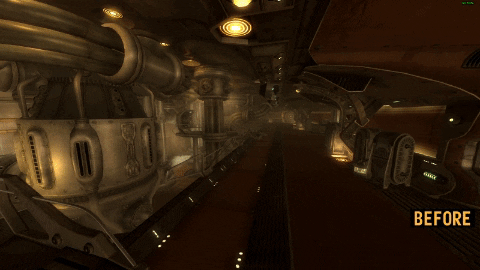 UPDATE 1.3: Mothership Zeta complete.

Q.: What is this?
A.: This mod has started as my own attempt to get rid of the green tint around the Capital Wasteland in Tale of Two Wastelands and grown into a complete lighting overhaul both in exteriors and interiors.
Q.: What has been done?
A.: I've reworked lighting templates, climates, weathers, image spaces, image space adapters and ton of lights to make exteriors look more realistic and interiors — more gloomy and depressing, making Cateye chem extremely vital at many circumstances.
Q.: Does this mod affect DLC's and FNV part of the game?
A.: At this moment I'm working on Capital Wasteland and FO3 DLC's, although you would definitely see the changes in the FNV part because they share a lot of stuf that I've been tinkering with. FNV part will be put in order later.
Q.: Have you added new weather conditions?
A.: I've added 2 additional types of weather, cloudy and overcast to make Wasteland sky look a little bit less static. You won't get any radstorms/rains/sandstorms/whatever.
Q.: Why should I use this mod?
A.: You shouldn't. I've made this mod mostly for myself and decided to share it with the community, so anyone could give it a chance.
Q.: Do you have any plans for making standalone mods for FO3 and FNV?
A.: Probably. Let's see where it goes.
Q.: I've found an interior that doesn't seem right to me. What should I do?
A.: This mod is still WIP, so if you'll find some bugs feel free to share your findings with me on the "Bugs" page.