File information
Created by
Ashtonlp101
About this mod
A near fully voiced mod containing around 30 voiced characters, 11 quests, a couple unmarked quests, 2 new world spaces with full nav-mesh and LOD, and tons more! Provides around 2+ hours of content.
Requirements

Permissions and credits
Project Mojave Requires the
Updated Mojave Master Plugin V1
4
 or greater! If you don't remember what your last version was I'd recommend you install the full version instead of the update, otherwise files may be missing.
Description
Project Mojave is a project in the making since January of 2019. It is a near fully voiced mod (Two very minor characters aren't voiced) containing around 30 voiced characters, 11 quests, a couple unmarked quests, 2 new world spaces with full nav-meshed and LOD, new weapons, armor, other items, new crafting stations, and tons more! This mod is a continuation of my Mojave Master story-line, but aims to mainly tell smaller side stories.  There is a "main quest" in a sense, continuing your journey along the newly re-founded Desert Rangers.
The mod also has some of my most attention to detail pieces in it, character's dialogue adjusts depending on your intelligence, your race, gender, etc. For example, if you are Asian and you attack an Asian man he will say that you should be on the same side as him, then of course there is low intelligence dialogue, and my favorite, lady killer dialogue. Characters may also reference previous things you've done in the Mojave Master series! I of course have to thank all of the fantastic voice actors for they take the dialogue to a whole new level!
A huge aspect of the New Reno pass is its foliage density, certain areas contain lots of trees, bushes, and other plant life, I specifically know Mojave Sandy Desert will erase the Joshua trees which are prevalent in the desert areas as well as removing dead trees causing some objects to float in the air.

The quests vary from staring in a porno, to giving sniper cover to a mechanic, to tracking down Anthony Spilotro. My personal favorite quest to make was the Red Eagle quest, largely inspired by the Cancelled Fallout: Van Buren tribe that featured an AI as their leader.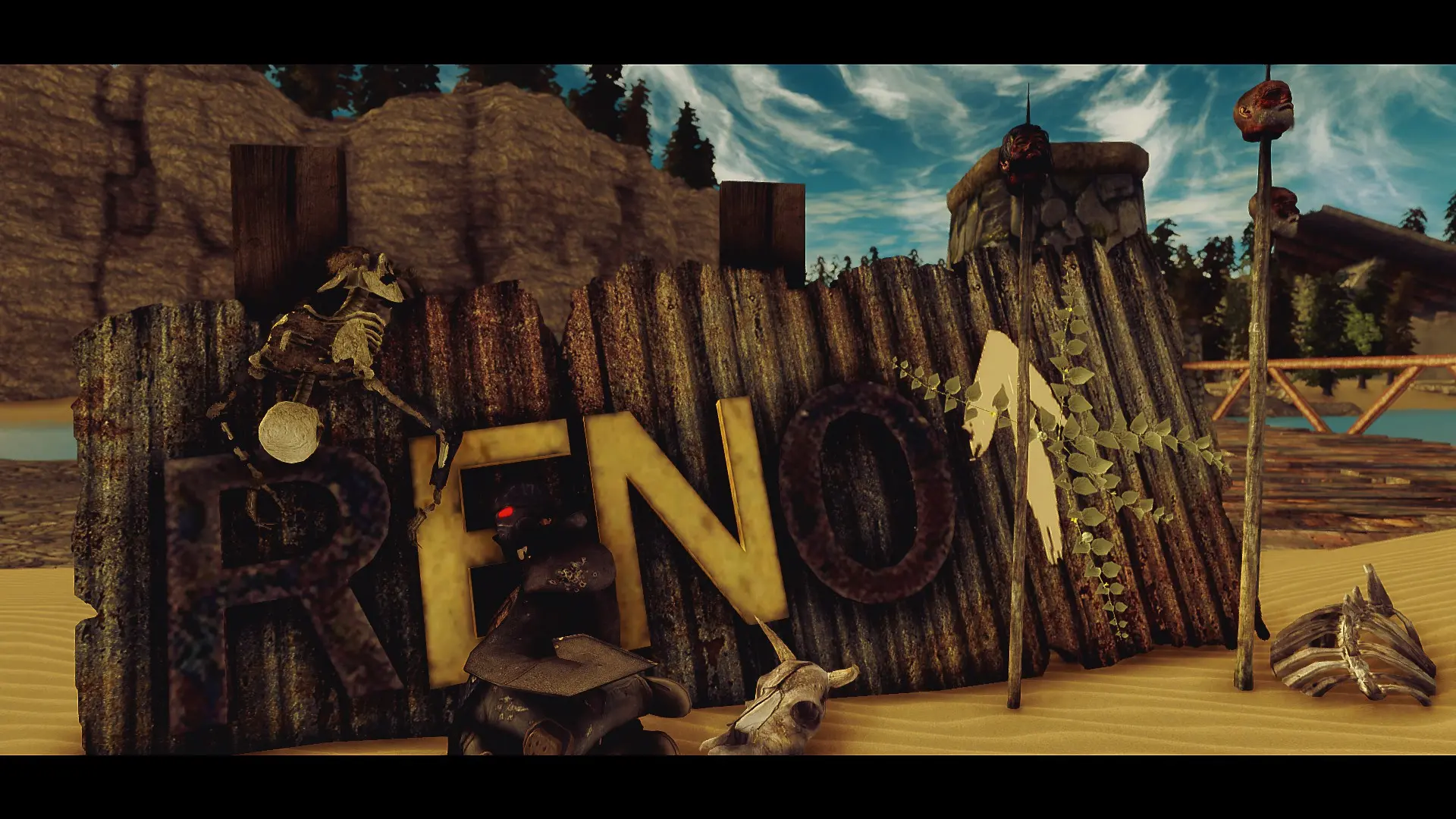 New Reno Pass
Where to Start?

All 11 quests are their own independent quests so there's 11 different places to start, but there are 4 quest hubs that dish out these 11 quests. They are:
-Gypsum Station
-Bonegate Square (Right next to the Thorn)
-Red Eagle Camp (Right next to the Cliff-side Prospector Camp)
-The New Reno Pass (Can access the area by traveling to Brooke's Tumbleweed ranch going down the road West until you see "Brandice")
Westside Lounge
Specific Notes (Where each quest specifically starts and additional notes)
"Occidendum!"
Go inside the Bonegate apartments in Bonegate square, speak to an NCR Ranger and pass a reputation check.
"Tonic Terminal"
Speak to the bartender in the Gypsum Station
"Je- I Mean Sugar Bombs!"
Speak to Tony inside the Bonegate Apartments
"Radio Gaga"
Speak to Ranger Davis at the Gypsum Station
"Trouble
" Speak to Ronald Gypsum at the Gypsum Station
"Erotica"
Speak to Big Bob in Big Bob's fun Shack in Bonegate Square
"Bounty: Ghoul Problem" and "Bounty: Sniper Cover"
Read the bounty board at Reno One in the New Reno Pass
"Killer Queen"
Speak to Captain Bodie inside the Outpost at Reno One
"G.O.D."
Travel to The Red Eagle Camp right next to the Cliff-Side Prospector camp
"Suspicious Minds"
Speak to Ranger Morris at the Westside Ranger Outpost near Bonegate Square
Unmarked Quest: Doomsday Dan
- Travel Along the cliffs just North of Reno One in the New Reno Pass, the actual quest is performed by going into the basement of the RobCo offices near Bonegate Square and retrieving a note from his wife's Skeleton.
Unmarked Quest: More Sugar Bombs:
Speak to Foreman Jones at the Gypsum Station
Side Location: Wetside Lounge:
Bobby Blues performs there, along with audio controls that feature three popular songs to choose from.
Check out my other mods!

Saving Camp Searchlight

Operation Virgo

Desert Rangers Resurrection

New Vegas Sewers

NCR Truck Convoys
Credits
WatersMoon110- Puppy meshes
Kibblesticks- Camera
All of my fantastic voice actors!