img 3 loading...
img 4 loading...
img 5 loading...
img 6 loading...
img 7 loading...
img 8 loading...
img 9 loading...
img 10 loading...
img 11 loading...
img 12 loading...
img 13 loading...
img 14 loading...
img 15 loading...
img 16 loading...
img 17 loading...
img 18 loading...
img 19 loading...
img 20 loading...
Description
Last updated at 3:23, 9 Jan 2012 Uploaded at 3:23, 9 Jan 2012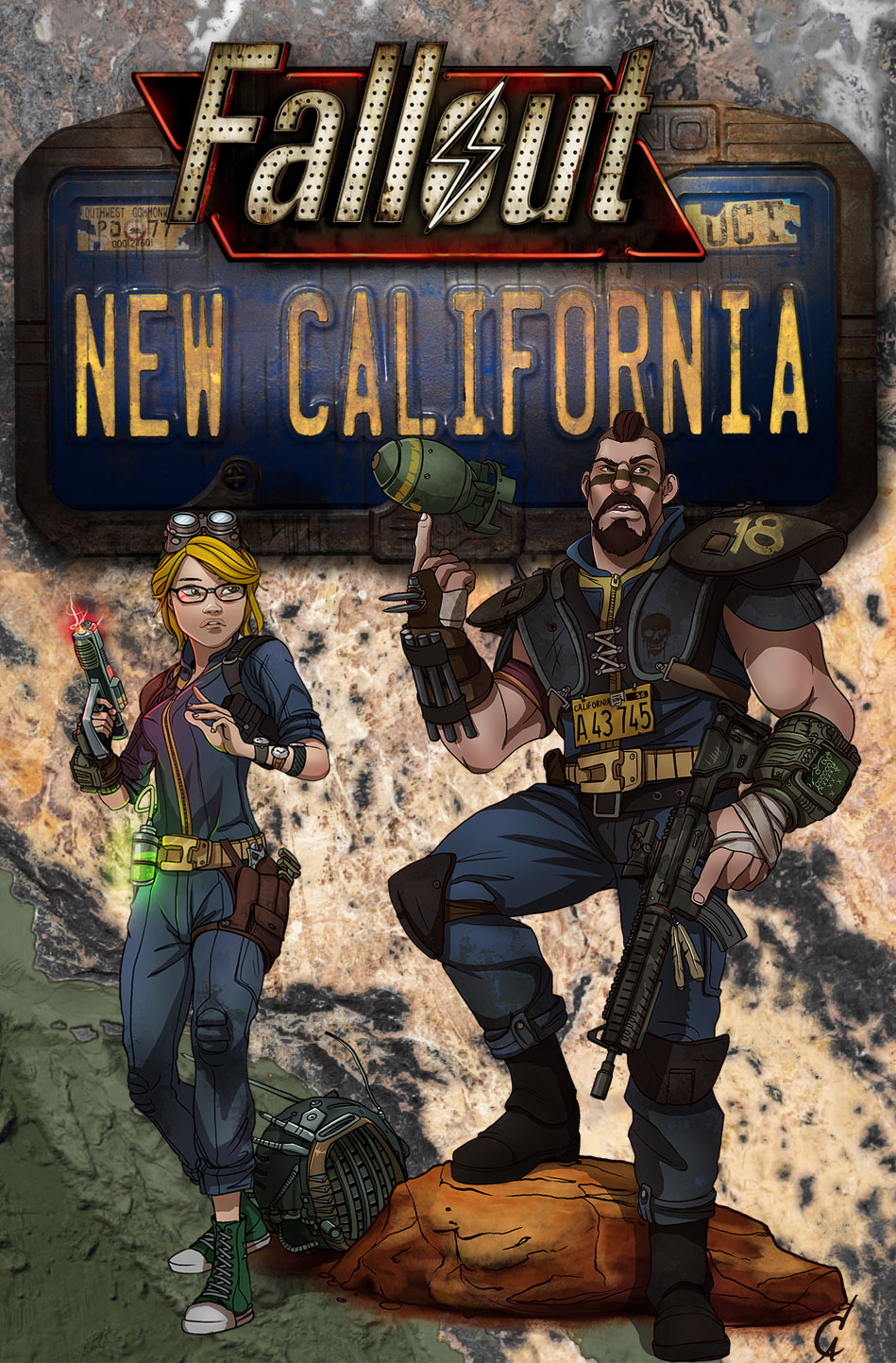 This is a Mod for the PC Version of Fallout: New Vegas.
It adds an all new campaign selected from the New Game tab on your Main Menu.
This mod only requires a copy of New Vegas, right out of the box*.
We're a
Mod of the Year 2013 Winner
with a healthy
fan community
.
Even got a
wiki
page.
1.INTRODUCTION
In Fallout: New California you play as the kid from Vault 18. Orphan. Loner. Mutant. On the last big night of the Vault Ball season, you make a fateful decision that will change the course of your life -- and eventually the future of the New California REpublic.
Vault 18 is at the heart of the California Wasteland high in the San Bernardino Mountains, and it's legendary Wasteland Scouts have managed to keep its secrets safe for decades despite the wars raging beyond the great door. In their old age, their adventures have created a new generation to take their place... if their rebellious adopted kids survive the threat brewing within their own ranks.
You will face the New California Republic under president Wendell Peterson, the New Reno Mob's Bishop Family, the remnant Shi Clans, The Enclave Leonidas Squadron, the Super Mutant Army, and the "legions" of bloodthirsty Survivalist Raider Tribes that have allied together in the remote Athens-Tec Uranium Mine off the Long I-15.
Through them all you'll choose your path from SPECIAL dialog options, acquired PERKs, and travel with 8 possible companions depending on your choices. You'll enjoy two new radio stations, hours of voice acting, and professional grade presentation.
There is always another path to take in New California. But War? War never changes.
2.FEATURES
An Alternate Start in Vault 18 with a New Player Character and Main Quest.
A New Intro Video to really give it that "New Game"feeling.
An Ornate Main Quest Line with Compelling Side Quests rich in Fallout & Character Lore.
Hours of Voice Acting recorded at pro-quality in Radian-Helix Media's Tucson, Az Studio.
A Very Large Worldspace in California - The Black Bear Mountain National Forest.
An Epic War between The Super Mutants, The Survivalist Raiders, and The New California Republic.
A Pirate Radio Station DETH 981 with 2 New DJs and Quest + Crafting + Perk Unlocking Segments.
A News Radio Station called NCRPR - New California Republic Radio - with quest updates in the News.
6 Potential Human Companions and 2 Robot Companions available depending on player choices.
3.STORY
FIRST INSTALLMENT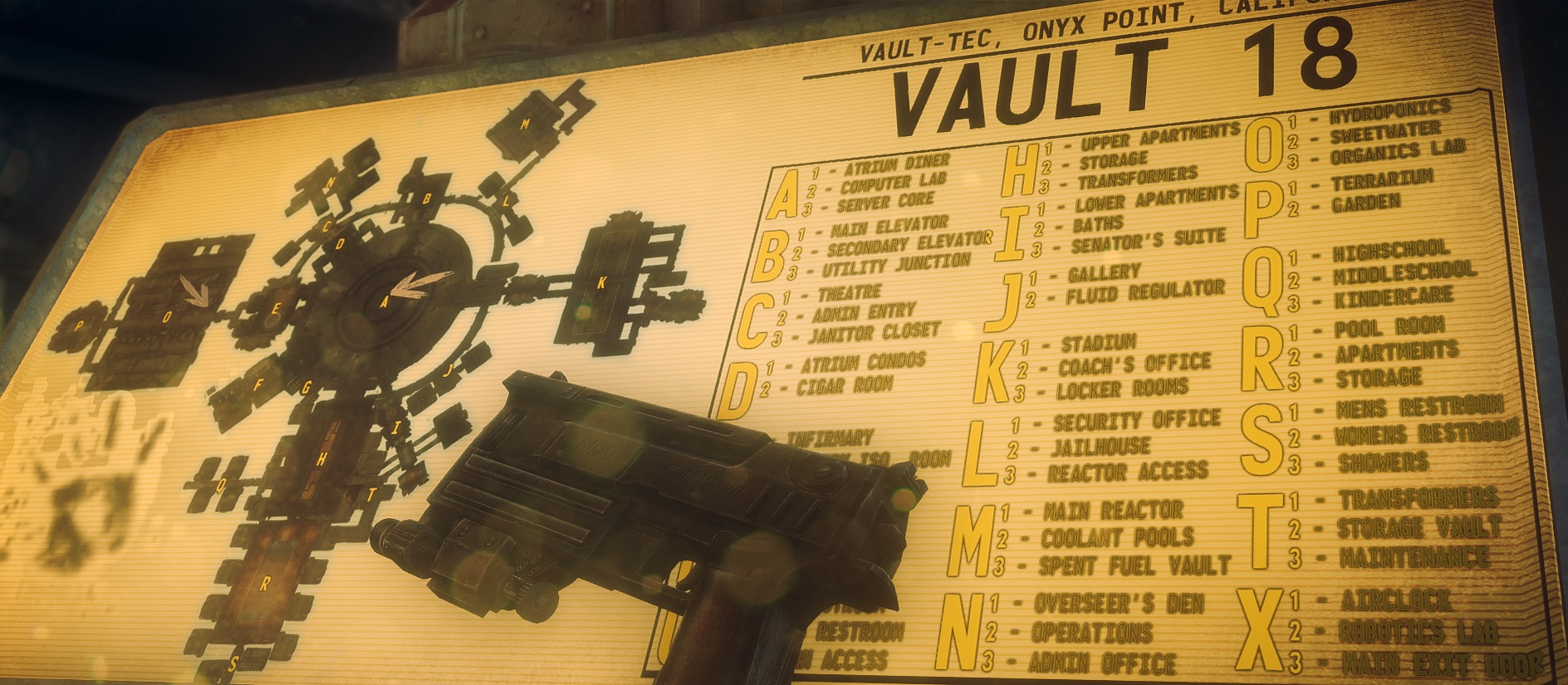 Project Brazil tells the story of your player character, an adopted resident of Vault 18, on the night of the last big Vault-Ball game of the season. The consequences of your player's decision to dodge or tackle Johnny Matheson shapes the rest of their life, playing as an computer Nerd or a popular Athlete. When the war finally reaches the Vault after one prominent figure turns out to be a member of the Enclave, a civil war erupts overnight, forcing the player to pick a side and escape into the wasteland with their rag-tag party of Robots and Friends.
SECOND INSTALLMENT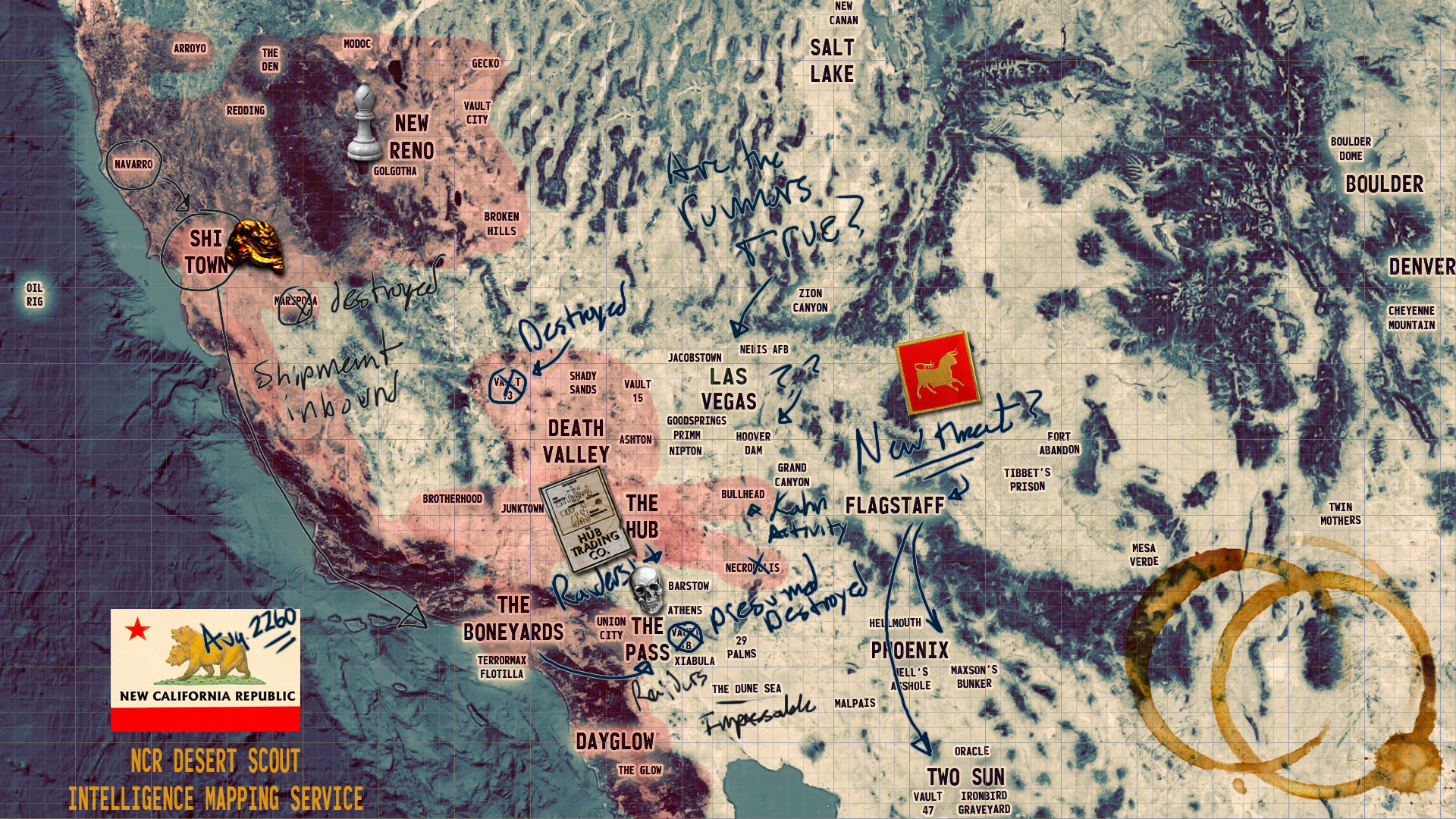 Set in 2260, the main three factions in San Bernardino have been involved in factional fencing matches for the last 20 years following the NCR-Enclave War, and the Vault 13 Dweller's defeat of the Master 100 years earlier.
The
Survivalist Raiders
are the last hold-outs in the California territory, refusing to be absorbed into the massive federal government they see as a threat to their isolated independence and military dictatorship. Cobbled together out of the remains of the various hostile tribes destroyed by the NCR, Boss Elsdragon, their leader, holds a tight regimental order over his confederation.
The
New California Republic
moved into the Cajon Pass in obedience of the New Reno Mob several years ago, capturing the Raiders' crop producing lands in Union City. Hoping to use I-15 to expand their power towards Nevada, their leader, General Silverman, must first secure their war ravaged boarders, or face economic collapse at the meddling hands of Senator Nevile DuVille.
Your player character stumbles into this conflict after narrowly escaping Vault 18's destruction. From there, they must find a way to survive in the aftermath when all 3 factions, each with a history of dealing with Vault 18's Wasteland Scouts, seek out the player in order to use their knowledge, capture a lost experiment, or exact revenge for past crimes.
4.INSTALLATION*

SOON
Step1
Download the latest version of the First Installment.
Step2
USE FOMM OR NMM TO INSTALL Fallout: Project Brazil v1.3.1 FULL
Make sure your Mod Manager is
Run As Administrator.
Step3
Using your favorite Mod Manager, apply
Archive Invalidation.
Step4
Check ProjectBrazil.esm in your DATA tab on the Launcher, or your Mod Manager.
Also check
PB DLC Control Plugin.esp
if you have DLC installed. It will be auto installed if needed.
Step5
Play. Comment. Make your own Mod!
5.FREQUENTLY ASKED QUESTIONS
I. Why the name change?
Project Brazil was a working title. New California is what our mod is abot.
II. Why did you make this game sized mod?
Foolish human ambition.
III. What the hell is taking so long? Hurry up with that GECK!
Day jobs. Burnout. Keep track of us here: https://www.facebook.com/FalloutProjectBrazil
IV. So, this is like what, a DLC?
Yup. You really need to see it to believe it. If you're holding off playing for the 2nd Installment, go ahead and try it. It'll keep you busy for several hours.
6.TEAM MEMBERS AND CONTRIBUTORS
Cast List:
Johnny Matheson - [Companion] - Dan Ziffer
Coach/Colonel Bragg - [NPC]- Roger Owen
Dr. Kevin Rossman - [NPC] - Duke Standberry
Sargent Chevy - [NPC] - Cynthia Jeffery
Jenifer Hale - [Follower] - Sarah Mitchell + Roxanne Harding
Ben Kurtz -[Companion] - Stunnin' Steven Cates!
Jamie Campbell - [Follower] - Isobela Georgiadou
Eric Campbell - [Follower] - R.D. Mower
Kira Mann - [Companion] - Caitlin Singer
Overseer Albert Christianson - [NPC] - Scott Harders
Earnest Schwartz - [NPC] - Dan Ziffer
Terra May [NPC] - Raven Griffen
Jason Christianson [NPC] - Steven Cates
Shawn Star [NPC] - Brandan Lee
Mandy Star [NPC] - Cheauharn Mon
Sarah Carter [NPC] - Raven Griffen
John Diesel Anderson [NPC] - Ian Scott Whittaker
Joe Marshall [NPC] - Scott Harders
Yetti Hale [NPC] - Steven Cates
Misc. Vault Voices (male) - [NPC] - AJ Kosky
Misc. Vault Voices (female) - [NPC] - Raven Griffin
Sgt. Norman - [NPC] - Ian Scott Whittaker
Chief Evanson - [NPC] - Scott Harders
Ancient Eddie Bolero - [NPC] - Eddie Bolero
A L P H A - [Companion] - Brandan Lee
Enclave Male Soldiers - [NPC] - Danny Do
The Male V-Sec - [NPC] - Taran Jeffery
NCR Radio Host Roger Moore - [NPC] - Ben Britton
b6RK - [Companion] - Ali Kaz Foxsen
Additional Voices - Brandan Lee
Team List:
Brandan Lee - Project Lead - Lead Level Design & Story Writer
Rick Hukkanen - RickerHK - Lead Programmer & Tireless File Managment
Fast Freddie - General Bug Fixing & NAVMESHING THE ENTIRE WASTELAND + LOD ver2
Ali Kaz Foxen - Quest Scripting on B6RK
SGHi.info - Interface Revolution Mod Contribuion
Sesom - Additional Scripting
Jack Klein - Etherial - Level Building near Fort Daggerpoint, Vault Pipeworks overhaul, BHR
Clark Gudas - Level Building near Fort Daggerpoint & Wasteland Areas
Raphael Dejesus - Textures, Sound Effects, Navmeshing
Joshua Meehan - 2D Art
Matthew Seddon - Quest Scripting on The Dream Sequence
B. Dylan Hollis - Additional QA and Scripting
Stunning Steven Bowie - Dialogue Writing & Fixes
Connie Taylor - GECK Grammar & Spelling Editor
Roslin Thelso - Writing Excerpts for Dr. Rossman
Andrew Endowy - Writing Excerpts for Eric Campbell & Kira Mann & Sgt Norman
Scott "Reaver" Harders - Writing Excerpts
Iouri Synogatch - Writing Excerpts
Kellen Touey - Writing Excerpts
Erich Von Hildberghausen - Original Soundtrack Composer
Christana Udracon - Original Soundtrack Composer
Tyler "Speedy B" Bourne - Interior & Models for Vault bits and buildings
      Miles "TrickyVein" Wimbrow - Interior & Exterior & LOD Models from Fallout 1&2
Meo 3000 - Vault-Tec Resources - especially the round windows
Cambragol - Vault 88 Resources, which became Vault 18's base architecture.
Andersh - Football Armour Resources
Dragbody - Vault 18 Armour, Survivalist Armour, and more Resources
Toadlet - Vault Jumpsuit Resource
Neverclock - Harnesses and belts Resources
Quetzlsacatanango - Creature models, Character Models, & Armour
Ren - Hair Pack Resource
Idkrrr - Hair Pack Resource
Kozaburo - Hair Pack Resource
Yoshikinakota - Hair Pack Resource
Tommy Purdee - GECK Startup Error Fixer
Chuck Steel - LOD Resource Essentials Pack
Elijah M Houck - Helping solve endless L.O.D. Issues
Robert Helms - Fixing GECK Issues and being a great mate
Captain Mitch - Fixing Geck Lip Sync
Wyll - Project Brazil Hi-res Textures
C.i.B - Additional Character Models and Resources for Monsters
DeathclawAlpha - Implementing our new creatures and placement
Commander Tak - New Logo for F:PB
Cpocurtis - Log Fort Resource
JCDenton - Level Layout Modifications near Vault 18 long ago
Harry Luck - Trailer Park, Tent, and Boeing 747 model resources.
ReZ - Adding collision mesh and LOD for various bits that Obsidian left out of New Vegas
ZitaX - 2D art of the lass in the Nerd Story
Brandon Lee Welch - Kurtz Concept Art
Brian Pea & Darla Petty - Radian Helix Media's official Blood Splatters
Ashley Deluca - Installation Screen Girl
bibbeh - Peacekeeper Pulse Pistol
Ian Weiss - Giving Albert Christianson a name and religious bend
Clinton Nicely - Writing excepts for Earnest (before Steven's revisions) and Albert's conversation
Breeze - Base of the Torso Model for Vault Exile Armour
ElminsterAU, Sharlikran, zilav, hlp - FNVEdit - Without this utility there would be no F: PB
ScripterRon - FNVPlugin - Again, without this, there is no F: PB
Purple Pigeon and hlp - GECK Powerup
Special Thanks:
Cecilia Huerta - Love, Admiration, Support, and Letting us use your Lab. <3
Barbera Pittman - Love you Mom for all you do.
Pearry Teo - For D&D, being a great drinking buddy
Marji & James Kosky - Helping with about everything with tireless friendship
Erik Simpson - For helping us even when shit seemed hopeless. Thanks man.
Independent Film Association of Southern Arizona
The Duke and Cat Show
The Nexus Forums
Ed Chiarini - You know what you did, asshole.
OUR FANS ON FACEBOOK - you guys rock!
Obsidian Entertainment - Thank you for Decades of Entertainment and Education
Bethesda Softworks - For your support, releasing GECK, and future endeavors
Robert Helms - Support & Encouragement from Beyond Boulder Dome
EMH - Support & Encouragement from Alton, IL
Jeux - Support & Encouragement from Radiant Flux
Amy Gurr - Sending us Danny Do
Matthew Griffiths - Supporting the Project
Jeffrey Zauderer - Supporting the Project
John Belt - Supporting the Project
Daniel Kroese - Supporting the Project
Malte Schröder - Supporting the Project
Dennis Hughes - Supporting the Project
 Damon "Zilfrin" Earley - Supporting the Project
Frostburnt Foundation- Supporting the Project
Check out our ModDb: http://www.moddb.com/mods/falloutprojectbrazil
And follow us on facebook for daily updates: http://www.facebook.com/FalloutProjectBrazil