File information
Created by
midtek
[size="6"]"NEW" A Better Boone [/size][size="2"] [/size]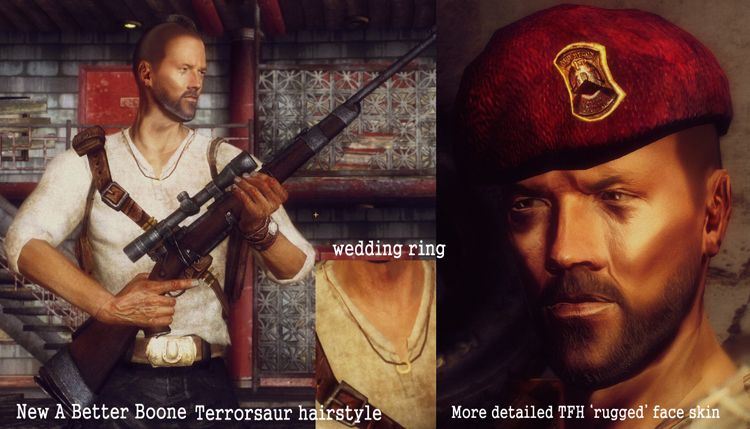 [size="5"]Description[/size]
This mod improves Boone appearance and add 1st Recon Scout Armor to the game.
- new face and selective 3 hair styles.
- 1st Recon Scout Armor: Replica of survival armor with lower DT and light armored. It can be found in a suitcase located in Boones Room.
- Removed sunglasses also cab be found in there.
*NEW* - adopted TBH rugged face skin by TheFourthHorse
*NEW* - new outfit made by dragbody
[size="5"]Requirements [/size]
REQUIRES TO DOWNLOAD THE ARMOR AND ITS TEXTURE SEPERATELY
[size="5"]Installation[/size]
1) Visit Drags New Armor Pack in Nexus http://newvegas.nexusmods.com/mods/49170
2) Three body versions are available; Breeze, Robert, Vanilla (the reason I didn't attached)
3) does not need to activate the esp, only requires the mesh and textures of 'Uncharted' armor
4) Extract ABB files on data folder and place esp file at the very end of load order in FOMM.
5) check Boone's inventory if he's not wearing the one.
[size="4"]Credits[/size]
dragbody for new Boone's Outfit
TheFourthHorse for TFH rugged skin face
ElminsterAU for FNVedit
Obsidian & Bethesda for FNV & GECK