File information
Created by
RJHelms84
About this mod
The Denver Code Duello - Quest/New Lands Release
Requirements

Permissions and credits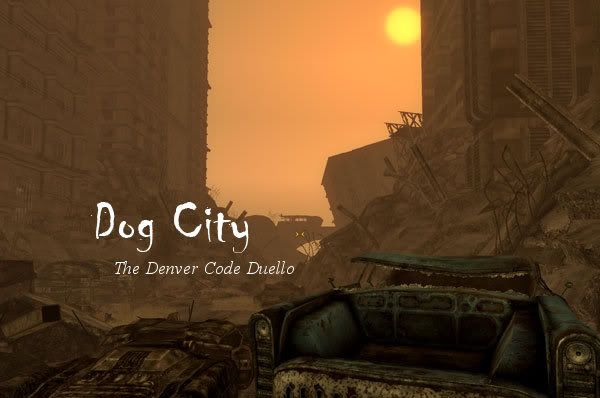 [size="5"]
Dog City - The Denver Code Duello
[/size]
Check out the official forum thread for Beyond Boulder Dome,

CLICK HERE to view.My blog, charting my progress on Beyond Boulder Dome and future projects:

Click Here To View My Blog!
--------------------------------------------
JOIN US!

Do you want to contribute in some way to Beyond Boulder Dome and/or future projects?
Do you have any talents or skills that might be useful to a modding team? We are always looking
for new team members, feel free to contact me via PM, or email me via my blog. We are looking for interior level designers, concept artists, texture artists, 3d modellers, voice actors, writers and more. Whatever your skills are, if you think they might be useful in some way, get in touch!
--------------------------------------------
Now in Russian! Click Here!
Translated by HydRaStar
Newer Russian translation
by MagnumSpec:
Click Here!
3DM001 also translated it into
Chinese!
Click Here!
NEW UPDATE 3!!
-This new update fixes a lot of navmesh issues, where dogs would run away or not come fight you. Now they will act correctly. It also fixes issues where enemies would disappear when going through doors.
-Fixes the issue where you would stay frozen forever in Porter's Claim. Now I've changes the script, so Porter is waiting for you when you enter the claim, after seeing Rogers, and he automatically starts dialogue with you as soon as you enter, so you won't be frozen at all now. NOTE: This update will only take affect if you haven't entered the vault where Rogers is yet.
-Fixes the lack of music and acoustic sound in exteriors. (I accidently removed it in a previous update, but now it's back!)
UPDATE 2D - The Railway Rifle Quest Fix
-Fixes the Railway Rifle quest, where it wouldn't update after picking up the rifle. If you already have the rifle when you install this patch, you may need to drop it then pick it up again, for the quest to update. Those starting from the beginning will have no such issue.
Update 2c
- Adds acoustic sounds and background music to exteriors.
- Fixes the 'Porter Getting Stuck' bug, where the player is frozen forever.
- Adds a few quality improvements, here and there.
Update 2b
- Adds quest markers for every stage of main quest.
- Fixes a couple terrain imperfections. One making the bridge through the hole in an office floor easy to climb.
- Improves Dog Virus and Cure, so it's displayed in the top left corner of your screen when you've contracted the virus.
- Adds background music to all interior cells.
- Moves Porter's trash-can near to fridges, so it doesn't get hidden behind a door.
Volunteer To Help Me
I'm always looking for people to help me with different aspects of making my mods. For Boulder Dome, we already have many voice actors, and other people have helped in different ways, such as designing armors, etc. But I'm still looking for more. If you'd like to help out in any way you can think of, please send me a message.
May Require Latest Patch For New Vegas!For those having problems with the initial quest and note not appearing, you will have to update your New Vegas to the latest version. One person who had this problem reported that updating to the latest version solved the problem.Description
In Dog City the player is sent to explore the post-war ruins of Denver, Colorado. Now, aptly named Dog City, its streets are ruled by gangs of infected canines. Its human residents hide indoors, up high where dogs can't climb.
You are caught in the middle of a blood fued between two men. Once friends, they now struggle for single dominance of the city. Will one of them wield you as a sword against the other, or will you refuse to take sides?
Dog City is a
fully voiced and FULLY LIP-SYNCED
mod. It's something I made to become familiar with the Geck, which I released as I thought others might find it enjoyable, as I did. It's in no way a real attempt at a DLC-quality mod.
The mod is loosely based on the original Van Buren designs for Denver. I took a lot of ideas from that material, but since Van Buren was never released, it's not strickly canon, so I could be creative.
To install
, just extract the contents of the zip file to your New Vegas main directory. You don't need to download Update 2c, as all its changes are included in the Antivenom Fix. So just download the main file, and then overwrite dogcity3.esp with the new one in the Antivenom Fix. And remember to select dogcity3.esp in your load order.
When you first start the mod, you will receive a note and a new quest will start.
YOU DO NOT LOSE YOUR GEAR!
It is in a
suitcase
, right
next to the rocket
, from the beginning of the mod.
Known Bugs
--Some people get a bug where the game goes into cinematic mode, where you can only move the camera, and you stay like that forever. This is because an NPC is getting stuck, who is supposed to approach the player and start dialogue. A temporary fix is to open the console and type EnablePlayerControls, then go and find the NPC and start conversation manually.
--The quest markers are a little buggy, but that is unavoidable, as I made the mistake of designing multiple areas within one worldspace, which has confused the directional quest markers. This is not something to worry about if you use your brain, as you don't really need a marker anyway. Be a detective instead!
--Mod will probably not initiate if you don't have the latest patch for New Vegas. Not really a bug, but I thought I'd put this again here.
Compatibility Issues

May not work with MasterUpdate. If the initial quest won't start, try disabling MasterUpdate.

This mod will not work with any companion mods. You are alone in Dog City. Your followers are dismissed at the start of the mod. If you try to bring a companion from a mod, he/she will get stuck in certain areas. You can have your companion mods enabled in FOMM, but you must fire your companions before you begin the first quest, or you'll have problems.

Might not be compatible with some weather/sky changing mods.