Are you bored being stuck at home? Looking for some inspiration to finally realise that mod idea you've been thinking about? Well then: Stay Home. Make Mods. for your chance to win prizes each week between 6th April and 4th May! 

In light of recent world events, we wanted to do our part in helping our community cope with social distancing and self-isolation by giving you something to focus on during this challenging time. So why not make some mods? 

We've also teamed up with our friends at GOG, Warhorse Studios, and Bethesda to offer you a different selection of prizes each week. 


Week 2 Prizes (13th - 19th April 2020)


1x Game of your choice (up to £50) - for an entry selected randomly from the top 20 mods of the week - ranked by unique downloads. 

This week we've partnered with Warhorse Studios who have generously provided the following game keys for the event:


Any mod uploaded with the tag "Stay Home. Make Mods." this week will be entered into a randomised draw to win ones of these keys.


How to enter


Upload a new mod for any game between 13th - 19th April 2020 (Safe for work mods only). 
Include the competition tag "Stay Home. Make Mods.".
That's it! Your mod has been entered.

You can add the tag either by choosing the new "Classification" option at the bottom of the mod upload form or by adding it with the other tags.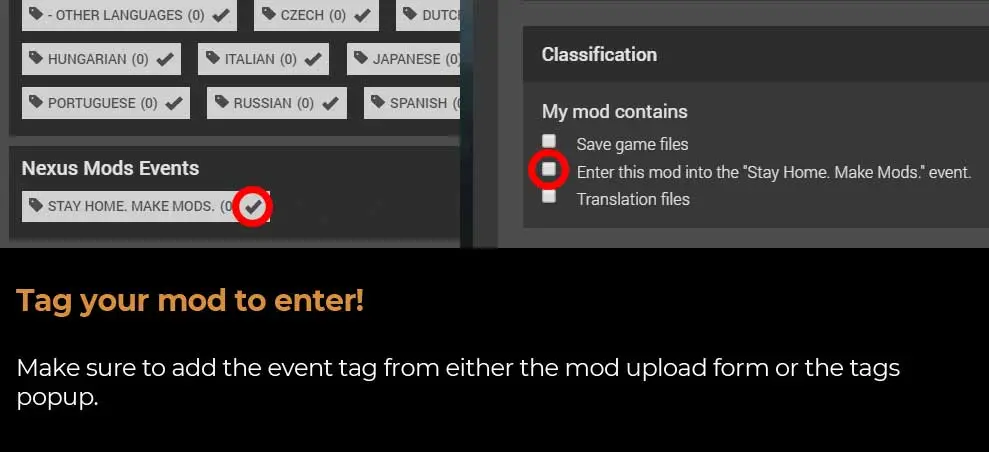 Get involved

Even if you aren't uploading mods, there are plenty of things you can do to get involved in the event.



Terms and Conditions

Participants - Entries - Mods


Prizes - Winner Selection


General Terms and Conditions