File information
Created by
Lemmy1916
Virus scan
Some manually verified files
About this mod
Kievan Rus' Update AVAILABLE for 1.1.1, 1.1.2, 1.1.3, 1.1.4, 1.1.5 and 1.1.6 ! Full conversion of the game's campaign map into a European one with boats travels. Map dedicated mainly to the modder and to the teams that do not have a campaign map. All resources and tutorials on discord server.

NEW SAVE REQUIRED! NEW SAVE REQUIRED!
Requirements

Permissions and credits

Translations

Donations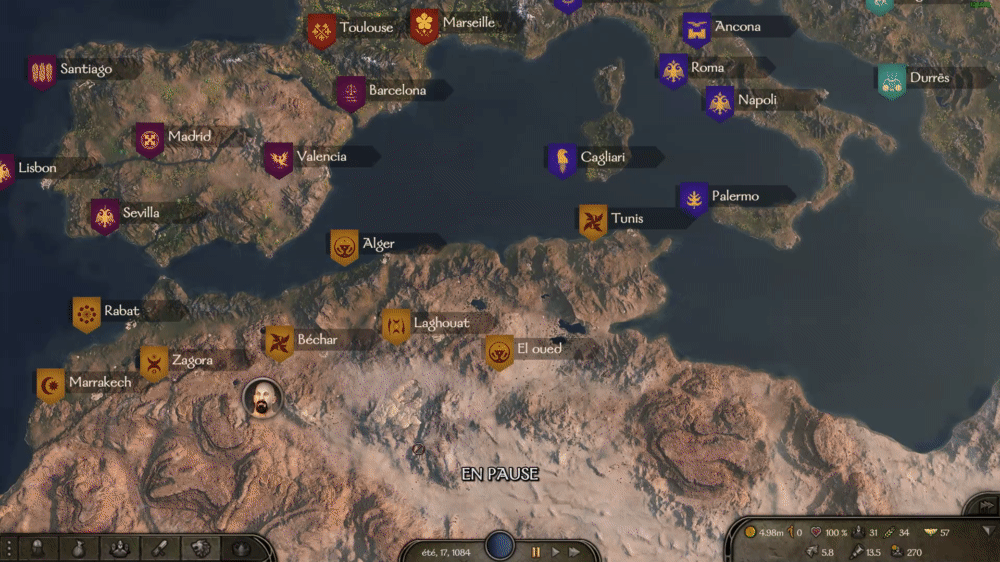 ||   CHANGELOG   ||

v1.1.6.2
-----------------------------------------------------------------------------------------------
--------> 
NEW SAVE REQUIRED ! (there is no other choice) 
<-------
-----------------------------------------------------------------------------------------------
►Adding Kievan Rus Culture
►Adding Kievan Rus Kingdom, modelled from the Sturgian one
►Adding 7 cities, 8 castles, 32 villages
►Big Rework of ASERAI Territory (new path, bridge, rock, flora and more...)
►FIX for the Character over 10 years old problem !
►Huge reduction in mod weight, from approx. 6.5Gb to 1.2Gb !
►Replace Madrid by TOLEDO + adding a bridge just near.
►Adding 19 Hideouts
►2 new Landing Zones
►Kievan Rus at war with Khuzait & Golden Horde on a new game
►NO Updating BattleGrid on the new territory yet ! (will se later)
►Some navmesh fixes
►Others fixes

||    INSTALLATION   ||

Download the mod 

Download last Harmony mod (at least 2.3.0)  :
CLICK HERE

Unzip this two mods into your module folder :
...STEAM\steamapps\common\Mount & Blade II Bannerlord\Modules


Delete the two folders
(CoreShaders and TerrainShaders)
in : (CHECK OUT THE ADDRESS, IT'S NOT IN STEAM BUT IN WINDOWS !)

C:\ProgramData\Mount and Blade II Bannerlord\Shaders

Unblock the 2 files in : (It is not necessary on some PCs)

...\STEAM\steamapps\common\Mount & Blade II Bannerlord\Modules\Europe_LemmyProject\bin\Win64_Shipping_Client


Launch bannerlord and check the 2 mods in this order :
||    BOATS SYSTEM    ||
You can buy and sell different types of boats, give them a name, choose your flagship, navigate between the different ports, land at a landing area, use ferries to cross small rivers and streams, manage your ship fleets. Armies and looters can use this to navigate freely or come with you at sea. Player speed is affected by the speed of his ships, how much crew he has...
Find all the informations on the maritime system on our discord!
||    KNOW ISSUES !    ||
No more looted village icons, we will find out how to fix that in the next version
 Can't get into the settlements?
- Bad placement of the mods in the launcher, it must be at the bottom.
 There is no bandit?
- Yes there are, but many of them sail in boats.
 The bandit troops stay in town I can't click to attack them!
- You can, there is a dedicated key, look in the options.
||    FAQ    ||
The game crash !
Did you read all the steps above? If so, come to the Discord

What is the overall vision? Realism, Era, Kingdom, troop tree...

► This map is not supposed to be realistic, it's a bit "my version" of Europe. I attach much more importance to gameplay than to realism. Also some countries had to be modified to save space.

► Basically, I was only supposed to make the map, with nothing on it, then I definitely wanted to play it, it was too stupid to leave it as it was.

► For technical reasons, in particular the fact that I worked on the calradia base because I was a beginner, the size was therefore limited. So I choose to only do the western part of the map so as not to have too small countries. As a result, I had to place the kingdoms of calradia at best and it's not very realistic.

► People having widely asked me to enlarge the map I ended up doing it but I don't want to destroy the work already done, so obviously there are countries whose cultures don't really match. In order to facilitate the work and have defined areas for the new kingdoms, I decided to work on an uchronia taking place around the 13th century, where the golden hord of the Mongols continued their conquests further west! , the Germanic Roman Empire to lose Italy to the benefit of the Kingdom of Sicily etc... in order to have large and playable territories.

Can I use it for myself or for my mod?
Yes of course ! I just have a request apart from being credited for my work, I just want to be notified and be invited to follow its evolution on your side/server, this will allow me, apart from having the joy of seeing it improving, to enhance myself and to share these improvements in my future updates of the map.



► You like my job ? Buy me a beer ? https://www.buymeacoffee.com/lemmy1916
||    TEAM    ||
Lead project : 
Lemmy1916
Whole boat system, crash fixer, code... :
Space_Pot8to
Kingdoms creator group leader  :
T.D.W_Hayster
and shinya, TeenBrunette, Decoy