Separatist Crisis A Bannerlord Project
Separatist Crisis A Bannerlord Project
File information
Created by
Separatist Crisis Team
About this mod
Early Access, but now stable and playable, this early release is now playable on 1.7.0 and 1.7.1. Our available downloads include five custom battle maps, several lords, 3 custom cultures, and a LITE Campaign Intergration! Download now to try out what we've got so far. Join the discord for more info on the project and what we have planned next!
Requirements

Permissions and credits

Mirrors

Changelogs
Currently includes: 
Maps: 
geonosis_battlemap_1a (Ready for playtesting)
geonosis_battlemap_02a (Ready for playtesting)
geonosis_battlemap_03a (Ready for playtesting)
geonosis_battlemap_05a (Ready for playtesting)
geonosis_battlemap_06a (Ready for playtesting)
Troop Trees: 
T1-T2 Republic Troop Tree
T1-T2 Mandalorian Troop Tree
T1-T2 Separatist Troop Tree
Several Republic Commanders
Several Mandalorian Commanders
How to install(Please don't use Vortex to manage the install; Use Manual Install)
Download the four files we have listed in "Files" 
Sep Crisis Main Module
Sep Crisis Geo Map and Assets Module
Sep Crisis UI Module
Sep Crisis Alternating Main Menu Module
Download the two mods(three if you download the optional My Warband Mod) listed in the "required files" tab: 
Harmony
Enhanced Battle Test(Now managed and developed by the RBM Team; Please use the direct link!)
My Little Warband ( Allows you to have and recruit our custom troops while playing the vanilla campaign). 
With everything downloaded extract the contents of each zip to your Bannerlord/Modules folder
Load Order: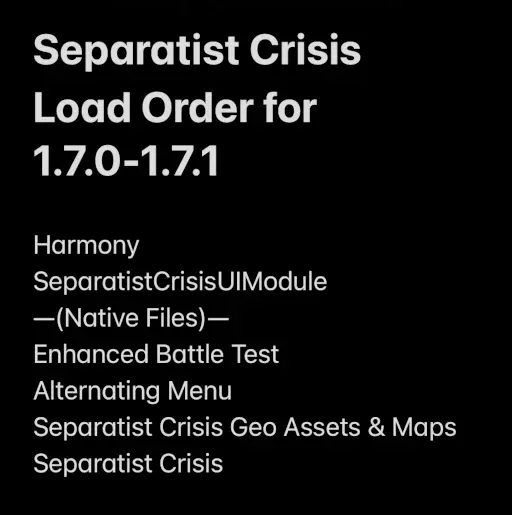 Please join our Discord for immediate support! Our Community Managers, Development Team, and Community are all ready to help get you ingame playing what we have to offer so far: 
https://discord.gg/SeparatistCrisis
You can make suggestions, ask questions, or view exclusive previews via our discord. You can also volunteer to become a Play Tester for our project and get early access to our builds as we work towards releasing more and more content! Our biggest bottleneck has been getting our created stuffs rigged and ingame, we have a large backlog of things that are complete that simply need to be imported and used in projects!
Our Development Leads actively encourage people to pick up the mod tools, and are willing to teach valuable skills that can be used outside of Bannerlord Modding. If you feel you are passionate about Star Wars, theres a chance you can learn in a couple hours the skills you would need to start creating maps, storyboarding missions, helping build out troops trees, create characters to be used throughout the project, etc.