File information
Created by
mipen-mildeww-Tokashi-joshimoo-jiros
About this mod
Continuation of Bannerlord Tweaks - v1.5.8 and above
Requirements

Permissions and credits

Changelogs
Continuation of the Bannerlord Tweaks series.
Original mod: http://www.nexusmods.com/mountandblade2bannerlord/mods/49
Updated mod: http://www.nexusmods.com/mountandblade2bannerlord/mods/2036 (currently outdated)GitHubNow with Faction Balancing Tweaks!
Battanians always loosing against Vlandia? Sturgia often suffering?
No more!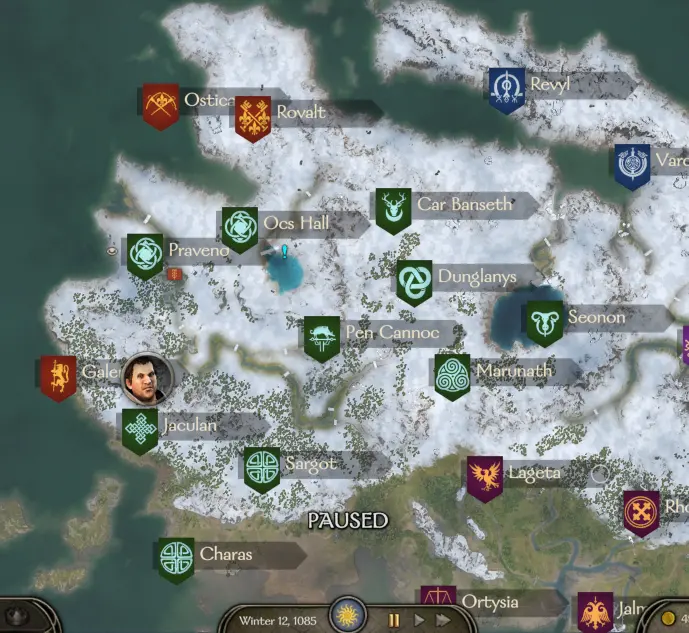 Quick Setup
:
Download & install this mod (extract into your Bannerlord Folder)
It should be like this: \Steam\steamapps\common\Mount & Blade II Bannerlord\Modules\zzBannerlordTweaks)

Download & install Harmony
Download & install Mod Configuration Menu
Download & install ButterLib (Requirement for MCM)
Download & install UIExtender (Requirement for MCM)
Modify your load order to load MCM and it's requirements before native mods, and Bannerlord Tweaks last.
(
Note
: Verify this load order even if you use an auto-sorting launcher, as they can frequently get it wrong and cause crashes)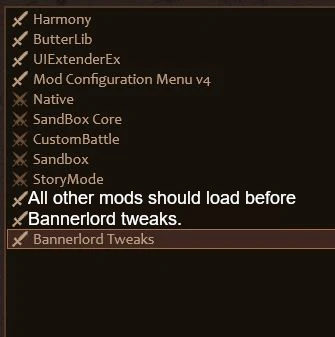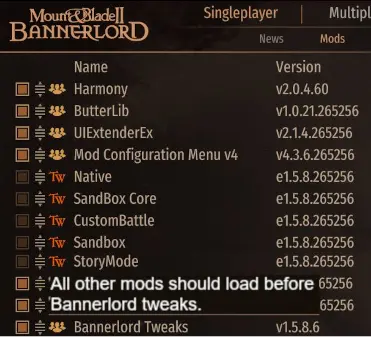 Please verify, that all dependencies are loaded before Bannerlord tweaks and before the vanilla modules as shown above. Bannerlord tweaks itself should be loaded
last
(or very late).
Please also verify, that all of the vanilla modules are active, Native - Sandbox Core - CustomBattle - Sandbox - StoryMode.
If one of these is missing, Bannerlord tweaks can not be activated.
Some .dll can not be loaded?Unblock the mod's .dll files
Windows might automatically flags .dll files downloaded from the internet as suspect and puts a security block on them. While this is usually good, it causes
problems with Bannerlord's mod loading system. To fix this, open the
Bannerlord Tweaks mod folder in your modules folder, then navigate to
bin -> Win64_Shipping_Client. Right click on BannerlordTweaks.dll and
select Properties. In the popup window, check the 'Unblock' checkbox at
the bottom of the General tab. Repeat with Newtonsoft.Json.dll and every other .dll files within the dependency mods.
Unblock all files with PowerShell (advanced method)

If you feel comfortable using a terminal, you can use PowerShell to
automatically unblock all files in the Bannerlord directory. This will
fix not just the files for this mod, but those for others that have
issues also. Follow the instructions below:
Spoiler:  Show
In the Windows start menu, search for PowerShell
Right click on it and click 'Start as administrator'. A blue window will appear.
Open an explorer window and navigate to Bannerlord's Modules folder (this is where you installed your mods)
Click on the address bar and press Control+C to copy the address.
Go back to the PowerShell window and type: cd "
Paste the address using Control+V and type the closing quotation mark "
The result should look something like this:
cd "C:\Program Files (x86)\Steam\steamapps\common\Mount & Blade II Bannerlord\Modules" 
(Your location might be different, don't forget the quotation marks!)
Press enter.
Now type (or even better, copy the line and paste it into the PowerShell window): dir -Recurse | Unblock-File
Once you have entered that line, press enter.
The PowerShell window will work for a few seconds and then be finished. All
the files in the Modules directory are now unblocked if they were
blocked.
Latest Update:v1.5.9.4:
- Reworked the Disable Troop donations tweak. AI behavior now remains normal if activated.
- Companion limit tweak now activates as intended
- Settlement Culture Transformation now wont crash upon Kingdom Leaving.
- New Tweak Addition To Settlement Culture Transformation: Instead of changing
to your clans culture you can choose to change to your kingdoms culture
instead.
- Tweaks to garrison wages now also apply if Faction wide is not enabled
- Militia Grow Tweak: Reverted back to a flat and fixed bonus to Militia grow to circument several issues.
- New Tweak Addition to Militia Grow Tweak: Now you can also tweak the amount of militia which retires each day.
- Changed the description and chat message for daily troop training to
make it clearer it trains each stack, not each individual troop.
- Tweak Change: Daily Troop Training: Massivley upped the max setting for leadership multiplier to 50x (5000%)
- New Tweak: Added a tweak for Battle Morale Reward.
- Some corrections in settings.
ToDo-List:
- finish Kingdom balancing
- make Kingdom balancing tweaks compatible to Calradia Expanded Kingdoms
- Tweak for troop upgrade costs
- rework wage tweaks to be more granular/detailed (something in the direction kaos wentwith his mod)
- include tweak for bandit party limits (size and count)
- somehow reorganize cluttered settings (ongoing ...)
- rework of troop training
- tweak persuation chance (when trying to get lords to join your faction)
- AI Lord party limit clan tier based (as player's limit)