"So, do you want to overthrow the royalty or work to stand with us?"
Decide for yourself by joining the Closed Alpha of Elegos - a moddable RPG - playtesting now!



We've partnered with Perpetual Games who are making an open-world RPG with modding at its front and centre! Today, Elegos is moving into the Closed Alpha playtesting phase. With this comes an open invitation to anyone in the community who would like to try out an early build of the game, so that your feedback can help guide their development. Here's a bit from them:

We're Perpetual Games, a new UK based studio made up of a concentrated team of developers, designers, artists and more working to develop our first title, Elegos. We are passionate about modding and many of us have a background of working within the modding community. Our debut release will continue the great work with this community by creating a game that is designed with modding and community in mind from the ground up.

Elegos is a game crafted to be fun to play and fun to play with.

That's why we've teamed up with Nexus Mods and why we want you! You know modding, so who better to get involved? Our Closed Alpha is only the beginning of what will be possible with modding in Elegos as every system, mechanic and feature is being designed with modding in mind. 

We wanted to enable players to shape the world of Elegos in any way they desire. Our modding-first approach from early on in our development ensures this, paving the way for the community to have direct involvement with innovations in creativity, accessibility and inclusivity. 

Breaking down the entry barriers to modding is also important to us, which is why we're designing tools that are easy and fun to use for the player, even when they don't have a technical background. 

All of this does take time, and we will be continually updating the capabilities that are available to the player. So for now, you can see the skeleton of our modding system, Primodial, in the game menu of the Closed Alpha and you can also find our modding roadmap on our wiki. 



What is Elegos?

"Want to overthrow the sovereignty or work to stand with them? Decide for yourself in Elegos, an immersive first-person RPG where every action matters. Designed with a flexible play system, forge your own unique path through a world where complex political forces clash. Take up arms, dabble in forbidden magic, pursue your enemies from the safety of the shadows, or try and talk yourself into the ranks of the nobles."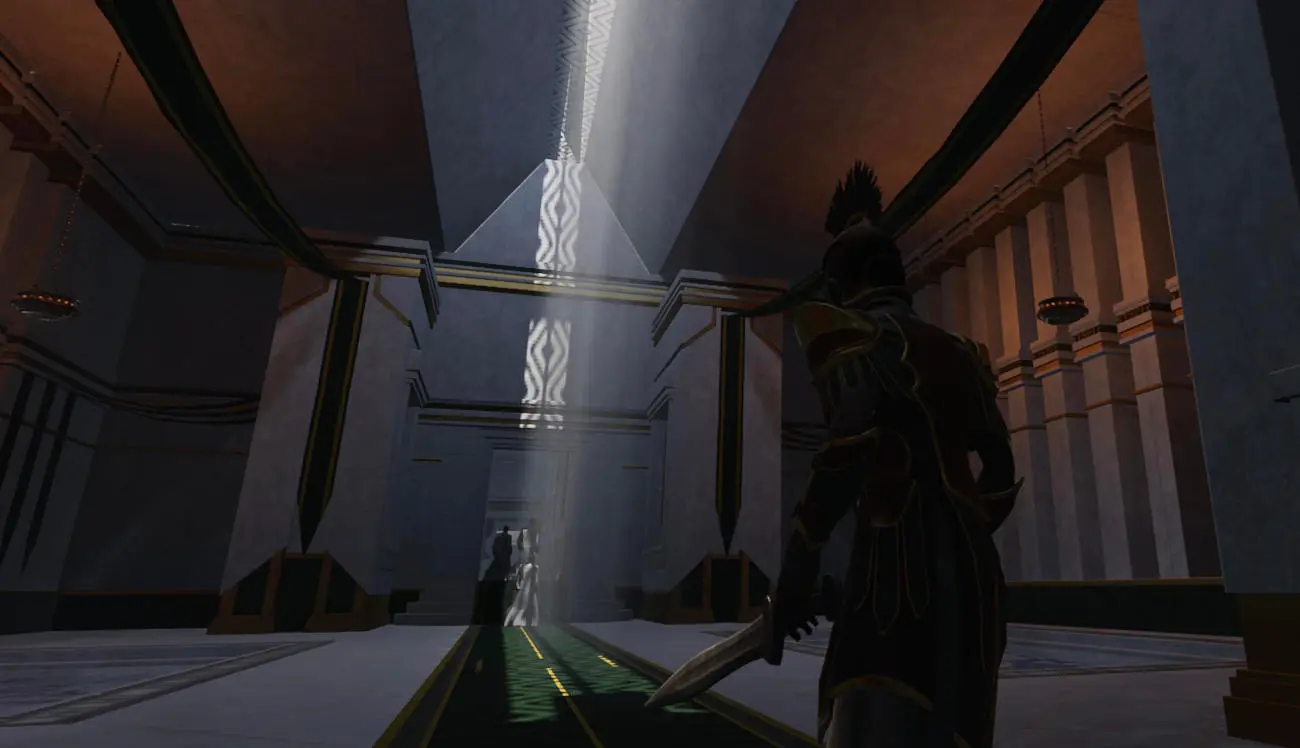 Elegos is an immersive first-person RPG, being built in partnership with Nexus Mods. Set in an alternate history at the time of Alexander the Great, the world of Elegos is largely populated by intelligent mythological creatures, known as Mytha. Tasked with uncovering the mystery of your past while surviving to see the future, how your story entangles with Mytha and Man is up to you. 









How to get started with testing Elegos


Click the above link and complete the sign-up form.
Redeem your unique Steam code that will be sent to you from the Perpetual Team.
Give Elegos' Prologue a test, and leave us your feedback.

By pressing F1 at any time in the Alpha build, you'll be able to access a feedback page without leaving the game. This will send us your thoughts alongside a screenshot of whatever you were looking at when you hit the button - perfect for when you spot an NPC glitching into a wall.

The next best way to share your feedback is to join our Discord community. There you'll find our Closed Alpha category, where you can share thoughts, flag any bugs you find, and chat with fellow testers.

We're excited to see what you think of Elegos and what ideas you'll bring to the game when we're ready to launch our modding capabilities. Keep your eye out for future playtests too,  as we're already excited to implement your feedback and improve the game.

With that out the way, you can head into Elegos and begin your journey. 
Perpetual Games 



Twitter: https://twitter.com/ElegosGame
Instagram: https://www.instagram.com/elegosgame/
DevLog: https://www.getrevue.co/profile/elegosgame 
If you like what you play, be sure to wishlist Elegos on Steam: https://store.steampowered.com/app/1882300/Elegos