File information
Created by
PeterBitt
About this mod
This is a texture replacer that gives Morrowind a watercolored look.
Quick and easy installation.
Covers the whole game.
Requirements

Permissions and credits

Changelogs

Donations

v.2.0
10/2016
by PeterBitt
Description:
--------------------------
This is a texture replacer that gives Morrowind a watercolored look.
Every single texture in the game is covered, making this mod an easy drag and drop replacement for the whole game plus the expansions as well as many mods. Since this mod is based on the original textures everything looks harmonic and consistent, just a bit more stylized to hide the blurriness of the great but dated originals.
You can find many screenshots here: 
GALLERY
v2 changes:
--------------------------
With version 2.0 the mod bomes quite a bit more polished. The watercolor effect on the textures is now a bit smoother, less grainy. Also shapes are more defined now and details like ornaments or face details are now much nicer. The more defined shapes also make the stylized, watercolorish look more noticable from a distance. In the screenshots all this doesnt show very well, but in game the differences should be obvious.
The texture sizes are still the same like in the previous version, the performance wont change.
Mod compatibility patches:
--------------------------
To make other mods visually fit with Morrowind Watercolored, you can find a number of patches for other mods on the nexus download page.
NOTICE: With v2 the old patches dont fit that well anymore, so they will need to be remade. This might take a while so if your need a patch quickly, feel free to download the patches for the old version in the meanwhile, at the bottom of the downloads list.
Many of those patches are made by the kind community members Lucas9 and wildbane. Thanks guys!
Installation:
-------------------------
1. backup your "\Morrowind\Data Files\Textures\" folder
2. copy and paste the textures folder in this archieve to your 
"\Morrowind\Data Files\" folder and overwrite everything
(3.) re-generate distand land in MGE if you use it
(4.) follow the MGE XE setup guide image: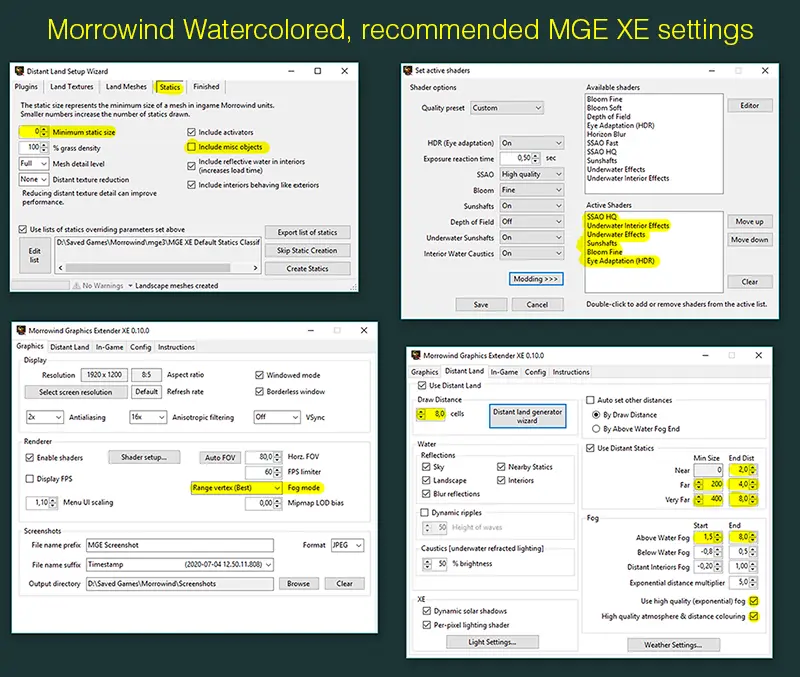 This is a texture replacer and can be installed and uninstalled at any time without issues.
Changelog:
--------------------------
v.2.0
- everything redone
v.0.8.4
- improved human faces (thanks to Lucas9!)
v.0.8.3
- removed unneeded textures (tx_ash_cloud.dds, tx_poison_steam.dds)
  (if you have an older version installed you need to remove those yourself)
v.0.8.2
- removed unneeded textures (fixes ashstorm)
- improved/optimized a few textures
- included my "Grahl Eye Fix" mod
v.0.8.1
- removed unneeded textures
- fixed transparency on glass lanterns
- fixed broken world map
- improved Nix Hound texture