File information
Created by
Markel
About this mod
Comprehensive Overhaul for the weather in Morrowind, Solsthiem, and beyond.
Requirements

Permissions and credits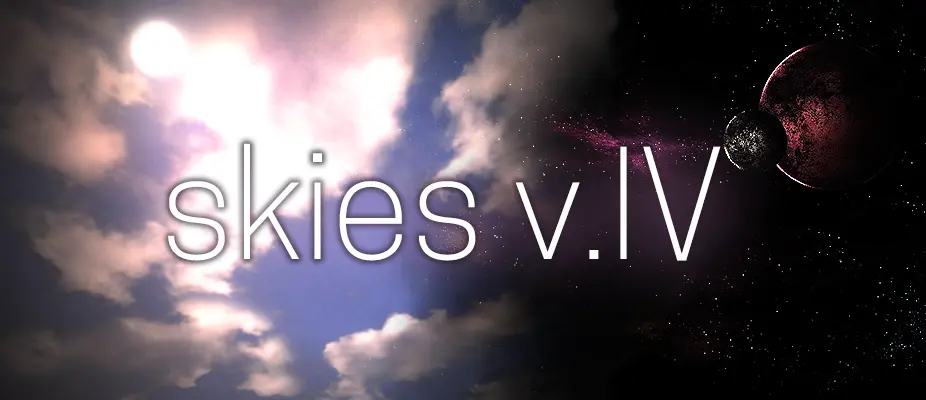 Skies version IV is a Comprehensive overhaul for every aspect of Morrowind and Bloodmoon's weather. Nearly everything has been redone from the meshes used to render the skies, rain, and ash storms themselves to all the textures involved.
Skies utilises edited meshes which allow for extreme detail and non-repetitive sky textures. For reference, a sky texture on Morrowind's original "sky_clouds_01.nif" mesh repeats a total of
25 times over
. With my edited mesh, the texture repeats itself zero times, and instead covers the entire sky, allowing for increased detail and new textures never before possible.
In addition, the way Ash Storms and Rain renders ingame has been changed, rain should be more optimized so it runs smoother ingame, yet looks fuller than the original game. Ash Storms are now ashier! Lots of flakes fill your vision as you travel through them.
A Warning
: because of the way I had to apply the changes to ash storms, technically twice the amount of particles are being rendered, so the changes may slow down the game for users with lower-end computers. It is possible to opt-out of these changes by simply not installing "ashcloud.nif" or "tx_ash_flake.dds", but it is recommended to try the new mesh, and see if everything runs smoothly first. It is always possible to remove the mesh and texture afterwards.
As a bonus, I have included "remastered" versions of the original sky textures from Morrowind, as well as versions of the textures from "AoF Skies" by AnOldFriend, and "Extreme Textures - Skies" by Masoxx. They have been cleaned up and reformatted to work with my new sky meshes, so you can mix and match!
In addition, I have also uploaded the "legacy" versions of this mod, including the extremely popular "SWG's Skies v3", and version 2. These versions are no longer supported, though, so any complaining here if things don't work. Textures from "SWG's Skies v3" should work with the new meshes, but they are old, and full of artefacts and seams, which aren't worth the effort for me to fix.
For a detailed installation guide, refer to the readme included here and in the main download of the mod. For support, the easiest place to get it is
this thread
on the Official Forums, but you can also wait around for me to check the comments here.
For the best possible effect, it is recommended to run this with MGE XE's sunshafts shader, a sky bloom shader, and HDR, as well as atmospheric scattering. 
Shanjaq's Meteor mod
 is also a great addition.
Other mods which are intended to work using my meshes include:
New Starfields
by Melchior Dahrk
Vurt's Hi-Res Skies and Weathers
by Vurt
Alternate Skies
by Hicks