File information
Created by
ME3Tweaks
About this mod
Bleeding edge modding tools designed for bleeding edge mods. The only actively maintained version of the toolset.
Requirements

Permissions and credits

Mirrors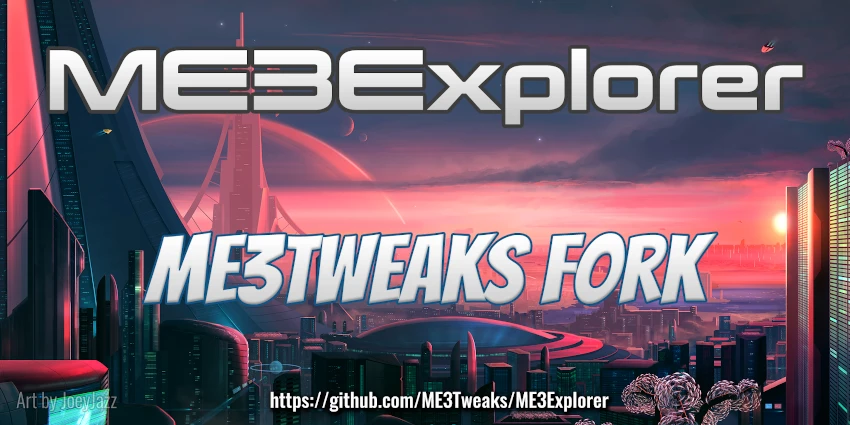 ME3Explorer ME3Tweaks Fork is a fork of the main ME3Explorer codebase, containing new features, bugfixes, and quality of life changes.
The ME3Tweaks fork is years ahead of ME3Explorer 3.0 in terms of development time. ME3Explorer 3.0 was abandoned in 2016. 
If you're developing a mod, you need to be using the fork, unless you enjoy wasting your time.
For all changes, please see the github links below - they detail all the changes.
TOOLS OF THE TRADE
The following tools are used by nearly every modder making mods for the Mass Effect trilogy.
Looking to get into modding? Join the
ME3Tweaks Discord
and we'll help you get started.
Package Editor
Package Editor is the primary tool for viewing and modifying content. It shows imports and exports
for every file, with helpful tabs on the right side that let you do various things depending on what
you are currently viewing - a sound player for WwiseStream exports, an unreal property interpreter
to modify properties of various objects, a curve editor for editing curves, and more.
See unsaved exports and imports highlighted in yellow. Compare changes between two different
packages files to find differences. Perform wrapped searches so you don't have to scroll to
the top to perform a search.
Port content easily between files with drag and drop and relinking of properties. Open relevant
tools such as Sequence Editor by right clicking a sequence and clicking the open in sequence
editor button.
PathfindingEditor
Pathfinding Editor allows you to see and modify pathfinding nodes that AI will traverse along.
This tool was built to assist in developing my
Redemption mod
, allowing me to fix a significant amount of
the pathing issues different enemies had as well as modifying some of the map geometry.
Create new nodes and reachspecs, relink the pathfinding chain, change link sizes, modify splines with
reparam recalculations and more with Pathfinding Editor.
SequenceEditor
Edit game sequences (Kismet) with Sequence Editor. Change significant parts of game logic
through easy to use flow chart style graphs.
Build sequences quickly and easily with the new Sequence Object Toolbox.
Trace kismet execution with Kismet Logger to help debug your sequences.
Soundplorer
Soundplorer allows you to listen to audio from all three games with support for playing audio straight from WwiseBanks
and WwiseStreams and ME1 ISB files. You can replace audio in Mass Effect 3 directly from .wav files,
with no need to use AFC_Creator or open Wwise (x64 Wwise must be installed).
See track lengths and reduce disk I/O for playing audio by decoding ogg files to memory instead of to disk.
Compact your mod's AFC file down to only what is referenced to decrease mod size.
Meshplorer
View Static and Skeletal Meshes from all three games with texture support through material parsing.
Import and replace meshes from UDK packages and export PSK through UModel.
Asset Database
Quickly and easily locate various types of assets with Asset Database.
Preview many different types of assets directly from within the tool.
Dialogue Editor
View conversation flows for all three trilogy games.
Easily edit conversation trees all in one convenient window.
And more
Other tools include:
- Mount.dlc editor
- TFC Compactor
- Plot Editor
- TLK Editor
- Conditionals Editor
- FaceFX Editor
- Audio Localizer
ALL THE CHANGES
This is a list of changelogs since the codebase diverged from mainline's 3.0.1 beta in 2017.
5.0
 - November 7, 2020
4.1
 - November 7, 2019
4.0
 - June 1, 2019
3.1.2.14
 - Feb 2, 2019
3.1.2.13
 - Sep 30, 2018
3.1.2.12
 - June 4, 2018
3.1.2.10
 - May 21, 2018
3.0.9.0
 - Apr 20, 2018
3.0.8.0
 - Apr 14, 2018
3.0.7.0
 - Apr 12, 2018
3.0.5.0
 - Feb 2, 2018
3.0.4.0
 - Jan 19, 2018
3.0.3.0
 - Dec 29, 2017
3.0.2.0
 - Dec 1, 2017
CREDITS
Mgamerz
Main developer
Kinkojiro
Developer
SirCxyrtyx
Developer
Aquadran
Technical/Textures and compression
Benji
Technical/Programming (3D)
Scottina123
Tester
Orikon
Testing
Tajfun
Testing
Lunkensko
Testing
Past developers of mainline
Kfreon
Giftfish
Warrantyvoider
AmaroK86
Eudaimonium
Saltisgood
Ashley66444
Aquadran
BCSWowbagger
Erik JS
Fog.Gene
JohnP
MrFob
Heff
You
For using this software
Check out other content by ME3Tweaks at
ME3Tweaks.com
, including
tutorials, tools, mods, ME3Tweaks ModMaker, an online mod creation tool.
LICENSE
This program is free software: you can redistribute it and/or modify
it under the terms of the GNU General Public License as published by
the Free Software Foundation, either version 3 of the License, or
(at your option) any later version.
This program is distributed in the hope that it will be useful,
but WITHOUT ANY WARRANTY; without even the implied warranty of
MERCHANTABILITY or FITNESS FOR A PARTICULAR PURPOSE. See the
GNU General Public License for more details.
You should have received a copy of the GNU General Public License
along with this program. If not, see
https://www.gnu.org/licenses
.