File information
Created by
giftfish
About this mod
A small mod that changes all ME3 cabin music to various tracks from ME1 and ME2. Now player-controllable via a new GUI.
Requirements

Permissions and credits

Changelogs
18 Feb 2020 | Comments Locked, See Sticky Post for Details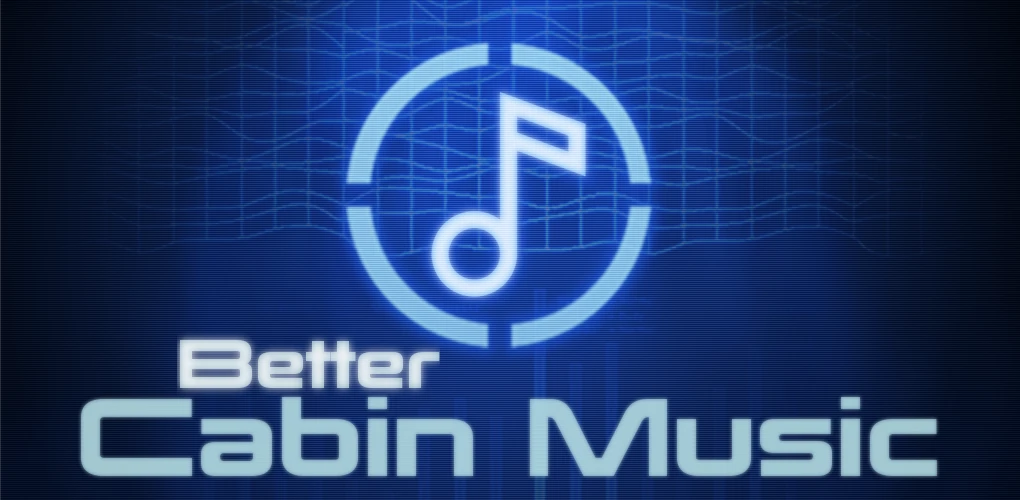 ABOUTBetter Cabin Music (BCM)
is a small mod for
Mass Effect 3
that replaces the vanilla cabin music with themes from ME1 and ME2.
Version 2.0 is a full revamp of the mod from the ground up and implements the following changes:
BCM 2.0 is now a DLC mod
Music track quantity increased from 7 to 10, totaling 60 minutes of cabin music
Tracks are implemented as playlists that contain more than one song
Each track is custom-mixed using music from ME1 and ME2's soundtracks and cutscenes, along with less familiar versions in the game files
Playlists are selected via a shiny, new GUI that includes 10 custom textures
Enjoy the highly-visible easter egg
Please note that BCM contains
my
preferred music. Music is highly-subjective and you may or may not share similar tastes. I will not release customized versions of this mod for other users; I will also not grant permission for others to release altered versions of my files. If you prefer different cabin music, feel free to replace the tracks on your own, but I cannot be of assistance.
INSTALLATION + REQUIREMENTS
Veteran users of my mods know that I include ample documentation in every download. This documentation will answer 99% of user questions,
as long as you read it
. Be aware that reading this description is
not
a substitute for reading the supplied documentation. Key requirements are listed below to help you decide if you want to download the mod.
Install anytime, but keep it installed. BCM may be installed at any time during your playthrough. Updating mid-playthrough is also fine unless I state otherwise.
Replacer. BCM is a music replacer. You will not be able to access the vanilla cabin music when using this mod.
English. BCM is made for English localizations, only. If you use another localization, I cannot guarantee functionality, nor can I provide technical support. Do not ask.
DLL Patcher. BCM requires use of a DLL Patcher so ME3 can load new DLC. If you have DLC mods installed, then you already have this patcher. If not, then it must be downloaded and installed, separately. See the Install Guide for details.
MECHANICS + USAGE
All users of BCM 2.0 should pay close attention to the "Mechanics" section in the Install Guide found in your download or on
Google Docs
. Reviewing this information will explain how BCM's radio compares to its vanilla counterpart and will help minimize confusion.
UNINSTALLATION
To uninstall BCM, just delete the entire DLC_MOD_BCM folder from your ME3 DLC directory. Uninstalling mid-playthrough is untested and should probably be avoided. It may be fine, but the mod sets new plot data so it's possible there could be problems with the vanilla radio resuming proper function.
COMPATIBILITY + LOCALIZATIONS
BCM is a small mod that is compatible with the majority of other mods for ME3. A couple of quick comments:
For users of my other mods, BCM requires no additional compatibility patches.
BCM is compatible with Expanded Galaxy Mod (EGM), but requires a custom EGM setting. See the Install Guide for details.
Translations of BCM, when available, are created by other modders, downloaded separately, and are used on top of BCM's main files. If a translation exists for your game's localization, it will be linked at the top of this page. If it does not exist, you cannot use the mod.
Users should finish reading about compatibility, conflicts, and localizations in relation to my mods,
here
. A compatibility spreadsheet for all my mods can be found
here
. Modders interested in creating patches or translations for BCM should refer to the
ThaneMOD website
.
OTHER DETAILSBugs. 
BCM has undergone a large amount of testing, and no bugs are known at this time. If you run into any problems, first read the sticky posts, then use the information provided
here
before reporting.
Future Releases. 
No future releases of BCM are planned at this time, with the exception of compatibility updates and bugfixes.
Post-Distribution File Modifications.
Technical support will only be provided when files have not been tampered with by the user.
Any and all modifications apply
(with the exception of updating the PCConsoleTOC.bin). This includes ill-advised attempts to modify "load order,"
resolve compatibility
, and more. It also includes installation of textures with a tool other than ME3Explorer. If you experience any problems after altering my files, it's up to you to troubleshoot the problem. I cannot help.
Texture Compilations.
Texture overhauls/compilations installed into your DLC mods
must
contain ONLY textures. No edits to meshes, materials, or
anything else. Non-texture modifications can cause conflicts.
ALOT/MEM Users.
It is
imperative
to heed all warnings below when using ALOT/MEM in combination with DLC mods.
Do not mix texture installation tools. If you want to install additional textures after installing ALOT, consult its documentation. I cannot help.
Heed ALOT's documentation. You cannot install any DLC mods or individual files into a game already modded by ALOT. Doing so will result in problems. Consider your game files locked once you install ALOT. Consult ALOT's documentation for further details.
Other options. If you desire more flexibility with your game, such as the freedom to revert one or small groups of files to vanilla state, to update/patch your DLC mods as needed, or to re-install to a fresh copy of a DLC mod, then don't use ALOT/MEM. Your other options are to install textures via ME3Explorer or run them with Texmod. There are online resources to help with both; I cannot help further.
TERMS OF USE
By downloading Better Cabin Music, you agree to the
Terms of Use
supplied in your download and posted on Nexus.
CREDITS
BCM is brought to you by
Giftfish
. All music is as credited by BioWare.
Much appreciation to:
Barddoc1992 and SirCxyrtyx, for feedback, ideas, and mod testing
Kinkojiro, for feedback, troubleshooting, testing, and assistance with EGM compatibility
Orikon and Tarshana, for mod testing
ThaneMOD forum community, for feedback and ideas
ME3Explorer team and community, for making the best modding tool for Mass Effect
BioWare Corporation and Electronic Arts Inc., creators of the Mass Effect franchise
MODS BY GIFTFISH
I've been modding the Mass Effect trilogy since 2013, when I joined the ME3Explorer Toolset Community in an effort to create what became my first mod:
ThaneMOD
. Users of all my mods are welcome to join my development forum on
Proboards
. For more information about myself, mods, policies, and more, see
my website
.
Currently in development - ThaneMOD 3
Other contributions:
DISCLAIMER
This mod is not associated with or endorsed by BioWare Corp., Electronic Arts, Inc., or any of their affiliates. I make no money from this project.
-- BETTER CABIN MUSIC IS A NEXUSMODS EXCLUSIVE. --