User information
Real name
Leland
Country

Canada
About
I enjoy writing and making mods.
Doing art and working on ideas.
I also write poems and have had some published.
Mainly a Gamer and PC Troubleshooter.
Visit my Youtube channel here - https://www.youtube.com/user/Carinth1
This poem was one the local paper published for Remembrance Day.
The Helmet

I asked one day
On a break from play,
"Grandfather during the war, what did you do?"
He replied, gentle eyed
"I supplied the people, with supplies and other things for their needs."
"And that is why, there is a you and I."
Again I asked,
"But what does that mean?"
So he pulled out a steel helmet, battered and green,
Saying, "This is what I mean. Take it, it belongs to you now."
"To remember me, and what I had to do for you."
Years later,
I wore it at Halloween,
With a Poppy and a trench coat,
As he would have been.
And a reason, to see what he means.
As a man taking my children around,
A community of people, collecting candy for free
It started to softly rain on me.
I paused for a moment, as rain gently fell
Running my fingers, over the helmets shell,
I wondered if this had happened to him as well.
But as I felt it, I finally realized what he meant.
For on the back of the head, I felt the bullet dents.
So you see, this is not just a helmet to me,
But a truth, of how he saved you and me.
So we could all be free.
So, I Will Remember.
And Thank-you Grandfather, from me to you,
And everyone else too.
A Thank-you for keeping the world, Straight and True.

Published Nov. 2/ 2013.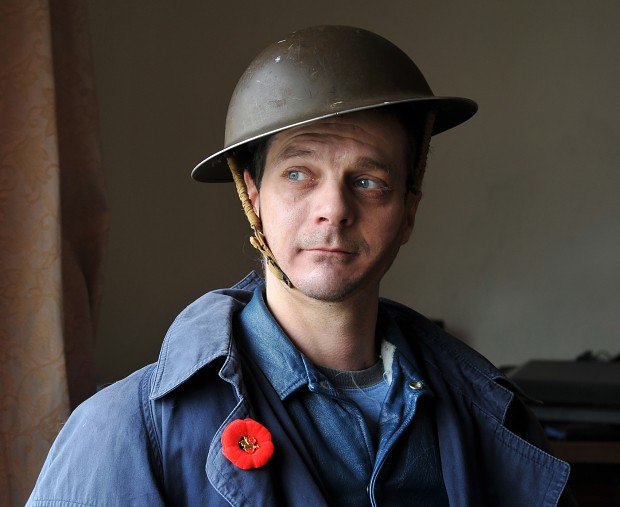 Thanks for visiting.