About this mod
Trying to keep the lighting as realistic as possible, no "artistic" filters. FPS FRIENDLY


I'm trying to keep the lighting as realistic as possible, no "artistic" filters. This reshade is FPS friendly.
I wanted to keep the vanilla atmosphere which is almost perfect in my opinion.
You have to enable Volumetric Fog (not include in Reshade).




[
HOW TO INSTALL
]
Download and install Reshade 3.0 from here : reshade.me > How to install Reshade?
Download and extract the content of pxel_reshade.zip in your Bin\Win64 folder (Steam\steamapps\common\KingdomComeDeliverance\Bin\Winn64)
Create (or edit) your user.cfg, write (or add) e_VolumetricFog 1 inside, save it > Steam\steamapps\common\KingdomComeDeliverance\user.cfg
Run your game, press SHIFT+F2, choose pxel_reshade.ini (top), enjoy !
[
/!\ IMPORTANT !
REMOVE DOF
]
If you want to avoid ugly shadows when you speak with someone, you have to download the optional file and install it.
Extract the file from sys_spec_PostProcessing.zip on your desk
Open engine.pak with Winrar or 7zip (Steam\steamapps\common\KingdomComeDeliverance\Engine\)
Navigate to Config > CVarGroups > And put your sys_spec_PostProcessing.cfg inside
[
TOO MANY FPS DROPS ?
]
Sometimes, Volumetric FOG can drop few FPS (it depends on the weather). You can disable it (e_VolumetricFog = 0) in your user.cfg.
After that the lighting will be the same as Vanilla, but still with better contrast, shadows and colors.
[
MY SETTINGS
]
[
UPDATE 1.2
]
Better light, more natural grass colors.
This update costs 0 FPS.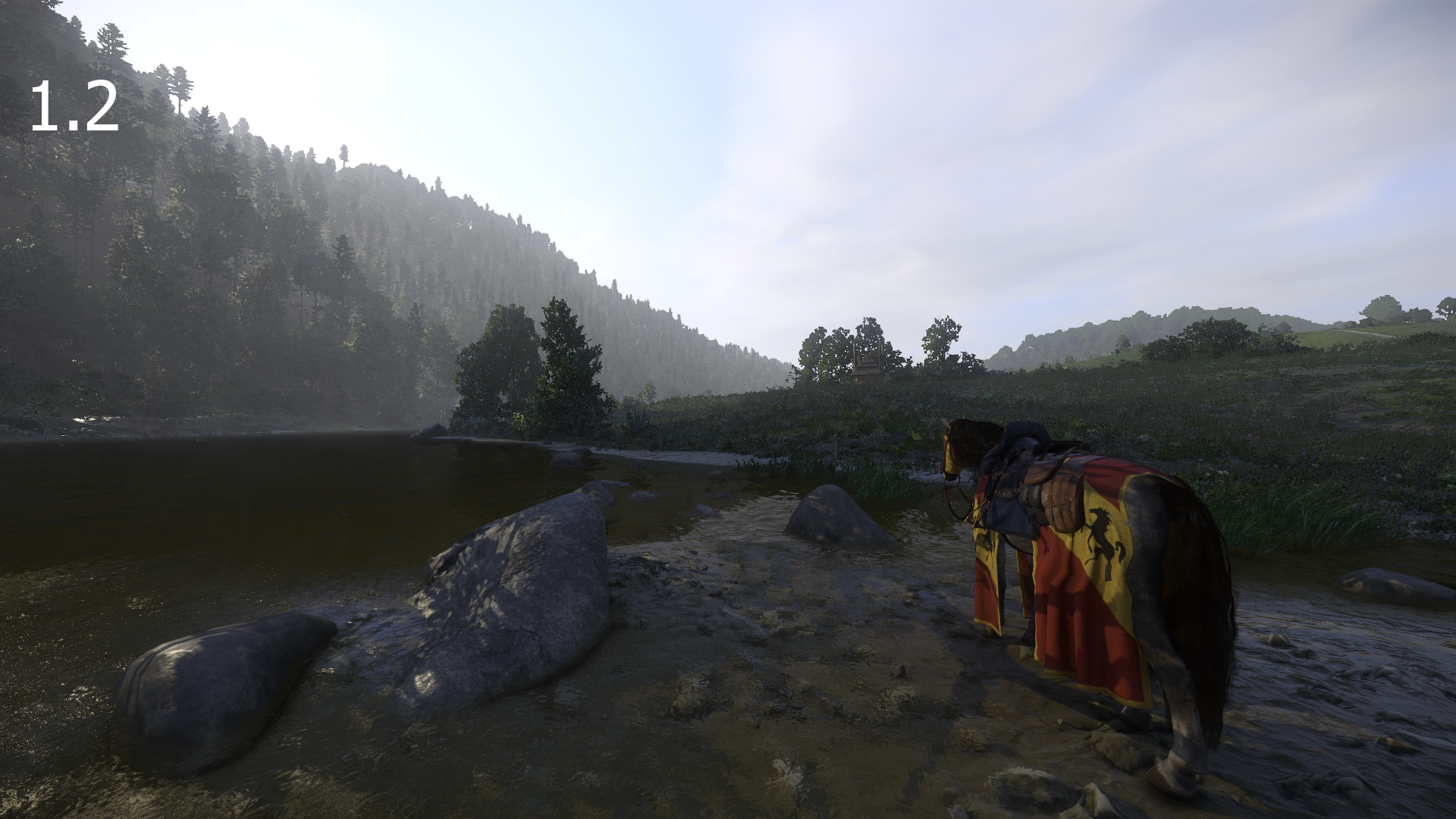 [
MINIMALIST 1.0
]


[ MY OTHER MOD ]
- BETTER SHADOWS for LOW & MEDIUM : www.nexusmods.com/kingdomcomedeliverance/mods/41


[ MALUS ]
What happens if you don't disable Depth of Field ? (optional file)