File information
Created by
Spearmans Alliance
About this mod
The last polearm mod you will ever need! Buyable, equipable, storable polearms with no negitive effects on NPC usage. Updated for KCD 1.9.3
Requirements

Permissions and credits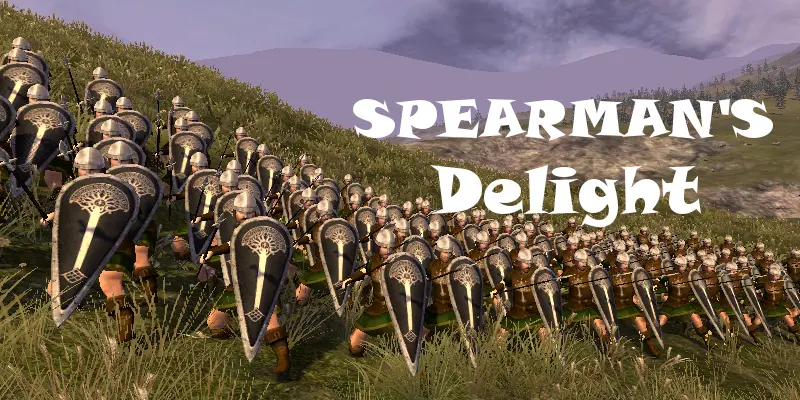 The Last Polearm Mod You Will Ever Need
Fully compliant with KCD 1.9.2
Current Version:  2.0
Last Updated:  July 15th, 2019
This is a collabritive mod by Knoxogoshi, Predoc, and AJStoner that is the merger of Knoxogoshi's "
Blacksmiths Sell Polearms
," Predoc's "
More Polearms
," and AJStoner's  "
Equipable Reballanced Polearms
."  It makes the following changes to KcD:


 Mod Features:


*Polearms are in much wider use by NPCs.

*Polearms are on offer from the game's various blacksmiths.

*The Halbard skill is no longer hidden on the character sheet.

*Polearms are equipable and storable by the player.

*Polearm damages have been reballanced.



Instalation:
*If you do not already have one, create a folder in your main game folder called "Mods"
*Extract this mod in the Mods folder,
NOT
the Data folder
To Uninstall:
  Two easy steps; first remove "x_SpearmansDelight" folder from your game's Mod folder.  Second, consult a psychiatrist.  You're crazy to not
play with this mod! 
Knoxogoshi's Ultimate Realism Overhaul version: 
A new SD version, designed to be compatible with Knoxogoshi's
Ultimate Realism Overhaul
has been added to the files list.  Instructions for using them together are included in an enclosed Read Me file.


Notes:
This mod has gone through over a hundred play hours of testing and, so far, there seem to be no issues.  They are not openly carried by characters equipped with them but are used in combat.  This seems to be unavoidable while allowing them to be stored by the player but "The Spearman's Alliance" will continue looking into way to improve their implamentation.  Regarding weapon slotting:  polearms are carried in the melee weapon slot.  We know many people would prefer having them in the bow slot but placing them there causes NPCs to not use them.  If a solution to this is found we will publish a version that does so. 
Compatibility: 
The following files are altered by this mod: 
Tables/Item/
weapon_class.xml
Tables/Item/
weapon2weapon_preset.xml

Tables/Item/
melee_weapon.xml
Tables/rpg/
skill.xml
Tables/shop/
shop_type2item.xml

If you are using any other mods that alter these files it is highly reccomended that you make use of a mod merger and give priority to this mod.
Change Log:
Version 1.1
*Updated for KCD 1.3
*Adjusted NPC weapon assignments
Version 1.2
*Increased damage levels
*Further adjusted NPC weapons assignments
Version 1.3
*Updated for new kcd version
Version 1.4
*Updated for new kcd version
Version 1.5
*Updated for new kcd version
*Updated URO version
Version 2.0
*Updated for new kcd version and DLC
FUTURE PLANS: 
Some things we'd like to add in upcoming versions of the mod include
*Lances!  If we can, find a way to allow a mounted character to strike from a charging mount without the attack button, simply by making contact.  If this can be achieved then certain popular medieval sporting events might be possible as well and that would be uber-cool.
*Give polearm-equipped character a sizable bonus for attempts to unhorse an enemy as that was one of the primary uses of many of these weapons.
*Open Carry:  Make it so polearms can be stored on your horse and in containers but while on the player's person it must be carried in the hands like in the vanilla game.  This would also necessitate an exemption for polearms regarding the prohibition on having unsheathed weapons in town.
For people who want to remove the reballanced damages:
  Using 7zip, right click on the pak file, select
open archiv
e, navigate to the
item
folder, and remove the
melee_weapon.xml
from the archive. It won't afftect any other aspects of the mod.