It's been a busy couple of months! Our eagle-eyed users may have noticed the lack of a November announcement in the We The Players event, so we're declaring the winners from both November and December today, which brings the year-long event to a close. 



Happy New Year to everyone here at Nexus Mods, I hope that this year is far better for us all than the last!

As this is the final month of prize-giving, I first wanted to say a huge thank you to all you avid gamers that have joined the site, submitted reviews, screenshots and collections, given us your feedback, and just helped make the platform even better. Without you, we wouldn't have added the ability to add games to lists (Wishlist, Playing, Completed etc.), nor would we have changed collections to have the ability to rank the games within it. We owe you a debt of gratitude. I also wanted to say thank you to Robin, Tom, Stefan and of course, Mike for everything you have done and continue to do for We The Players.

This year is a big deal to us, we have a new logo coming soon, we're finally moving out of early access, and we have some fantastic new features in development. With our users' help, we have begun to build a great community, we have a small but friendly Discord group who talk video games and general chat, and we're currently on the lookout for a few moderators to help out over there. Our Facebook Page is growing, and we're now beginning to create articles for our blog page. If you want to submit anything, please hop over to Discord and put forward your ideas, we're always looking for new talent.

Last year was a tough one for me; we had planned to go live and then exhibit at lots of live gaming events. We bought marketing material, and then everything shut down due to the pandemic. At the office we made the tough decision to use the time during lockdown to test the site and resume marketing when the virus subsided; we had no idea that we'd still be in this situation nearly a year later. Thankfully Robin came on board and allowed us to reach out to you all. I wish that I could give a Switch Lite, or at least a £50 Steam voucher to every one of you, but alas, the budget doesn't stretch that far. 

So for the last time, here are the winners for the Nintendo Switch Lites we have to give away:

The first one goes to Lazyluna678 for their review of Scrap Mechanic - "Don't Mind Me... I'm Just Building Something New", we enjoyed this review immensely as Lazyluna678 goes on to break down a game that we would never have looked at otherwise. With a well broken down review, headings to let us know what we were reading, and an image to demonstrate the game, it was a very effective way to review the game. With no prior knowledge of Scrap Mechanic, I knew exactly what to expect when I bought the game (which I did in the Steam Winter Sale). With a similar premise to Minecraft, but with "better graphics, more parts, way more complex creations, and mainly focused on building technology", it won me over (for the record, I enjoy Minecraft too). The final score was 9.6.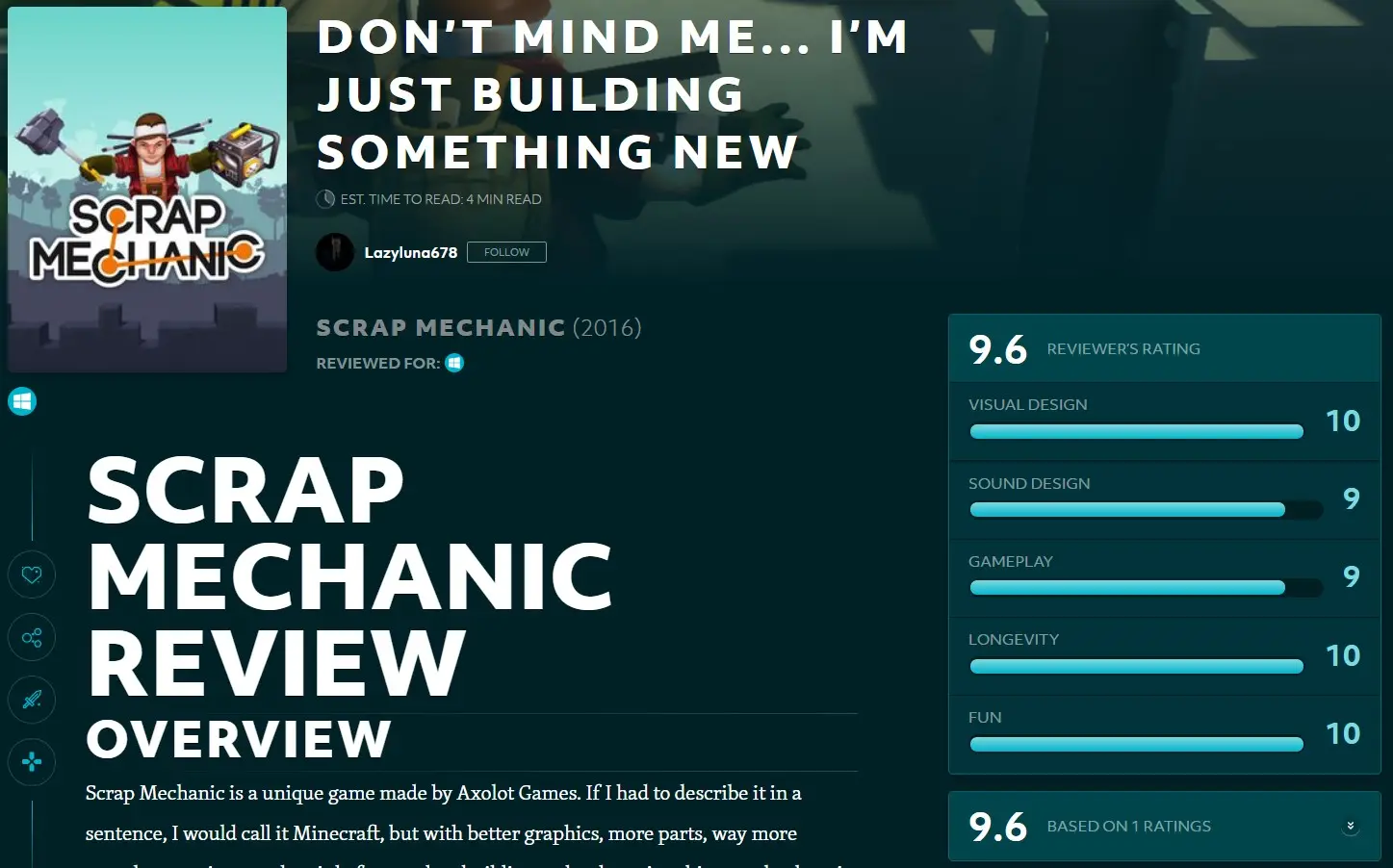 The second one goes to Gawain-Games for their review of Wolfenstein: The New Order - "Gawain's Wolfenstein: The New Order Review". Gawain-Games has become a prolific reviewer on the site and has been close a few times to win the Nintendo Switch Lite, but this review caught our eye. The reason being is that they admit to not being a fan of shooters, but felt they should give the game a go as a friend who was streaming gifted it to them. Immediately upon starting the game, they knew they were in for a treat, with strong characters in B.J. Blazkowicz, Irene Engel, and Wilhelm Strasse, combined with a great story (that continues from Wolfenstein: The Old Blood, released after 'The New Order), and impressive visuals, Gawain enjoyed every aspect of the game from start to finish. The final score was 9.3.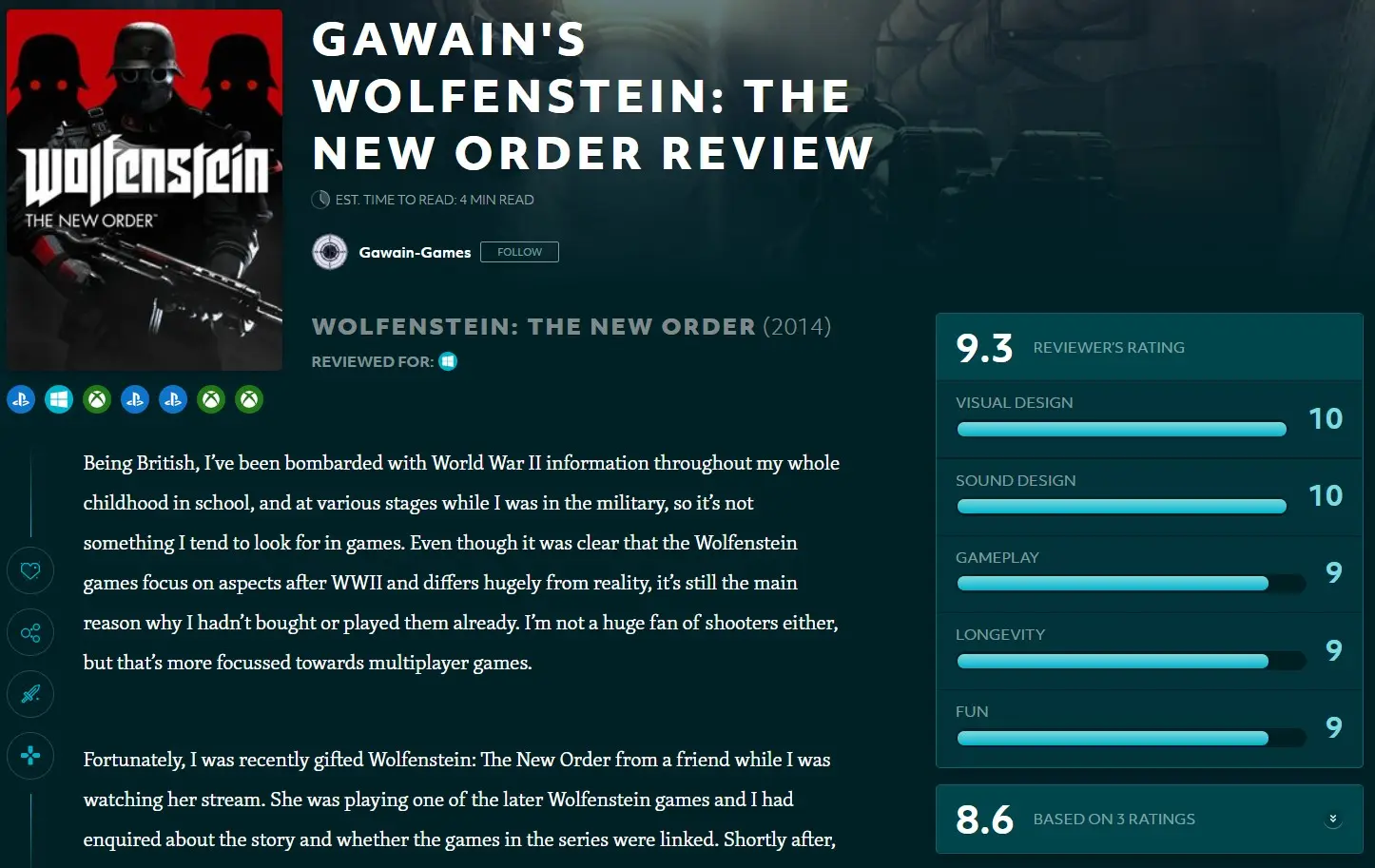 So that's the two winning reviews. Now we have the ten random winners for the £50 Steam Gift Cards. These are:
Elmodorable >> Pokigum
Sturpz >> Ausrion
Azgoodaz >> Azgoodaz
JzBai >> JzBai
Ebra >> Ebe222
Epicmarkvan >> Epicmarkvan
Giffsen >> Kazukiwoof
Endify >> Endify123
Nahti_ >> Nahti
Savvycrazy >> 1SavvyCrazy100

Although the Nexus Mods competition has now ended, we often do giveaways on our Discord and Social Media channels (Facebook, Twitter, Instagram). Shortly we will be giving away a Playstation 5, Xbox Series X, Xbox Series S and a Nintendo Switch Fortnite addition - keep an eye on the channels for more information.

Thanks again to every single one of you who has registered and tried the site. Thank you to those who have shared the site with friends, or on social media, bringing new users to the site is vital for its success going forwards. Finally, your input has helped us immensely; we are building a platform that we want you to enjoy using and visiting, so constructive criticism is welcome. We hope to see you over on the site.

Kindest regards, 

Paul


Congratulations to all the winners! Please join me in thanking Paul and the We The Players team for giving our community the chance to win some excellent prizes!