We're now into the fourth month of the We The Players prize draw exclusively for Nexus Mods users, so it's time for TokenGeek to announce the lucky winner of the Nintendo Switch Lite and 5x $50 Steam Gift Cards from September. 



Hey everyone, thanks again for another successful month of top-notch reviews, collections and screenshots. Our community over at "We The Players" is slowly growing and that is in no small part down to those of you here at Nexus Mods. We're eternally grateful. 


We're also expanding our games database, with over 135,000 entries so far, many of which include images and videos. If you remember a game, take a look and see if it's there.


We've been discussing some of the ratings that games are currently receiving and find it interesting that both Skyrim and Skyrim Special Edition are sitting on 9.1 each. The more ratings that the games receive the more useful the information becomes to other gamers. So if you can spare some time, get on the site and get rating those titles you've played.


Also, over on our Discord, we are still giving away games and gift cards. So drop by if you fancy chatting about video games and having a chance to win additional prizes.


The latest feature that should go live on the site around October 20th is the "Game States" update. This addition will give you the ability to track your games and set flags to say which games you are playing, completed, 100% mastered, own or abandoned. We're excited to push this live at the end of the month




Okay, so onto this month's winners.


First up is the £50 worth of Steam Gift Cards, so congratulations to the following people: 
Natef04 --> Natef04
LazyLuna678 --> LazyLuna678
RegalBlade --> RegalBlade
Everest --> Everest129
Sturpz --> Ausrion


The winner of this months Nintendo Switch Lite is Diegozt with their review of The Crew 2 - The Land of the Not-So Free. On the whole, it was a somewhat negative review of the game, but it gave us plenty of reasons why. The microtransactions, the somewhat lifeless open world, and a dull collection of cars lead to something that is quite uninspiring. Diegozt has written some other great reviews, and we recommend checking them out if you want to read about The Legend of Zelda: Breath of the Wild, or Metro Exodus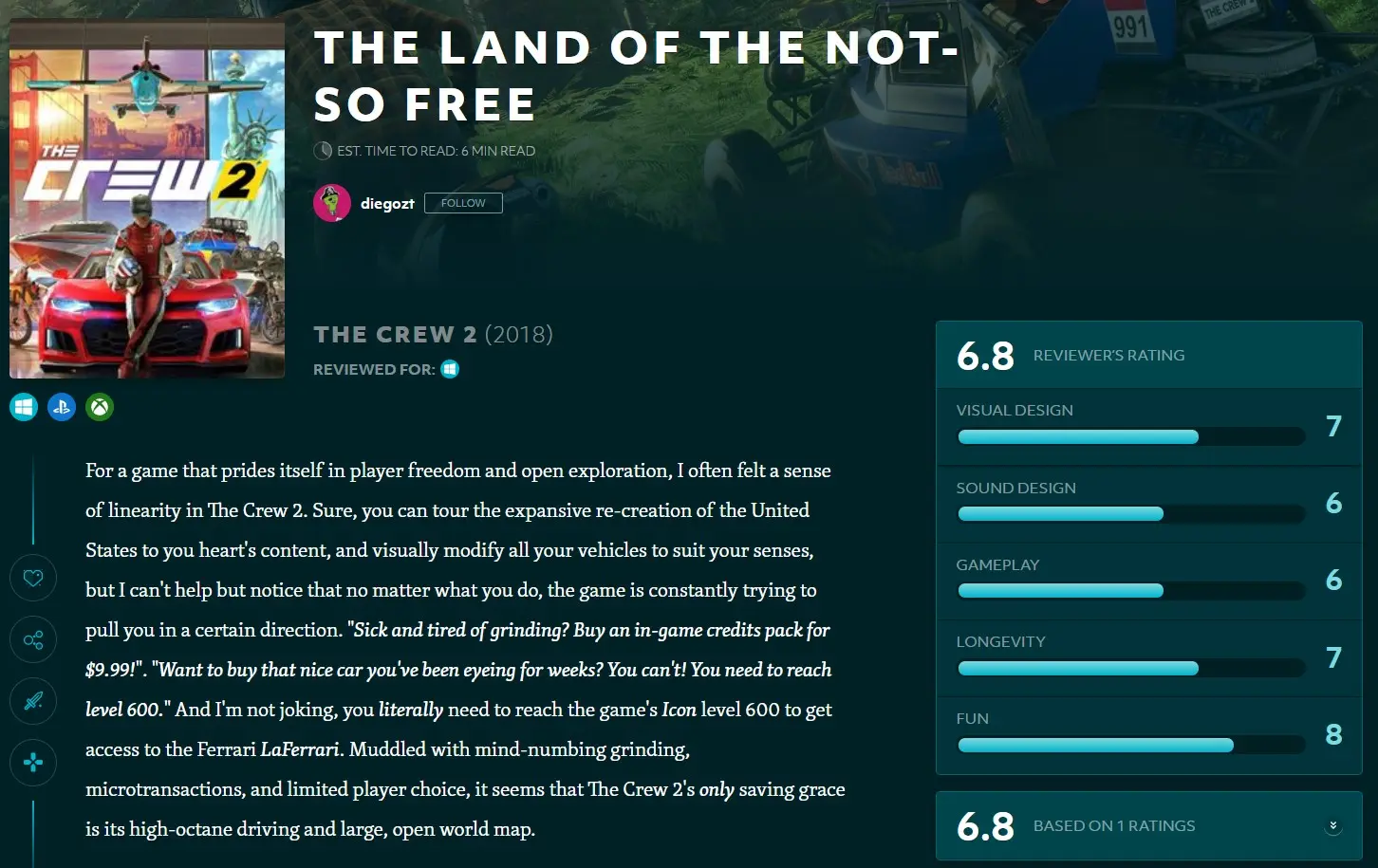 We've seen a lot of great reviews and collections, so we thought we would highlight another few for you to take a look at.


LazyLuna678 has produced many a top review, and we look forward to seeing everything they write. A review that caught our eye was for a game from yesteryear, Star Wars: Knights of the Old Republic. The title of 'Literally why are you reading this? Go and play the game now.' certainly grabbed our attention and we enjoyed reading the review, especially as LazyLuna678 did a great job of avoiding that iconic twist in the game.


On the collection front, we've witnessed users start to list out games they played growing up. TheAngryTurkey's 'My Childhood Gaming Collection' is a great example, with classics like The Legend of Zelda and GoldenEye 007. If I were to do mine, it would include games like The Hobbit from 1982 - I guess that shows how old I'm getting though!


So there you have it for this month. Congratulations to the six winners. For a chance to win, take a look at the competition over on this news post.