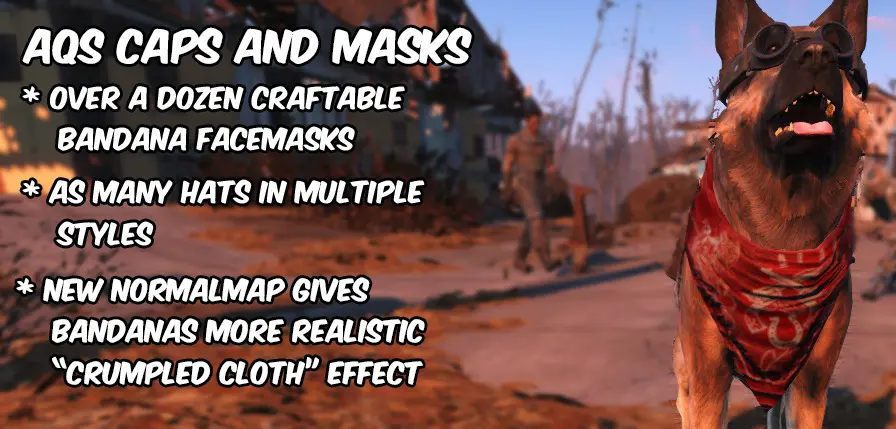 v.4
REQUIRES
CRAFTING WORKBENCHES
Armor and Weapon Keywords Community Resource (AWKCR)
and
WASTELAND FASHION - BANDANAS AND BLINDFOLDS
From the readme:
Caps and Masks, by AlanQSmithee
v.4.1
This mod adds 20+ new hats and 20+ bandanas, all craftable, with unique textures and normal maps. They fit men, women and (in the case of the bandanas) dogs alike. The hats are based on Piper's reporter hat, the vanilla newsboy cap and the field scribe hat (with the lower part removed), and the masks are all based on the vanilla bandana, though I've given it what I think is a more realistic, less solid and plasticy wrinkled cloth effect. They are craftable and can be found in some level lists.
New in v. 4: Thanks to Ascendia's Bandanas and Blindfolds, this mod now has neck- and head-worn variants of all bandana textures. *HER MOD IS NOW REQUIRED BECAUSE OF THIS*
A few sample images:
Here's a look at the five unique, stat-buffing versions new to v4.1 that must be found rather than crafted:
How to get them: You can craft them at an AWKCR Armorsmith station under the "AQS Caps and Masks" category
(previously had a few recipes on the Clothing workbench from the Crafting mod, but in the interest of ease of use and compatibility, it's no longer dependent on that file)
. You should also find a few at vendors, in containers, and on Gunners, some raiders and wastelanders.
Installation: Use NMM or by hand. Manual installation: Just unzip the file and drag and drop the Data folder (it contains a "AQSCapsandMasks.esp" file and Textures, Meshes and Materials folders) into your Fallout 4 directory. It won't overwrite anything but may merge with a previous version of the mod if you're updating. *MAKE SURE THE WASTELAND FASHION MOD IS HIGHER THAN THIS IN YOUR LOAD ORDER* To use the alt textures, which are contained in this zip file outside the Data folder, drag them over and replace the default ones with them.
Original/dirty texture comparison:
Updating:
If you already have v4.0, download and install "Update 4.0 to 4.1" and then, if you like, the alt texture set. Version 4.1 contains everything.
Uninstallation: Uncheck the .esp and delete the Textures, Meshes and Materials folders from the mod.
For bug reports or other feedback, see the forum thread at the Nexus page for this mod.
----------
Known bugs:
* The lower hair/neck mesh is removed from the scribe field cap and it's set to show the lower portion of your hair, but since the removal was done through alpha transparency you'll see some small gaps between the hat and your head at certain angles.
-------------
Incompatibilities: Depending on how FO4 handles level lists compared to previous games, and what else you have installed and the load order, you may experience some level list overwriting. Please let me know.
-------------
Thanks to: Ascendia for letting me adapt her work.
----------
Version history:
v1 - initial release
v2 - added new plaid caps and bandanas
v2.5 - added the five field caps
v2.6 - four more masks, three more hats
v3 - added six new bandanas, including some factions, and the leveled list optional esp
v4 - added knit caps and neckerchief/headband variants
----------
My other mods:
Perk Paths - A Roleplaying Overhaul for FO4
http://www.nexusmods.com/fallout4/mods/14997/?
Delta Wasteland Radio for FO4
http://www.nexusmods.com/fallout4/mods/11087/?
Classic Bomber Jacket for FO4
http://www.nexusmods.com/fallout4/mods/8193/?
The Driver's Jacket for FO4
http://www.nexusmods.com/fallout4/mods/8508/?
A Sackful of Hats for Fallout: New Vegas
http://www.nexusmods.com/newvegas/mods/58540/?