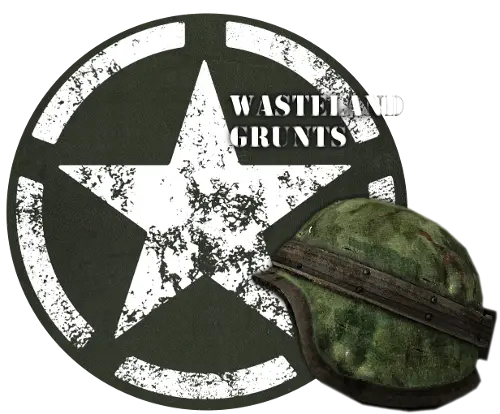 Description:
Update: 2/16/2016
Unfortunately due to classes I am unable to continue working on this mod in a manner which I am happy with, for that reason ill be releasing all materials as madders resources within the coming week with official updates being postponed until further notice. 
What started out as a quest to bring a simple helmet cover to the fallout universe has evolved into a full blown conversion of fallout 4's military apparel. 
This is the next iteration in my wasteland series of re-textures, aiming at bringing new life into the look and feel of the Gunners faction. This mod replaces 3 of the 4 Gunner specific outfits with variations of the OG-107 Cotton Sateen Utility Uniform worn during the Vietnam war. In addition this mod replaces all variants of the Army Helmet with the standard version sporting WW2 style netting and the dirty variant utilizing a helmet cover sporting the Mitchel pattern. All uniforms feature accurately modeled ALICE gear and branch insignia and name tapes appropriate for the era. Additionally the army version includes patches from the Massachusetts National Guard to best represent the forces most likely active in the Boston area at the time of the great war. The camouflage version utilizes a pattern heavily inspired by the Colonial Marines in the Aliens Franchise, while entirely fictional i feel as if it fits right into Fallout's retro-futuristic ascetic.          
Requirements:
This mod requires Armor-smith... And as a side effect is totally compatible! (who knew...)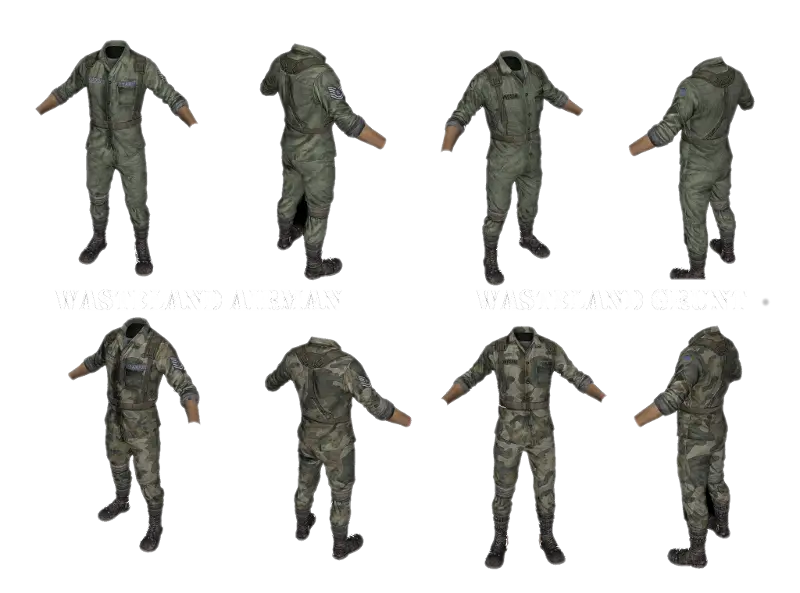 this replaces the Gunner Flannel, Gunner Guard Shirt, and Gunner Leathers. These are replaced by Army Combat Fatigues, Air Force Combat Fatigues, and Camouflage Combat Fatigues.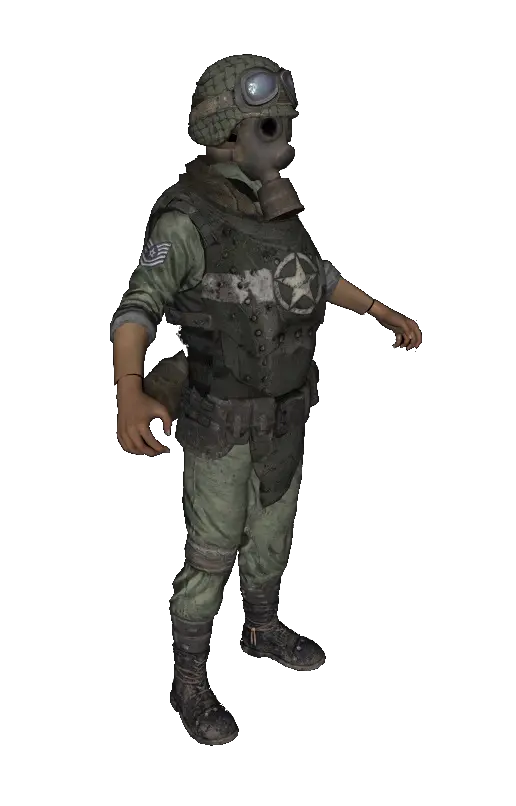 Update 2/17/16
All WIP material has been released. 
-------------------------------------------------
Plans:
Add a combat armor re-texture to fit with the theme (so very close, just trying to work out compatibility with most popular mods)
Add the ability to customize helmets via crafting menu, adding camo covers and/or netting in game (eventually...)
Probably make a Colonial Marine Mod... Probably... 
-------------------------------------------------
Coming Soon...
Wasteland Grunts: Heavy Metal Expansion 
This expansion will be my next project, focusing on expanding the gunners into a faction heavily emphasizing pre-war style mechanized warfare. The immediate focus of this expansion is the introduction of new custom art assets to the Gunner faction. 
Featuring
Allied Battle-Plate (Done)
Damaged pre-war military vehicles, dismantled and re-purposed as custom fitted combat armor. New custom model, mixing vanilla combat armor and its metal counterpart. 
Engineer's Combat Helmet (done)
A jury rigged modification of the army helmet commonly worn by Gunner engineers, features a new model with working headlamp and goggles. 
Gunner Engineers are responsible for a variety of combat duties, from combat demolitions and EOD to the maintenance and upkeep of some of the Gunners most powerful weapon systems.  
Reserved for elite mechanized units, these suite's provided an overwhelming advantage to gunner forces operating deep within hostel enemy territory. 
-------------------------------------------------
Changelog:
-------------------------------------------------
Install
Manual
Extract contents of file using your preferred extraction software to the Fallout 4 Data directory ...SteamLibrary\steamapps\common\Fallout 4\Data
Uninstall
Manual
Delete any files downloaded (reference compressed archive).
-------------------------------------------------
Recommended Mods:
Wasteland Commando
Armorsmith Extended 

Armor and Weapon Keywords Community Resource