Description
Last updated at 0:29, 19 Jan 2016 Uploaded at 23:33, 15 Jan 2016
Bobble Girl - with Slooty Vault Suit



Sorry for too many Videos. i just can't resist...


Thanks to MxR Mods,


Thanks VatiWah for Another video review!


Grazie! NorthWind - Modding italiano! for your video!


Now, i'm in Top 5 officially, Thanks to sajcon!


Thanks DirtyBaker Mods for this Quick review!


Thanks UNOG: United Nerds Of Gaming, nice video!


Thank you Ma Doo Gun! for this Video!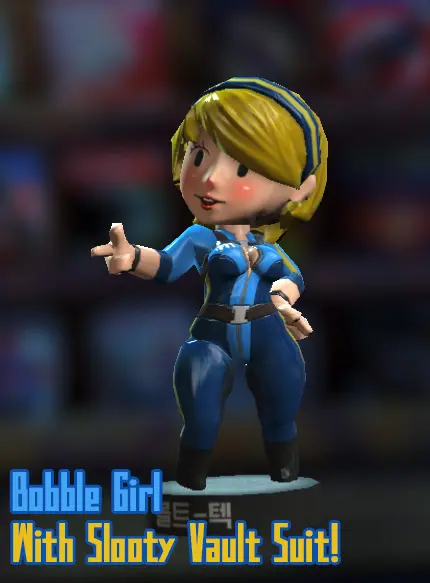 Update note
1.0 - release
1.1 - Changing file Path and add ESP file for mod compatibility
Bobble girl in other languages
Spanish Translation
 by 
Wartinald, Thanks!
What is th......Oh.
Yes! it's simple replace for vanilla Bobbleheads!
How to install?
Just Download Main file, Bobble Girl FOMOD, and choose what you want! (Thanks to 
SkunkMonkey
!)
there is 6 variant,
3 hair color(Blonde, Dark Brown, Red)
and 2 Suit design (Normal and Slooty)
3x2=6, Boom! easy!
1.1 Update
Remove previous version and do the same thing!
!WARNING! the Red Head version is only in FOMOD Main file! !WARNING!
to install manually
which i'm not recommend
First you must Download 
Bobble Girl Normal Blonde
 as main file
and you can choose between 3 more options
Dark Brown hair with Normal suit,
Blonde or Dark Brown Hair with Slooty Vault Suit!
just download with NMM or manually Copy n Paste the loose files
Manual install version doesn't contain ESP file, so if you using Manual install version, might be incompatible with some mod
FAQ
Q: What is..the... 볼트-텍? if i download this, it changing the base?
A: don't worry! this mod doesn't affect to the Bobblehead base, that's just my language!
Q: Can you make...
A: Nope! sorry.
Q: Can i Re upload/ Re make/ Re texture this models?
A: Yes! as long as you credit me!
Special Thanks!
DixiePig
 as original author of 
Slooty Vault Suit

SkunkMonkey
 for FOMOD and Red Haed Variant
Recommended mod! 
Red Head with Full Suit(no revealing)
 by 
tonicmole
! check this out!
More Hair Color for no revealing suit
by 
ParasiteX
 if you want more hair to choose!
Standalone Collectible Bobblegirls
aka Bauble Bobble by 
Demon9ne
, for those one who want every Bobble girl variant in one time!
ETSGB for Bobble Girl
by 
nacidocoqui
, Now you can have both Girls and Glow!