Description
Last updated at 22:04, 22 Jan 2017 Uploaded at 21:46, 10 Jan 2016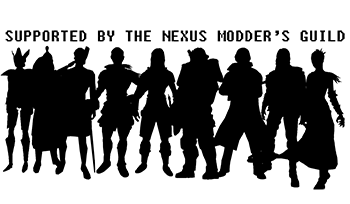 First of all, what is anarchism? Thankfully, someone gave us this very clever and insightful input:

So, you know. Unless you're either an idiot or a sociopath, please refrain from continuing reading. If you need to check to make sure you qualify as either an idiot or a sociopath, please check the following:
Have you ever gone up to a bunch of strangers, and told them what they should
think
? To basically attempt to
go into their minds
, and refurnish things to suit your particular needs.
That, or, have you ever written out humanity as a plural to replace a possessive noun because it looks a bit more intellectual? And then lectured other people on the use of the English language in the same bit of writing?
If you answered yes to either of these, then it's cool, welcome to anarchism.
Due to popular demand, The Ultimate Communist mod has now been made for all my non-anarchist socialist brothers and sisters. Click here to start the revolution.
Armours:
- Power Armour Paint Job with Black Army Flag. (Translated to English)
- Olive Drab Rebel Fatigues with anarchist armband.
- Anarchist guerilla overcoat.
- Navy Blue anarchist general uniform. (Inspired by the Black Army)
- Anarchist face mask.
Also comes with an anarchist flag and replaces all minutemen radio songs with anarchist/labour hymns from across the world. 20 songs in total.
FAQ:
Q: This isn't anarchism!
A: Oh, look who's here, everyone! It's the anarchist-police! Because that's a thing. That makes sense. 100% logic, ladies and gentlemen.
Q: Is this mod lore friendly?
A: It's an alternative lore mod, which means that it is designed to fit in with the Fallout lore. If it's lore friendly or not is really up to your own personal philosophy on the matter.
Q: Is this mod safe to use?
A: Texture/sound replacers can only cause bugs related to things looking visually bad, or sounds not sounding properly. It's impossible for them to cause any bugs beyond this.
Q: Are you an anarchist, Thumblesteen?
A: I figured it was kind of obvious by now.
Q: One of the songs are about liberals, how is that related to anarchism?
A: It's a satirical song about liberals from a socialist/left wing perspective.
Q: Suppose I have a request?
A: Just ask away, but don't take anything for granted.
Q: But now that I am an anarchist, where are the evil people for me to shoot at?
A:
Right here.
Q: Can I use these files for my own mods?
A: This mod has been incorporated into the Modder's Guild Terms of Use Framework. See the permissions area for more details.
Q: OH MY GOD A LEFT-WING MOD GO AWAY YOU FASCISTS!
A: There's like, a million Nazi mods on the Nexus, we make one thing, and you guys insist on censorship and you spam us with comments telling us we're wrong and so on, and
we're
the fascists? You're the ones coercing people into thinking the way you do.
Current Problems:
Sometimes when you're around noisy objects like turrets or generators, the songs drown out a bit.
Minutemen General uniform has a mirrored texture. This has been fixed, but I still need to upload the file.