File information
Created by
Nikonthenet
About this mod
This is now a STANDALONE mod, with MYBed & PLAIN Options.
Stylish, Sexy, Sensuous & Sophisticated! The Lady Killer - a luxurious and characterful bed available in 4k & 2k.
Complete with custom graphics & bump maps.
Requirements

Permissions and credits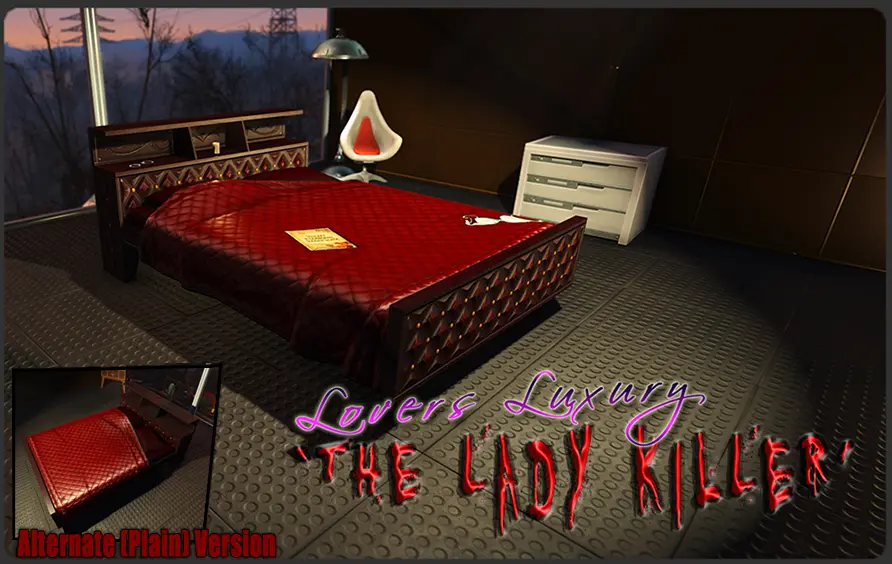 UPDATES
:
Coming soon: FMOD Installer
v0.3
-Added 'MYBed' Option thanks to
Kae Arby
, go give him some Kudos!
-Filthy NPC's will nolonger use your Bed!
-Magazine updated to 'Live & love'.
v0.2
-Mod is now Standalone & craftable
v0.1
-Covenant Bed re-texture
DESCRIPTION
:
For the more discerning Gentlemen or Lady, self-respecting monogamist, sexual predator or aspiring porn star; I present 'Lovers Luxury Beds -the Lady Killer-'. This stylish item can be built in your home via the workshop menu under beds.
A beautiful, satin cloth, fine print & embroydered duvet set with hand engraved matching headboard, to suit your lavish post-apoc lifestyle.
Comes complete with accessories! firmly held in place with non-slip when wet glue. Candle in images is not attached, everything else is.
Optional (PLAIN) version available. 
'Woo' attractive partners who will be mindless to your passionate advances!!
Be the talk of the Wasteland with this unique bed ensemble!!!
This bed is so amazing, it makes itself when you wake up in the morning!!!1
You may also like:
Lovers Luxury bed - The BLACK WIDOW
 & 
Better Beds - Vault-Tec
 &
Better Beds - Poster & Comics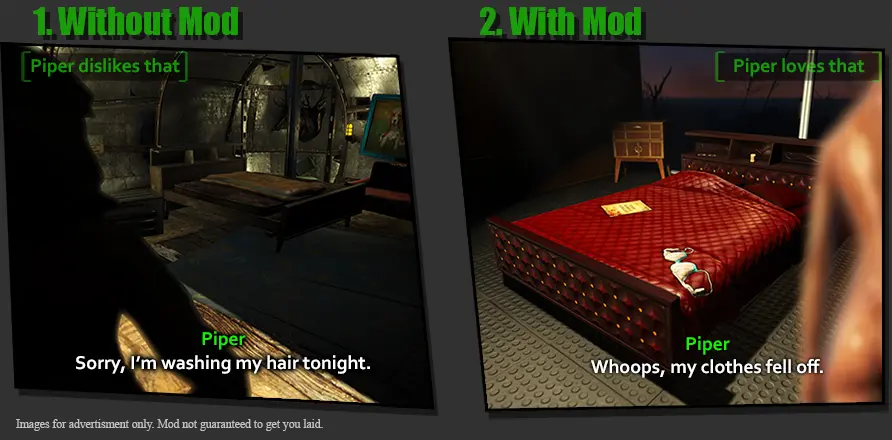 FILE OPTIONS
:
MYBed - filthy(not that kind of filthy) NPC's will not use this bed.
The main files include props attached to the bed, so there are some extra features. 
PLAIN - Optional files have props removed, so you can decorate yourself.
NOTE: you can install MYBed versions alongside the non-MYBed versions.
INSTALLATION
:
Best to use NMM and keep track of updates!
Manual - Copy the textures folder into your Data folder.
UN-ISTALLATION
:
Simply disable and un-install in NMM.
Manual - Remove the files from your data folder, using a manual download for reference.
VIDEOS
:
Awesomely funny video review, thanks vatiwah!
-my luxury beds start at 5m - 
https://youtu.be/Td4zhwck4pE?t=4m50s
COMPATIBILITY & KNOWN ISSUES
:
This mod was made using FO4Edit.
Tested and working as intended with 
HomeMaker Expanded Settlements
 & 
OCDecorator

There may be an issue with placement at the Castle. Placement is fine in the courtyard, but remains red inside the rooms. Its being looked into! Current workaround, and generally very useful mod:
Place in Red
Any issues, please report with specifics of your issue.
CREDITs
:
Kae Arby
&
This is MY Bed
FO4EDIT
Nifscope
Gibbed Tools
B.A.E.
RECOMMENDED MODS / USED IN SCREENSHOTS:
Vanilla ENB ' Enhanced'
HomeMaker Expanded Settlements
OCDecorator
Nuclear Nude


MY OTHER MOD:
Better Beds - Vault-Tec
Lovers Luxury bed - The LADY KILLER
Lovers Luxury bed - The BLACK WIDOW


Bloody Realistic - HD Blood Textures
Bloody Mess - EBT ADD-ON
Bloody Comical - Enhanced Blood Textures ADD-ON