~ LOVING CURIE by Koozebane ~
For anyone who believes Curie should look as elegant as her voice.
This is one 3D artist's humble attempt at a remedy.
This is a standalone mod that works with vanilla files.
Download and activate with NMM. Bada-bing.
NOTE:
Curie's personal quest arc must be complete for this mod to work.
NEW VERSION 1.0.3b:
Quick fix for wonky ear issue while wearing select hats.
---------------------------------------------------------------
~ NEW! LOVING CURIE: DEVIATIONS SERIES! ~
A Dark Deviation inspired by
HN66s SIRIUS.12 Assault Suit
by
humannature66 _ RazorX13 _ Ousnius
[ this optional mod is hair and face only. get the outfit at the link above. ]
Requires
Motoko Hair (GITS)
by
stefanmb
Shown with
Nuka Rad-Ban Eyewear
Sniper Black glasses by Ceds.
All photos show
True Eyes - Fallout 4 Edition
by JimtownIrish
and 
Oni face re-texture
by OniNigma.
Not required.
------------------------------------------------------
>> Don't like how shiny Curie's face is with Oni's? Check my posts for a solution. <<


Share your shots of Loving Curie with the rest of us!
Thanks to Fallout 4 mod reviewer extraordinaire Tyrannicon, we now have awesome ego boosting video evidence that I don't totally suck at this.
Fine Print Department
If you find yourself Loving Curie, please don't forget to endorse
.
It feeds our precariously teetering ego.
Offering this mod for download on any other site is expressly forbidden. Yes, this means you.
Several thousand wasteland raiders were harmed in the making of this mod.
Check out my other companion mods:
Loving Piper
(Two new deviations!)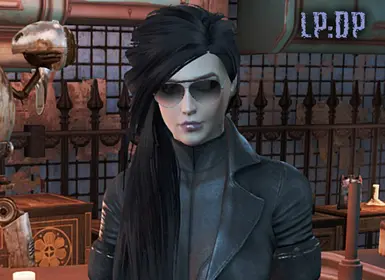 and, of course,
Loving Cait
(updated!)