File information
Created by
Talkie Toaster
About this mod
Gives companions infinite ammo for all basic weapons, as well as making all companions' power armour immune to breaking (not just Paladin Danse's).

(Also power armor)
Requirements

Permissions and credits
Thanks to
FO4Edit!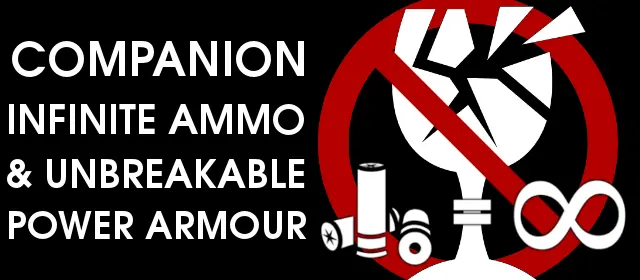 Combines
Companion Infinite Ammo
and
Companion Unbreakable Power Armour
.
Gives your vanilla companions infinite ammo for all weapons (bar the Fat Man and Missile Launchers), and copies Paladin Danse's immunity from power armour damage to all companions. Your companions are all adults- they can take care of themselves. Stop having to babysit them!
Two versions are available:
SINGLE: This works for a single vanilla companion at a time (so, all you have in the base game). It doesn't edit the NPCs. It won't work with multiple-follower mods.
MULTI: This works for all the vanilla companions at once. It does edit the companion NPCs, so will conflict with any other mod that edits their NPC forms.
I recommend the
SINGLE
version as it changes fewer forms. If you use mods that let you have multiple vanilla followers at once, use
MULTI
.