File information
Created by
invalidfate the porting - InsanitySorrow the skyrim originate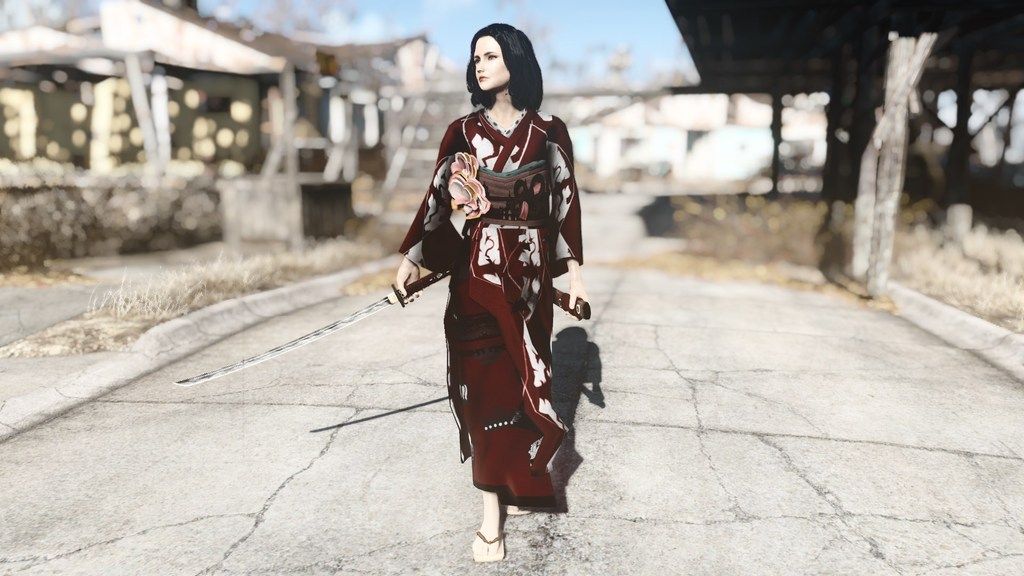 [Mods In This Screenshot]
1) The pose is from the
"pose anyway" mod
2) feet mesh is from CBBE alpha release
3) kimono and geta are ported from skyrim mods, skin morph is buggy now. just a long way toward the release. 
[What's New in Ver 0.10.0]
1) FIX THE BUG of vanished hit-box after upgrading the katana.
2) Insanitys Celtic Tanto is included.
3) Lefthand tanto with backhand holding for screenshot.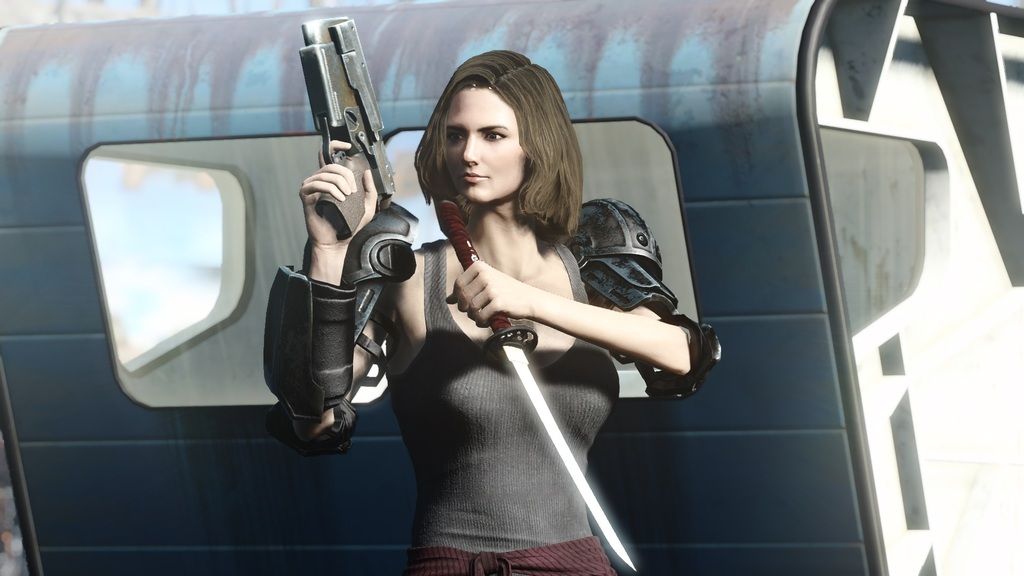 [Mods In This Screenshot]
1) The pose is from the 
"pose anyway" mod
2) The outfit is from "
Simply Clothes for Female
" + some of Black-textured combat armor.
3) Left-hand Tanto is from this mod as a fake armor for fun.
a Review Video by Tyrannicon @ 3:36 (for Ver 0.9.1)
[Description]
    This mod includes 1 katana, 1 tanto, 4 left-handed scabbard armors (with/without the katana/tanto inside, just to make it looks like you hold the scabbard to the left hand), and 1 left-hand tanto with backhand holding as a armor for fun.  Currently you need to equip the scabbard manually, and I can do nothing about that without the GECK.
PS: the over-power damage version can be obtained from upgrading exist one in the weapon workbench with 3,000 crystal per steps, total 5 steps toward 400% damage (katana only).
[HOW TO INSTALL]
1) use the latest-version NMM , or download manually
2) activating the mod in NMM or extracting the archive to the FO4 data folder if manually.
3) remember to update your fallout.ini to read customized content 
       (for example:   sResourceDataDirsFinal=STRINGS\, TEXTURES\, MUSIC\, SOUND\, INTERFACE\, MESHES\, PROGRAMS\, MATERIALS\, LODSETTINGS\, VIS\, MISC\, SCRIPTS\, SHADERSFX\  )
PS1: there is a 
good tutorial
 about FO4 mod installation, checking it if you don't know how.
[HOW TO GET IT]
1) in console, type "help insan 4", and you will get the item codes.
2) in console, type "player.additem [item code in (1), do not include brackets]"
x) or try & error on "player.additem xx077001"     wepaon katana
                              "player.additem xx077002"     wepaon tanto
                              "player.additem xx087000"     scabbard 
                              "player.additem xx087001"     scabbard with the katana inside
                              "player.additem xx087002"     tanto scabbard with the tanto inside
                              "player.additem xx087003"     tanto scabbard  
                              "player.additem xx087004"     left-hand tanto with backhand holding (as an armor) 
   (xx start from 01 in hex character, depending on mod loading sequence)
[Credits]
1) InsanitySorror for Skyrim original mod (mesh, texture)
 (original mod link
)
2) Nifskope team for grate tools to let me edit the NIF
3) FO4Edit for building the esp
4) thanks Nechigawara's modable esp that inspired me about making OP a option.
[Roadmap & Change Log]
>>>> ROADMAP toward V1.0.0
1) able to switch scb state when weapon is drawn or not.
== V0.10.1 @ 2015/12/24 (major update, new mesh and esp items)
1) solve the CTD issue when equipping the upgraded katana and pipboy on.
== V0.10.0 @ 2015/12/22 (major update, new mesh and esp items)
1) fix hit-box bug when you upgrade the katana
2) add tanto and its scb.
3) add left-hand tanto for fun
== V0.9.1 @ 2015/12/17 (minor minor update, only esp modified)
1) change armor slot from ring(51) to 61(the baby Shaun uses that slot).
2) add 4 more over-damage option. each one increase 130% damage up to nearly 400% damage can be upgraded from the workbench
== V0.9.0 @ 2015/12/16
Initial version