File information
Created by
Jorhadoq
About this mod
Realistic Real World Retexture of all Ballistic Ammo-boxes and Ammo.
Requirements

Permissions and credits

Translations

Changelogs

This mod aims to retexture all ballistic ammo and ammo boxes.
Real Life HQ Ammo boxes from All Major Ammunition Manufacturers. 
All ammo boxes, shells and containers come in multiple versions and all are
optional
 through NMM Installer.
Tired of the cartoon looking Ammo boxes in-game ? Not any more your not.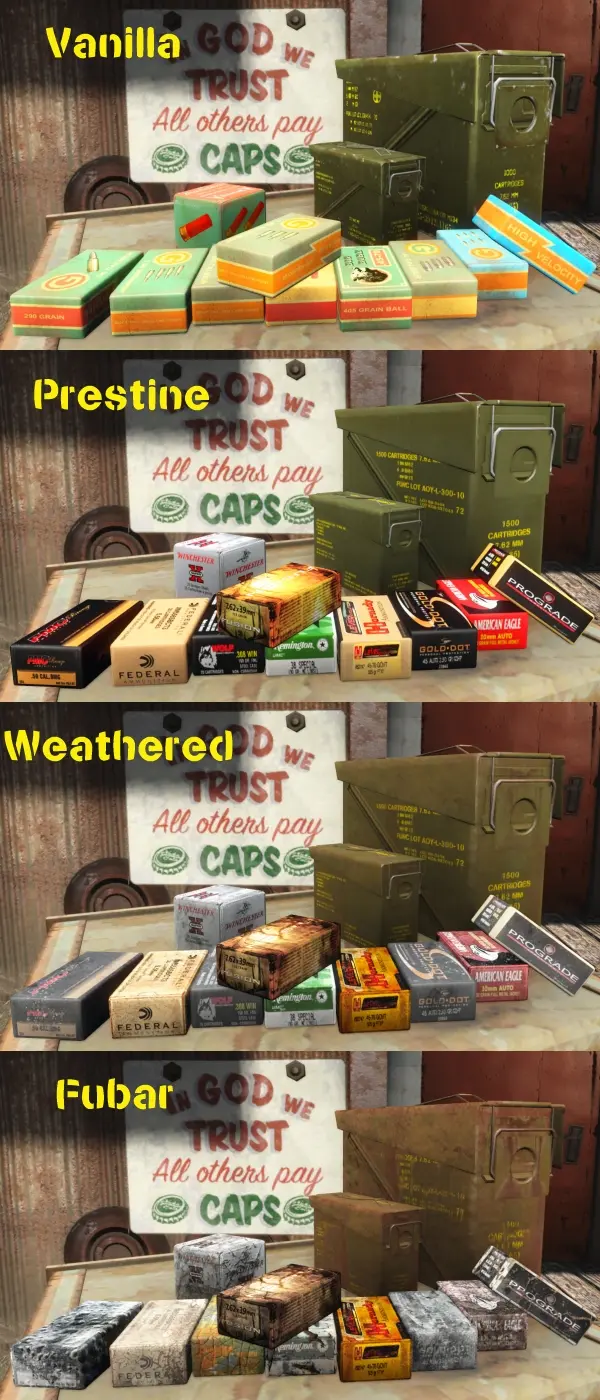 You also want new Shells ? We got em !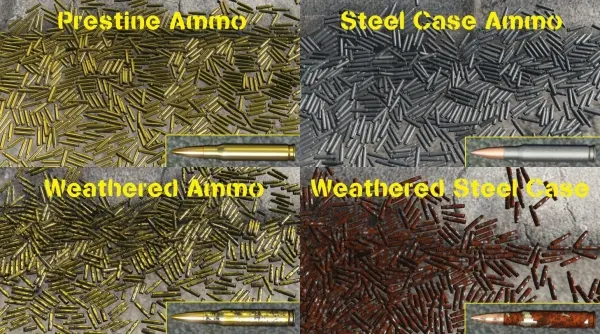 You also want Shotgun shells ? We got that too !

You also want new Ammo Containers ? No problem !

Changelog :
- 1.0 Initial Release.
- 1.1 Fixed Fomod Installer to include all versions of shotgunshells.
- 1.2 Updated texture for 10mm,
Added New Texture for 5mm,
Added New Texture for Ammo Box 
- 1.3Updated Normal Maps for 5 MM and Ammo box.
- 1.4Added Steel Case Cartridges both Pristine and Weathered. 
Updated texture for 5.56 Ammo ( Now from Federal ). 
Updated texture for Shotgun Ammo Box ( Now it's 12 Gauge instead of 20 ). 
Added Green Shotgun Shells.
- 1.5Added Super Weathered version (Fubar).
Added a Less weathered version for 5mm Box and Ammobox Container.
- 1.6 Added textures for the Far Harbor DLC included .45-70 Ammo Box.
- 1.7Added textures for the Nuka World DLC included 7.62 Ammo Box, Added new shotgunshells, Added a optional loadingscreen.
Compatibility:
This mod installs textures only so it could only conflict with other texture mods who alter the following:
- Ammo 
- Ammo boxes
- The Ammo Box Container.
- Hunting Rifle (for the Pristine Shells version i needed to change the huntingrifle mags texture). 
Before you can install this make sure you have done the following:
----------------------------------------­----------------------------------------­--------------------------
How to enable modding
Navigate to your Fallout 4 Folder at the following location "Documents/My Games/Fallout 4"
Within this folder will be a number of .ini files, highlight "Fallout4Prefs.ini" and "Fallout4.ini".
Right Click, select Properties and ensure that these are NOT marked as read only.
Open Fallout4Prefs.ini with your favourite text editor (we use Notepad++).
Navigate to the very bottom and you will see the line [Launcher]. Directly underneath this, add the following line:bEnableFileSelection=1
Save and Close
Open Fallout4Custom.ini with your favourite text editor.* Note that this file was changed from Fallout4.ini following update 1.2
Add the following lines to your Fallout4Custom.ini[Archive]bInvalidateOlderFiles=1sResourceDataDirsFinal=
Save and close...
----------------------------------------­----------------------------------------­--------------------------
Install Instructions :
This mod has so many features that a manual install will not include all of them. It's highly recommended to install this using the Nexus Mod Manager. 
-Download, Activate, Choose version, Done! 
Manual Installation:
Open Ammo Retexture.rar Using Winrar.
Choose a version Prestine, Weathered or Fubar and open that map
Copy the "data" map of your choosing in your Fallout 4 Main folder.
----------------------------------------­----------------------------------------­-----------------------
Like this shit ? Check out my other retextures :
Hunting Rifle Retexture
Vaultsuit Retexture Male

First Aid Retexture
Water Retexture

Fusion Core Retexture
Mentats Retexture

Intitute Food Packet Retexture
Bobby Pin Box Retexture
Desktop Fan Retexture

Telephone Retexture

Metal Barrel Retexture
Office Paper Debris Retexture