Description
Last updated at 12:23, 18 Dec 2015 Uploaded at 20:40, 14 Nov 2015
Beauty Nora Version 2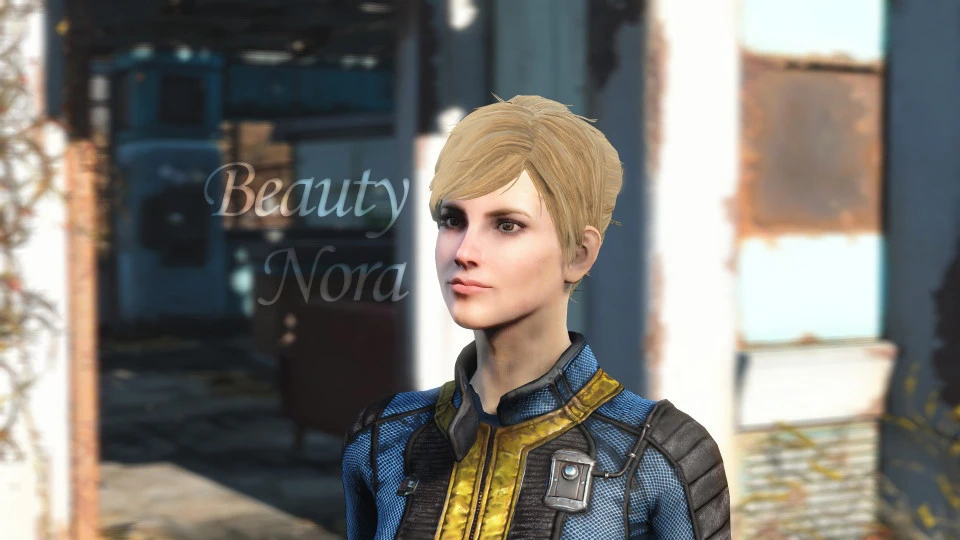 What's the difference between version 1 and version 2?
re-touched shape, make-up, etc...
Version 2 has two save-files. You can play the prologue. Or start in Vault 111 without prologue.
And, yes. You can transfer Beauty Nora's face into your save file.
Thanks to Cidaie who is author of
Gorgeous VAULT-GIRL
. He discovered
this solution
.
Or use this program. it's much easier.
Face Ripper
But please do not transfer this face to Piper's face. It will be weird.
Beauty NoraNora
 is the real name of Fallout 4's female character.
This save file will start out of vault 111.
Now you can play prologue, or skip the prologue and start in Vault 111.
If you want to distribute stats, Open console and type 'showspecialmenu'. It can also change character's name.
Highly recommend MODS before Installing
-
FCO - HD Eyes
-
Valkyr Female Face and Body Textures
-
deLuxe - Lip Liner Mask
-
Eye Normal Map Fix Fallout 4 Edition
-
Vivid Hair Colors
Installation
1. Download and unzip to C:\Users\Your Name\Documents\My Games\Fallout4\Saves
2. Load and Select Beauty Nora.
3. Enjoy!
Miscellaneous
How to Change heroine's name?
Open console(~) and type 'showspecialmenu'
How to change heroine's face?
Open console(~) and type 'showlooksmenu player'
Photos