File information
Created by
kinggath
About this mod
Customizable Sanctuary settlement design broken into zones. Pick your favorite districts to build and keep the rest for yourself!
Requirements

Permissions and credits

Mirrors

Donations
Customizable Sanctuary settlement design broken into zones, allowing you to pick and choose which parts to use and keep the rest for own building.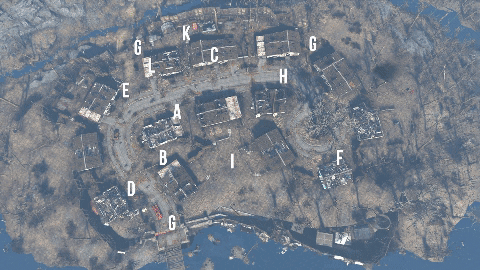 This design of Sanctuary was done during Season 1 of my Let's Play. It was an organically grown design that continued to increase in size as more settlers arrived. The full build supports 50 settlers! Though you can also use the individual layouts to support various numbers as the residential is split into 6 zones depending on much you think your system can handle.
While
Workshop Framework Layouts
do NOT
require Sim Settlements in general, this particular set of layouts is very Sim Settlements focused.
Zone Breakdown
A.
Core Design
- This is the main flavor of the settlement. Includes a large rooftop bar, lots of water and power, and the majority of the hand-crafted elements that make the settlement interesting to look at. Supports 16 settlers.
B.
Core Extended
- Block of additional residents naturally around the core design.
C.
Player Home
- Player home made nice, includes some containers and display cases for DLC owners (not required), and the carport area is made into a security fenced crafting zone.
D.
Commercial District
- Commercial plots and market area, also includes some extra flourishes around the bridge to tie it together.
E.
Agricultural Section
- Agricultural plots with enough food to feed 50+ settlers.
F.
Industrial Complex
- The entire
Industrial Revolution
tech tree unlocked and most of the tier 3 buildings are represented.
G.
Defenses (The Wall)
- Large junk wall made with a mix of classic junk walls, and hand placed elements found around Sanctuary to look like a naturally built fortification. Includes Martial plots and turrets.
H.
Northeast Cul-de-sac
- Additional neighborhood of residences.
I.
Southeast Cul-de-sac
- Another neighborhood of residences.
J. (Skipped because the font J looked too much like "I" but otherwise I like that font a lot)
K.
Backyard Neighbors
- Additional residences behind the player home.
L.
Western House
- The house just west of the player home filled with a few Interior Residential plots.
How To Use
Workshop Framework Layouts are installed like any other mod, and then applied from the Manage option on the Workbench. Once you have applied all of the zones you are interested in, you can uninstall the mod if you like. (There are advantages to keeping it installed if you have the room in your LO though!)
Here's a video on Importing layouts:
Want to Make Your Own?
WSFW Layouts can be incredibly easy to make - as simple as clicking a few options in-game and drag and dropping a file into our web app.
Or if you want to do something more complex like this Sanctuary setup, with your settlement chunked out into zones, check out the more advanced guide below!
Special Thanks
cdante
for the F4SE dll needed to export these layouts correctly!
Vaernus
for helping develop the web tool that allowed easy creation of plugin files!
Yagisan
,
Phil_T_Casual
, and
XV
for extensive testing of the tools!