About this mod
70 Prefabs that work well on both flat and sloped areas. Vendors, Scavenger Shacks, Dog Shacks and much more.
This mod offers a whole new workshop menu with Wood, Metal and a special Sim Settlements Compatible category.
It is meant as a very, extremely, light alternative, or addition to, the awesome Sim Settlements mod.
Requirements

Permissions and credits

Translations
Welcome to Reginald's PreFab ShackFest 1.0.5! (RPSF)The easiest way to build an entire city or settlement within minutes!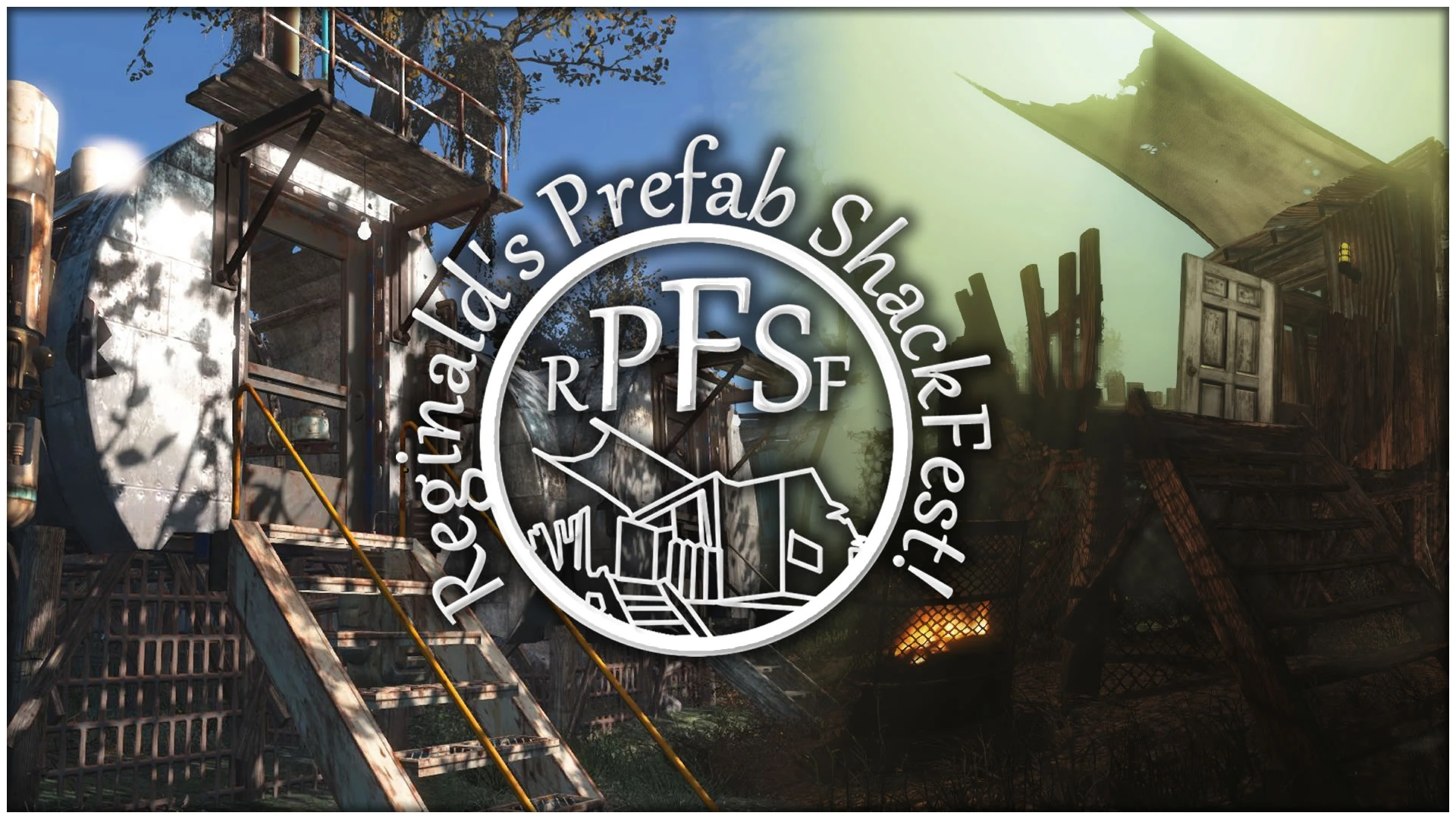 No DLC required, no Script Extender Required), works with ALL versions of Fallout 4!
This mod works well with all known existing mods, including Sim Settlements.

NO REQUIREMENTS OTHER THAN HAVING FALLOUT 4 - PERIOD.


THIS MOD IS 100% COMPATIBLE WITH WORKSHOP REARRANGED AND ANY OTHER WORKSHOP CHANGING MODS.
THANK YOU ALL FOR THE KIND WORDS AND ENDORSEMENTS IT IS HIGHLY APPRECIATED.
I will continue to try to incorporate your ideas in future releases of the mod for as long as time allows me to work on it.
I also see user submissions pouring into the images section, I love them so please post your own images as well!
If you have videos of your settlement builds, that's even better!

I will continue to try to reply to each post made, if I don't then know that it's out of time-strain, not because I don't want to!
Just know that I read and appreciate each post made in the posts section!
70 Prefabs that work well on both flat and sloped areas!
You can find help on how to use this mod here:
Help & Readme Page!
It is meant as a very, extremely, light alternative to the awesome Sim Settlements mod.

(Notice: This means that SIm Settlements is NOT required to use this mod!)

70 Buildable Prefabs in 8 categories
(Wood Shacks, Metal Shacks, Dog Shacks, Interior Plot Shacks, Vendor Shacks, Crafting Stations, Resources, Misc.)
13 Wooden Shacks
17 Metal Living Shacks
6 Complete and working outdoor vendor shacks
7 Complete and working indoor vendor stations
8 Crafting Stations including 2 Power Armor stations.
2 Scavenger Stations
4 Sim Settlements Compatible Shacks designed for Interior Plots
(NOTE: SIM SETTLEMENTS IS NOT REQUIRED FOR THIS MOD)
2 Dog House Shacks (Furniture items)
6 Beds
Door snap points so players can snap doors and other handy snappoints where appropriate (vendor shacks e.g.)
All shacks are fully navmeshed by hand to make sure they are absolutely easy to navigate for settlers
(This mod does not compensate for existing game bugs though!)
Lore Friendly
Balanced Building Recipes
What's New in Version 1.0.5
Added 18 new prefabs.
Added indoor vendors to fit inside the shacks.
Added small crafting stations to fit inside the shacks.
Fixed all bugs as reported in the bugs section.
Added 5 new shacks.
Added 'Advanced SecuriShack Tower' with improved settler navigation and turret platforms.
Added CellShacked, Woodshacker and more..
What's New in Version 1.0.4
Changed menu structure to Scripted menu.
Added 21 all new shacks and prefabs
Fixed 'rotated' dogs issue on Dog Shacks.
Added 6 vendors
Added new scavenger station (small)
Added new misc. objects.
Fixed and tweaked many minor issues that users have reported.
Fixed and tweaked many navmeshing issues after gameplay testing.
Added 20 loadscreens with tips, tricks and lore.
What's New in Version 1.0.3
Fixed WR incompatibility, should work with all mods now unless they do something really weird with the main menu.
Added 3 completely new shacks! (IntelliShack, SecuriTower,
Added 4 resource objects! (3x Bed / 1x Scavenging Station)
Cleaned out all incompatibilities through Fo4Edit. The CK tends to leave a lot of stuff behind when saving, that needs to be tended to with Fo4Edit. This has been done now.

What's New in Version 1.0.2
Changed the entire menu structure, all prefabs can now be found in their own root menu (scroll all the way right in the main workshop menu).
Added FoMod XML to mod.
Added 3 completely new shacks that are compatible with Sim Settlements Interior Plots. IP's snap correctly!
Made the MaxiShack compatible with Sim Settlements added snaps for IP's.
Added the Fenced Foundation that places and snaps like ordinary foundation blocks. You can use this to make your own constructions look like the shacks from the mod.
Tweaked some things here and there with naming, etc..
Simply drag and drop the 7zip file into your Mod Manager and activate the mod.
Or alternatively unzip the mod into your Fallout 4 directory and enable the mod manually.
This mod was made with love, dedication and care over the course of 5 intense days of modding that caused me a migraine and some late nights.
I loved making it though and primarily targeted myself as audience, the main goal being; I didn't want to use a large mod like Sim Settlements which seemed over kill for game performance and I didn't want to spend a long time building settlements either, but I do want to have nice looking settlements. So I ended up with prefabs and it works pretty well for me.
I will continue to develop the following features for this mod in the coming weeks/months:
Add snap points to Shack models for Sim Settlements Interior plots. (Completed in v.1.0.2.)
Add 5 shacks tailored to place Interior Sim Settlements Interior plots. (4 Completed in v.1.0.2.)
Add Snappoints to outer walls of some shacks so players can expand on shacks. (Completed in v1.0.4.)
Make shacks (that fit) snap to each other so you can stack them next one another. (2 completed in v1.0.3.)
Add more 'special' shacks, created from thrown-together things. (2 added in v1.0.5 - DinerShack, JunkShack)
Add 'bed' shacks, single bed shacks that work as furniture that you can assign settlers to. (Completed in v1.0.3.)
Add 'water' prefabs that produce water and need a settler assigned. (Rethinking this as it's not really needed)
Add 'Resource' shacks, shacks that you need to assign a settler to which will provide scrap for your settlement. (Completed in v1.0.4.)
Add 'electric' prefabs that produce electricity. (Rethinking this as it's not really needed)
Move prefabs into a whole new category so as to not interfere with some workshop category mods. (Completed in v1.0.3.)
Special thanks to:
- @Flashy (JoeR) for kicking me off on this adventure with his help on creating statics/furniture.
- Drew Neumann for making 'Eye Spy' the CD I've listened to non-stop while making this mod.
If you enjoy this mod, or if you find anything interesting to share, don't hesitate to leave a comment.
I am particularly interested in screenshots of your settlements!