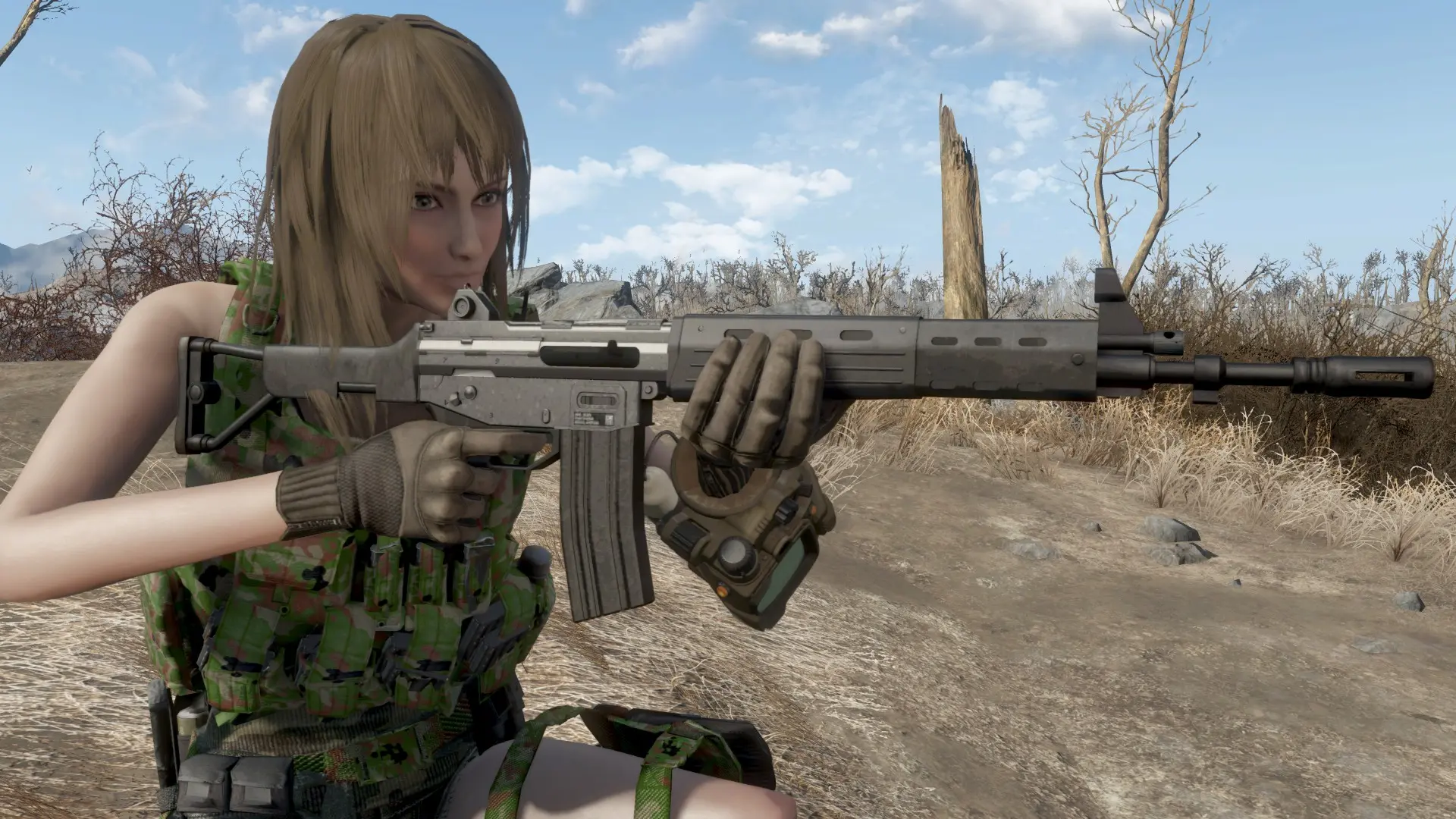 Description--------------------------------------------------------------------------
Howa Rifle(
Howa Type89 Automatic rifle
) is a Japanan JSDF Service rifle.
Based on the US
Armalite Rifle(AR-18)
, it was redesigned to match the physique of the Asian man.
Immediately before the Greater War, the United States Army carried out a large-scale joint military exercise, inviting its allies to prepare for a final offensive against mainland China.
Everyone expected that the war would be over.
However, the operation was not actually carried out because the war and the civilization of humanity were over by the whole nuclear war....
A long time has passed since the war, and few people know about this gun.
Discovered rarely from the military ruins of 200 years ago, this gun is simply called "
Howa Rifle
" from BOS and scavengers.
Because this gun is brought to the United States a small number, finding it with commonwealth will be somewhat difficult.
You will find this gun rarely with high level gunner's possessions, cricket shops.
Howa Rifle(豊和89式小銃)は日本製の自動小銃です。
米国製の
ArmaLite Rifle(AR-18)
を参考に、アジア人の体格にマッチするように再設計されました。
グレート・ウォーの直前、アメリカ合衆国軍は中国大陸への最終攻撃に備えて、同盟国を招いて大規模な合同軍事演習を実施しました。
誰もがもうすぐ戦争が終わることを期待しました。
しかし実際にその作戦は実施されませんでした。
全面核戦争により戦争と、人類文明そのものが終わったからです。
戦争から長い時間が経ち、この銃の事を知る者は少なくなりました。
200年前の軍事遺跡から稀に発見される事があるこの銃は、BOSやスカベンジャー達からシンプルに"Howa Rifle"と呼ばれています。
この銃はアメリカ合衆国に持ち込まれた数が少ないため、コモンウェルスで見つけることは少々困難でしょう。
あなたはこの銃をハイレベルなガンナーの所持品や、クリケットの店などで稀に見つけることができます。
This MOD uses the animation of
"Right-handed Nukaworld AK Replacer"
of Hitman 47101 and Ha_ru.
I am deeply grateful to Hitman 47101 and his Team who gave me that permission.
Thank you very much.
Cregit-----------------------------------------------------------------------
model & textures :
futoshisan

reload animation :
Hitman 47101

3rd person animation :
Ha_ru

Creation kit :
Monkey Depot
Script(Leveld List Injection):
a_blind_man

Tool-----------------------------------------------------------------------------------------------------------------------------
Blender 2.79
(model)
BodySlide and Outfit Studio
(convert .nif file)
Nif Skope2.0
(mesh)
Gimp
(textures)
Paint tool Sai
(Textures)