Are you tired of being a vault dweler?
Are you tired of Preston?
Are you tired of Shaun?
Are you tired of the same old ****?
This is your chance to be what you always wanted! (duh?)
Be Juliet Starling! Be a cheerleader once more and burn some zombies!!! (duh, ghouls)
*warning* if you threw up it's OK, this mod is not for you :)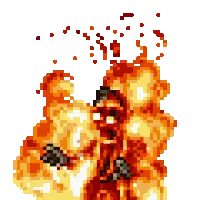 - Open world
loot location
- A new customize-able outfit (at armor workbench)
- Ballistic Weave that doesn't require the railroad affinity
- Juliet's face preset
- Rubberbands! 8)
- A pip-boy retexture
- "Spewy" a new OP flamer with double damage and half AP cost
- "Spewy" as an armor item to wear it on your back
- Unique ammo for Spewy that can be crafted at the chem station under UTILITY
- A game bug fix that fixes all the flamers and enables you to use them in VATS without issues
- Hand made textures and meshes. No assets whatsoever were used from the Lollipop Chainsaw game

- If for any reason you can't find the loot trunk or if you want additional items, type
help "lollipop" 4
help "spewy" 4
player.additem XXXXXXXXX 1
in console to see the id numbers and add the items in your inventory.
- If typing help "lollipop" 4 returns no results it means that the mod is not installed/activated properly.
- Your character needs to use CBBE body textures else the skin will appear distorted with black spots.
- Do not uninstall the mod while wearing any items because the stats will remain on your character.

Looks Menu Customization Compendium
The Eyes Of Beauty Fallout Edition
Ponytail Hairstyles by Azar
(you need the above for the rubberbands and the face preset)

Accessories mesh:
Caliente's Beautiful Bodies Enhancer -CBBE- by Caliente and Ousnius
Spewy on the back mesh:
Just Visible Holstered Weapons by friffy
Top mesh port:
CBBE Simply Clothes for Female by Invalidfate
Top Original Skyrim mesh:
Petrovich
Skirt mesh:
Highheels Dress Outfits by Lazman555
Standalone Flamer bug fix:
Flamer and Plasma Flamer VATS Fix by bluechipmunk1225
B.A.E. - Bethesda Archive Extractor by Jonwd7
FO4Edit by ElminsterAU
Material Editor by Ousnius
Outfit Studio by Ousnius
Intel® Texture Works Plugin for Photoshop
Many thanks to
Bethesda that made all this possible.