When Fallout 4 was released, for a start developers gave us wooden and metal building materials. Crappy, thin, non functional. Even after hours of tinkering, when I looked at a result, I still thought to myself: "Man, that looks like s***"

But then, few months later, Wasteland Workshop arrived, along with Concrete Walls. When i finally learned variety of it's snap points and how to combine elements, i realised, that concrete is awesome!

CONCRETE! OH YEAH!

Now that's my thing in this game! Concrete walls are thick! Concrete walls look heavy! Concrete walls give a sense of safety. Now threats of the wasteland seem like nonsense. Commonwealth can throw everything on my settlement, it will hold...

And rounded corners. Rounded corners everywhere!

Welcome to:
Fort Starlight

(Former Starlight Drive In)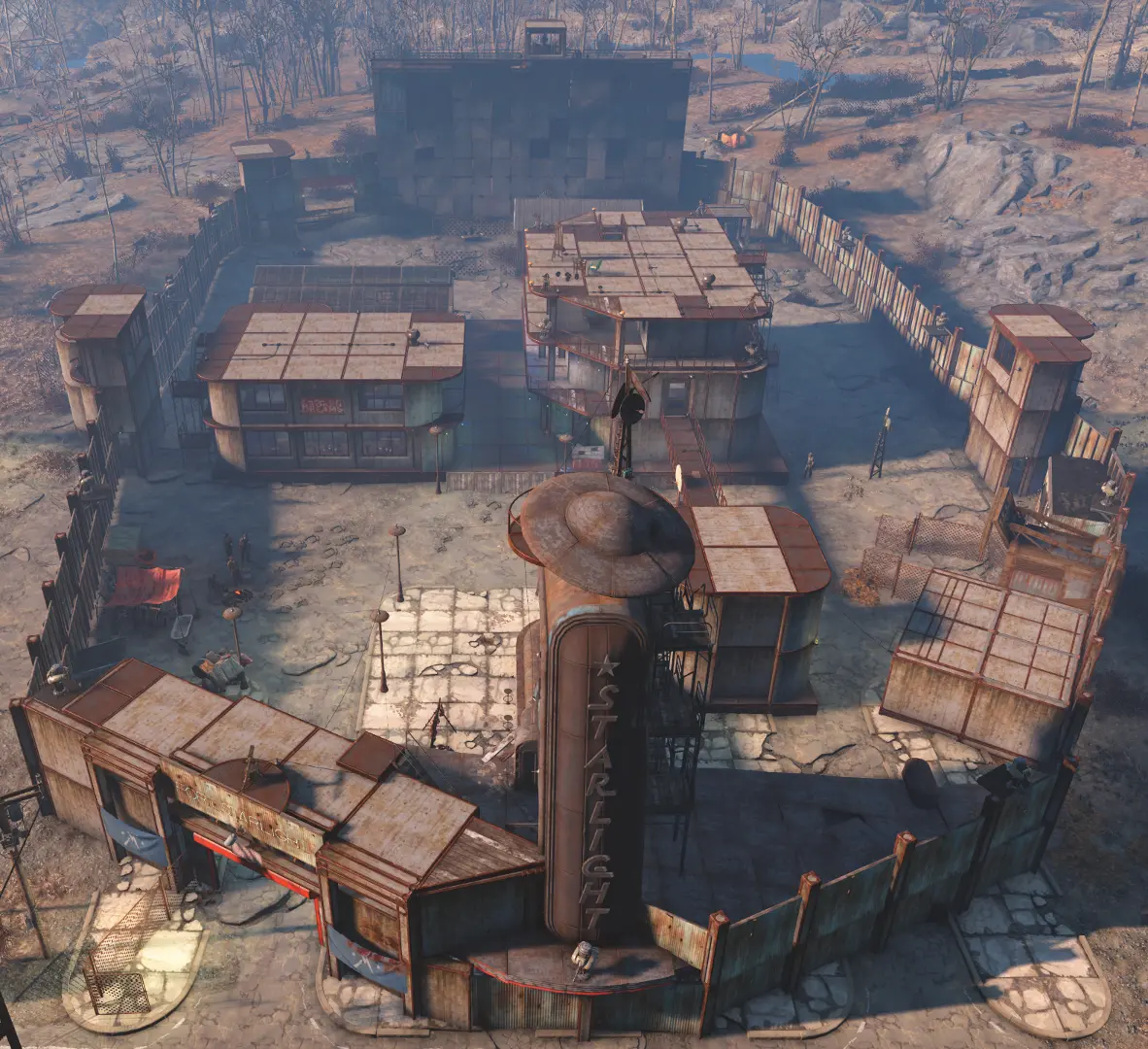 I've started building this settlement on December 2016 - Here's the final result ( I hope ;) )

Whole settlement is surrounded by two storey steel/concrete wall. It has three guard towers plus plenty of guard posts

It's heavily defended (Defense 314)

Looking at this settlement, it seems like my character has put those Thicket Excavations quarry resources into good use, after dealing with Sully and his gang.
(in theory, in practice it was just a lot of raw concrete to buy)
It's, obviously for my settlements,  run by The Minutemen
Settlement has several separate buildings:
Main building (Citadel)

First Floor:
- Fully stocked armory - it's doors have a working two-side switches
- Chem station

- Water purifier  - purifies water from that pond in the center of a settlement. Whole construction began with that purifier. Main building is built around it.

- General trader and Reading Room

Second floor:
- Guns dealer

- Clinic

- Barber (or as the neon says "stylist")

Third floor (General's quarters):
- General's room

- Private bathroom

- Terrace



Bar/Hostel

- Bar, toilets and showers on the first floor
- Four sleeping rooms on second floor
Fusion Generator Building
- accessible only by a catwalk leading from main building

Jail
- with two cells
Greenhouse
- two storey
Barn
- for Brahmins
plus:

Trading Point

Radstag Trap

Shooting Range

and Eagle Nest on top of projector tower


Guard Markers are invisible beyond workshop mode, you'll find most of them with ease (guard towers and windows in outposts), but there are also those harder to find, so again, I signed them with Red Plates, just remove them once you learn where the markers are.
My Blueprint mentions two non necessary requirement:
Old World Radio Boston
 - This is one radio from OWR i forgot to remove before importing.
Third time on Nexusmods, and again, here's some Synthwave, this time 'oldie' one:
Stay Retro!