Gunmetal Weapon Skins
Building off the weapon skin framework added for the Creation Club I have begun working to add new weapon skins for the base game weapons.

The initial release of this mod focuses on The pipe weapons, offering a total of 14 new recolor options along side the vanilla "Rusty" color. Some of these colors are included in a new modcol so pipe weapons will spawn with a random color.

Weapon skins can be crafted at the weapons workbench in the same manor as the Creation Club weapon skins.

Most of these are simple recoloring (My texture editing skins are fairly basic right now), but as my skills improve I will be creating more elaborate skins, including Specialty Skins for each of the named Unique Weapons in the game.
You do NOT need any Creation Club Weapon skins installed for this to work!



Be sure to click the TRACK button as I plan to update this mod with new content Weekly!
Compatibility Patches for Horizons Survival Overhaul, Weaponsmith Extended, New Calibers, Frost, and Immersive Gameplay are Available. More compatibility patches can be made on request, just leave a comment.


Want More Weapon Skins? Check out Camouflage Weapon Skins by R97R!
Now with support for Fallout 4 VR!

Update 1.5

2 new colors for Pipegun Metal: Desert Tan, Olive Drab. 
Several new painted wood options on Pipegun and Pipe Bolt Action, including camo patterns.
Overhauled most skins to improve overall look. Several camos patterns for most weapons.
Lower minimum level for most skins to provide more variety early game. "Epic" weapon configuration now has a chance to spawn with higher tier skins, Idea being that since the weapon spawns with higher tier upgrades the previous owner gave it a paint job as well.

Update 1.4
2 More skins for .44 Revolver
New Two-Tone skins for 10mm Pistol
Skins for Hunting Rifle and Double Barrel Shotgun
Bronze/Chrome/Gold Skin for Deliverer and Assault Rifle, More coming soon
Reworked Specular maps for 10mm Pistol and 44 Revolver to improve look of Bronze/Chrome/Gold Skins

Update 1.3
More skins for 44 Revolver and SMG.
Several new skins for Combat Rifle/ Combat Shotgun.
Merge with Ornamental Weapon made by ralfetas.
Numbered categories for better sorting in workbench menu.
Updates to skin names and descriptions

Update 1.2
New Skins for 44 Revolver and Submachine gun!
First of the Specialty Skins: "The Gainer"
Update 1.1
New Brass color for pipe weapons.
New wood finishes for Pipe and Pipe Bolt-Action. Can be customized separately from metal color for thousands of color combinations!
12 New colors for the 10mm Pistol!
Tweaks to Mocols to make some weapon skins more common on NPCs then others.
New Cubemaps on some weapons Thanks to
Ajhakra's Cubemaps
!
More compatibility patches available.
Update 1.0.5
made some tweaks to the level at which the color painted skins start to spawn (based on feedback received, they don't spawn until very late game now but I am considering a future update that will give named raider bosses custom painted versions)
Reduces texture resolutions from 4K to vanilla values to reduce file size and improve performance on lower end systems.
Tweaked ColorPalette textures to greatly improve the look of color painted weapons.


Note: This mod requires fallout version 1.10.40 or higher as it uses Keywords patched into the base game with that update.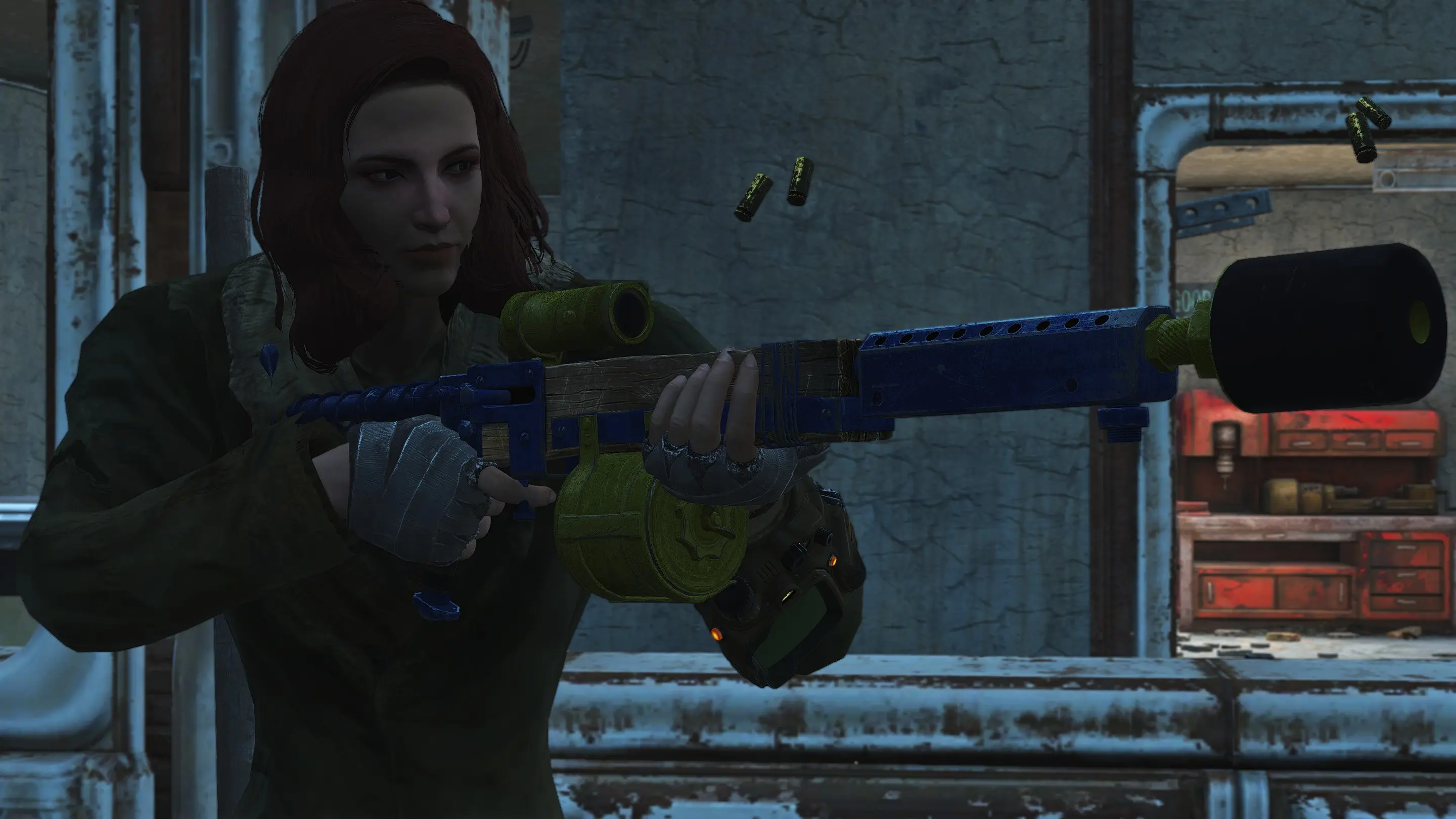 Future plans include more weapon skins for other weapons.
My personal texture editing skills are fairly limited to basic recolors, but if there are any more talented texture artist out there that are willing to let me include your work please message me.