About this mod
This is compatibility and balance patch between Horizon by Zawinul and The Mercenary - Pack by L0rd0fWar.
Changes armor values, crafting recipes and categories. Improve Level Lists. Adds new Horizon´s armor modifications and weaves.
New slot swap mechanism for headgear.
Adds 9 new headwear mashups to the level lists and crafting.
Requirements

Permissions and credits

Changelogs
Description:
This is a compatibility and balance patch between Horizon by 
Zawinul
 and The Mercenary - Pack by 
L0rd0fWar. 
There is another mercenary patch for horizon from 
ThaMan
but I decided to release this one because it changes other things besides armor values and modifications, also I´ve been sitting on this patch for a while and finally decide to release it before I forget about it.
Changes:
v1.4.8 Now compatible with horizon from v1.3.1 to 1.4.8 full changelog on post section
Installation and load Order:
You must install the follow mods in this order and last my patch, overwrite all files prompted:
Armor and Weapon Keywords Community Resource (AWKCR) v4.02 by Gambit77 and Valdacil
Armorsmith Extended v3.32 by Gambit77
The Mercenary - Pack v0.9c by L0rd0fWar
Horizon v1.3.1 by Zawinul
Important: Use the Armorsmith patch on his installer.
Load Like This:
ArmorKeywords.esm
Armorsmith Extended.esp
Mercenary.esp
Z_Horizon.esp
Z_Horizon_Patch_ArmorsmithExtended.esp
AD_Horizon-Mercenary_Patch.espWhat this patch does:
Changes all armor and accessories values from The mercenary pack to Horizon standards like: price, DR, Weight etc.
Removes clothes S.P.E.C.I.A.L. attributes and adds the new Horizon´s Keywords and modifications like: Linings, Clothes Utility, Armor size, Mask Filter, Mask Addons, Eyewear Utilities, Horizon´s backpack carry weight modifications, Hide Slots, Ballistic Weave etc.
Changes the crafting requirements like perks and materials from all armors and accessories so now you need horizon´s new alloys and components to craft some of them, you can´t craft B-90 armor so easily now.
Changed armor modifications from original Mercenary pack so they are not so over power or unbalance with Horizon.
Adds tags to books, misc items etc. and new icons to clothing and armor. Tweak gas masks Instance name from Horizon Armorsmith Patch.
Rebalance Level List so now Gunners and some raiders will take more levels to use their best armors, integrate new headgear pieces into the level lists, more details below.
Armors and accessories crafting recipes are sorted into new categories in the Armorsmith Workbench for easier access, the new categories are: ARMOR, CLOTHES, ACCESSORIES, MISC and SLOT SWAP.
Added new "Slot Swap" into the Armorsmith Workbench categories so you can change on which slot you want to wear your hats, I made this so it is easier to combine different headgear.
Tweak some nif files from original mercenary pack(hat, gas mask and light armor) to avoid clipping with other pieces of gear and hairs.
Change the dead NCR Ranger loot, can you find him?.
Added 9 new headwear mashups of helmets, hats, balaclava, gas mask, etc. made by myself using resources from both Vanilla and the mercenary pack. They are integrated into the level lists so enemies will wear them, and they are craftable on the Armorsmith Workbench. I got the inspiration from Oh Deer Videos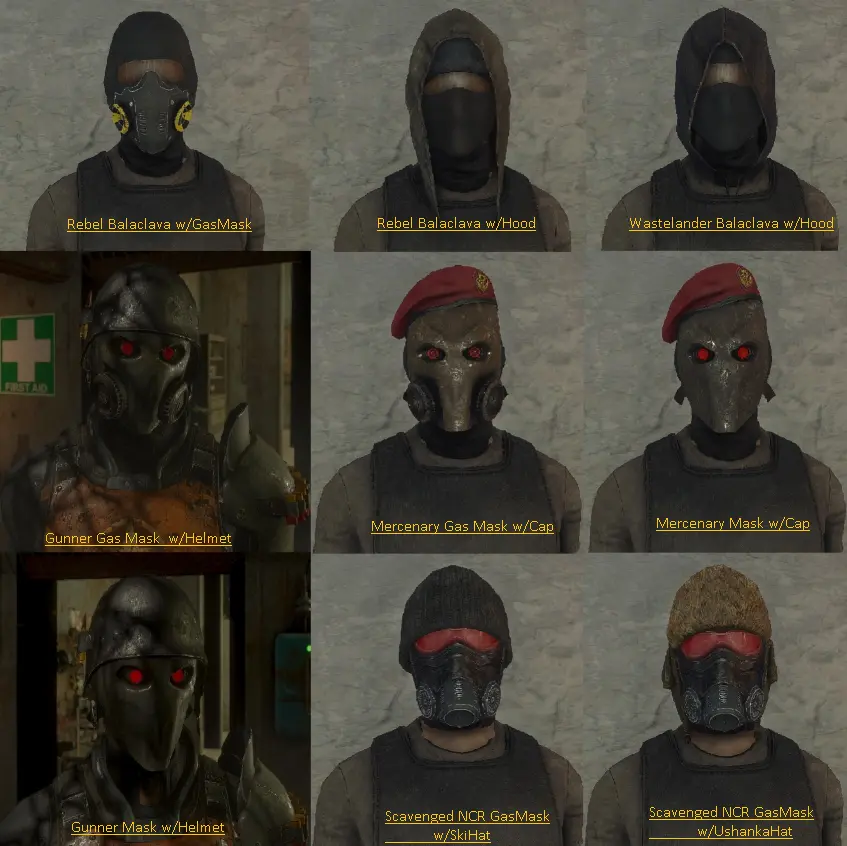 More Horizon patches from me:
Sim Settlements Building Plans Tags and more 
Unofficial Horizon Sorting Items Mod
Unofficial Horizon Many Patches 
Horizon Backpacks Patch - Survivalist Go-Bags 
Unofficial Horizon CROSS Jetpack Patch 
Unofficial Horizon Wasteland Heroines Replacer Patch 
Unofficial Horizon Pretty Companions Patch 
Unofficial Horizon-Agony and Components Redone Patch 
Unofficial Horizon - The Mercenary Pack Patch 
Horizon - CROSS Brotherhood Recon Patch
Horizon - Beyond Boulder Dome Armors Patch
Creation Club - Horizon Patch
Classic Combat Armor - Horizon Patch
Horizon patches from other authors:
Horizon Patches from ThaMan 
Horizon Patches from redbaron148 
Horizon Patches from inkblack85
Horizon Patches from RickTheNexus 
Credits:
Gambit77
Valdacil
L0rd0fWar
Zawinul