About this mod
Brings a fleshed out AUG to the commonwealth.
Requirements

Permissions and credits

Mirrors

Donations
PLEASE READ THE MOD DESCRIPTION BEFORE COMMENTING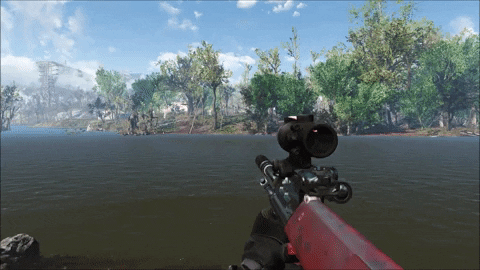 Yeah, I know, someone has made this weapon already. Truth be told, I was working on this for awhile before I found out that Hyper and co. were making their own version. So, I switched to some other projects, and now I've come back to this since I found some free time. 
The AUG can be found on raiders and gunners, as well as in shops. There should also be legendary versions on legendary enemies, as well as a unique legendary at Fraternal Post 115. I'm not gonna drag on the description, it's an assault rifle, and it's really fun to play around with. Hope you guys enjoy.
Oh, and quite a few of the attachments depend on each other, so make sure you have something equipped in almost every modification slot, just follow the descriptions, you'll be fine.
CREDITS

Sarv for the A1 model
PlayerProman147 for getting me the 9mm conversion kit
Tigg for Rail, laser, foregrip, and folding sights
ImBrokeRU for the Eotech and the NATO suppressor
Vitonialism for the Barska
NWI for sounds, as well as the aimpoint and the acog
Plutonium software for the 9mm bullet model
Tim Bergholz for the 5.56 round models and textures
r0tzbua, 4Echo, Millenia, kenn090, Overkill Studios, OhDeer for all of the different skins and the FC sight texture
Ajhakra for letting me use his awesome cubemaps
See-through scopes framework
Crytek for the 9mm conversion kit
r_populik for all the suppressors
Haru for helping me out with the ADS fire and one of the reloads
Hitman47101 for providing the single fire animations I edited
Aday for the reflex glass model and textures
HELL for the flashlight model

AND

Me for all of the rigging, some of the skins and textures, and all of the animations.


Feel free to use these animations and textures, far as I know, they are fine with it, and I certainly don't mind my stuff being used. Credit is nice, but not necessary.