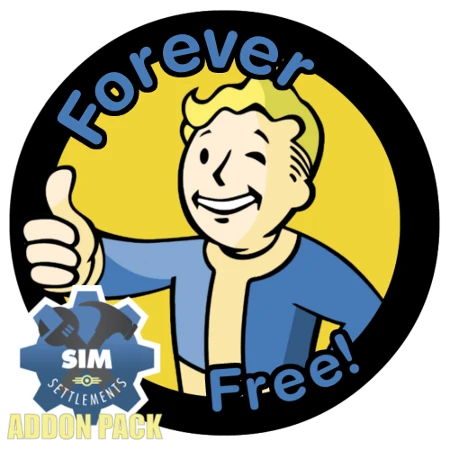 Requires Sim Settlements version 3.2.1 or greater and Far Harbor DLC
Contents
Homes: 5
Shops: 1
Factories: 2
Farms: 3 
Martial: 1
Building Features
Settler Navigation: Yes
Construction Stages: Yes
From MrJoseCuervo:
"This is the combined Forever Free Version of my Addons for SIM Settlements. It includes:
- Slum Lord, 4 plots with 11 trillion shack combinations of randomized structures.
- Bad Neighbors, which focuses on the sometimes negative aspects of living in a community. A "Disaster Pack" of sorts for Sim Settlements.
In downloading you agree that you support Free Mods and are against any intrusion of Bethesda and their monetization of modding. You may not use this Addon or any part of it for any paid project. If your project is free you can use anything I put together here for your own uses and distribute for free. The mod is free because I like doing it and don't expect to get paid for sharing..."
Quotes from users:
BurntHostage: "They ain't slums.. they're houses with
character
..."
Matthew Watkinson: "Also, god damn that house of yours with the room at the back. I've now had two glowing ghouls, a Glowing Mirelurk and a glowing Rad Roach appear in my settlements because of it. Not that I'm going to change it to another one, it's too much fun."
Building plan names:
5 HOMES:
Skyfall Home by MrJoseCuervo
Slum Lord #1 by MrJoseCuervo
Slum Lord #2 by MrJoseCuervo
Slum Lord #3 by MrJoseCuervo
Slum Lord #4 by MrJoseCuervo
1 SHOP (two versions):
Church of Atom by MrJoseCuervo (Clinic with extra happiness)
Church of Atom Bomb by MrJoseCuervo (Clinic with even more happiness and an income boost at level 3)
2 FACTORIES:
Plutonium Well by MrJoseCuervo (adds power 24/48/72)
Water Treatment Plant by MrJoseCuervo (adds water 15/30/45)
3 FARMS:
Fish Farm by MrJoseCuervo (food 4/8/12)
Fog Farm by Tinuvia (food 2/6/12, and wild Far Harbor plants in the workshop)
Molerat Farm by MrJoseCuervo (food 4/8/12, oversized, with rebellious molerats)
1 MARTIAL:
Death Tower by MrJoseCuervo
Known issues:
- The Death Tower Dogs attack Railroad caretakers - no fix possible - so avoid building it at a safehouse. All other NPC's should be safe! The dogs won't attack robots (neither friends nor foes).
– There are some issues with the minigun that we haven't solved yet. For now, it is more decorative than functional – but you still get the full defensive value of the plot. Sometimes the assigned settler will equip the minigun when they dismount the turret. They put it back when they use it again. When they first mount the minigun they may hold it oddly in one hand for a few seconds. They may also get undressed ;)
Support:
MrJoseCuervo has given permission to us, Myrmarachne and Tinuvia from
Wasteland Venturers
, to continue to add support for his mods, adding features from coming Sim Settlements updates and trying to solve any bugs you find.
Credits:
Forever Free logo
by Jokerine and Sim Settlements editing by
starfis
after MrJoseCuervo's idea